« Gaming Thread in AR
|
Main
|
Weekend Thread: War Reporting [Y-not] »
January 25, 2015
Food Thread: Deflated Balls Edition [CBD]
In the absence in the news of anything other than interminable discussions of Tom Brady's 11 deflated balls, I suggest we look upon spherical foods as a metaphor for the media's vast appetite for stories that go nowhere.
Or because they are easy to eat and usually taste good.
But first, can someone explain this equation to the journalism majors of America? Did none of them take physics?
P1 x V1/T1 = P2 x V2/T2
These are called bitterballen, and they are a distinctly Dutch treat that go wonderfully with booze. Or alone.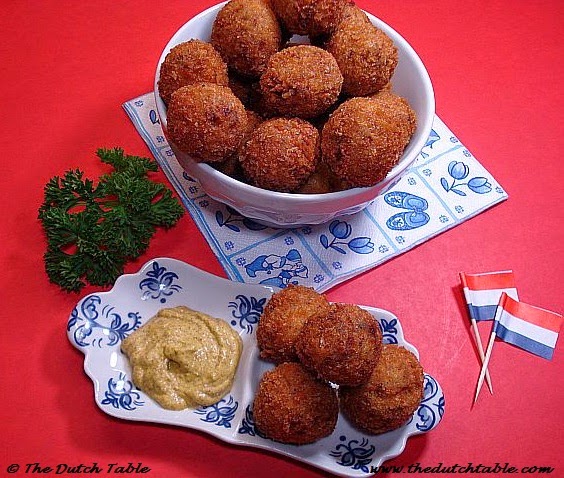 Arancini, or Italian stuffed rice balls (not stuffed with Italians, rather they originate in italy), are a staple at most Italian delis around here. But they are also easy to make. Lidia Bastianich is no slouch when it comes to Italian cooking, and her recipe is a good, basic one that can be modified easily. It is also not quick and simple, although there is no complicated technique required.....just time.
And....I love the look of the conical ones.....so if you make them, go for the non-standard shape! Just call it a Bradycini.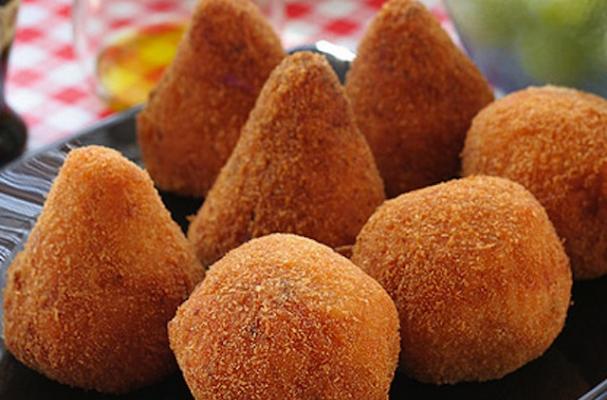 And for the ultimate in football shapes, make this Ina Garten meatloaf recipe
Here it is, with slight modifications:
INDIVIDUAL MEATLOAVES
1 tablespoon good olive oil
3 cups chopped yellow onions (3 onions)
1 teaspoon chopped fresh thyme leaves
2 teaspoons kosher salt
1 teaspoon freshly ground black pepper
3 tablespoons Worcestershire sauce
1/3 cup chicken stock
1 tablespoon tomato paste
2 1/2 pounds ground meat (preferably 1/3 beef, 1/3 veal, 1/3 pork)
1/2 cup plain dry bread crumbs
2 extra-large eggs, beaten
1/2 cup ketchup
Preheat the oven to 350 degrees F.
Heat the olive oil in a medium saute pan. Add the onions, thyme, salt, and pepper and cook over medium-low heat, stirring occasionally, for 8 to 10 minutes, until the onions are translucent but not brown. Off the heat, add the Worcestershire sauce, chicken stock, and tomato paste. Allow to cool slightly.
In a large bowl, combine the ground chuck, onion mixture, bread crumbs, and eggs, and mix lightly with a fork. Don't mash or the meatloaf will be dense. Divide the mixture into 6 (10 to 11-ounce) portions and shape each portion into a small loaf on a sheet pan. Spread about a tablespoon of ketchup on the top of each portion. Bake for 40 to 45 minutes, until the internal temperature is 155 to 160 degrees F and the meat loaves are cooked through. Serve hot.
*****************************************
Jamie Oliver has gone round the bend with his vegan/vegetarian/save-the-world-with-food lunacy. But he also writes amusingly, and his recipes for real food (which I define as stuff that leftists find disgusting) are often interesting. This one, for milk braised chicken, sounds weird, and intriguing. I have not tried it, but will give it a shot in the next few weeks.
*****************************************
Washington state agricultural representatives feared testifying Tuesday at a public hearing for a proposed bill to outlaw espionage by animal-welfare activists against farms and ranches.
These are the Luddites that want to drag us back to a pre-agrarian society that will be far more brutal than anything yet seen by man.
I want our food animals to be treated as well as possible, but the thought that their lives are on par with ours is laughable. And....anyone care to bet on how many of the female terrorists in the animal-welfare movement have had abortions?
*****************************************
Sczechuan Noodles
Ingredients:
6 garlic cloves, chopped
1/4 cup fresh ginger, peeled and chopped
1/2 cup vegetable oil
1/2 cup tahini (sesame paste)
1/2 cup smooth peanut butter
1/2 cup good soy sauce
1/4 cup dry sherry
1/4 cup sherry vinegar
1/4 cup honey
1/2 teaspoon hot chili oil
2 tablespoons dark sesame oil
1/2 teaspoon freshly ground black pepper
1/8 teaspoon ground cayenne pepper
1 pound spaghetti
1 red bell pepper, julienned
1 yellow bell pepper, julienned
4 scallions, sliced diagonally (white and green parts)
Directions:
Place the garlic and ginger in a food processor fitted with a steel blade. Add the vegetable oil, tahini, peanut butter, soy sauce, sherry, sherry vinegar, honey, chili oil, sesame oil, and ground peppers. Puree the sauce.
Add a splash of oil to a large pot of boiling salted water and cook the spaghetti al dente. Drain the pasta in a colander, place it in a large bowl, and while still warm, toss with 3/4 of the sauce.
Add the red and yellow bell peppers and scallions; toss well. Serve warm or at room temperature. The remaining sauce may be added, as needed, to moisten the pasta.

posted by Open Blogger at
04:15 PM
|
Access Comments