« Iranian General Killed By Unlimited Minutes Cell Plan and Israeli Missiles..... [CBD]
|
Main
|
Dumb Hat, No Cattle [Y-not] »
January 24, 2015
Saturday Gardening Thread: Winter Is Making Me "Potty" Edition [Y-not, Weirddave & KT]
Good afternoon, gardeners!
Today's post is brought to you by funky garden containers: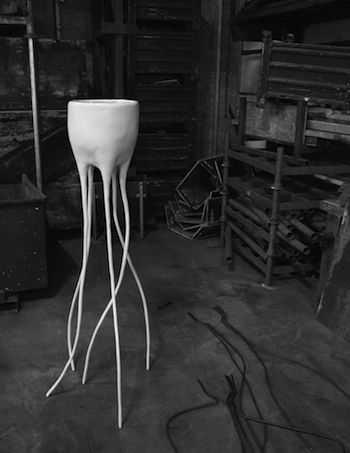 It's still January, so a lot of us are stuck indoors either dreaming about gardening or perhaps preparing for Spring. 'Seemed like a good time to talk about innovative planters. We're lucky this week to have two guest contributors, @sasso333 and Melissa Clouthier. (Because of that, your usual co-hosts will keep their sections on the short side.)
First, courtesy of @sasso333 on Twitter:
It's a storage bin with a PVC pipe cage and garden netting set on a moving dolly. Jokingly asked hubby to build me one and voila!

He added a watering tube. The bottom has a reservoir above which the plants sit. Water wicks up

And last but not least, a door.

If a squirrel gets thru this I'm adopting it as a pet b/c that has to be one determined rodent!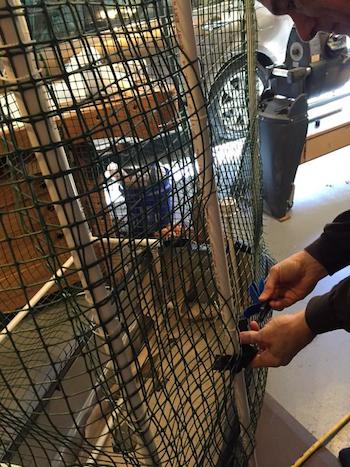 Y-not: And now, from Melissa Clouthier (you may know her on Twitter as @MelissaTweets), here's another great idea:
The Lazy Gardener
My mom hails from a long line of farmers who took very seriously the serious business of gardening. To say I'm an unserious gardener would be too kind. I'm a lazy gardener that manages to grow stuff anyway.
How I can be so lazy and have fresh vegetables is a capitalist miracle: The Garden Tower. The Garden Tower is big plastic trash can with a metal tube down the middle for composting and holes all around the edge where you plant seeds and they grow. At the end, with a full Garden Tower, it looks like you have a monstrously huge Chia Pet except the hair is lettuce and tomatoes and herbs.
Behold the Garden Tower: Garden Tower on the left is empty. The Garden Tower on the right is full grown.
Here's a cross section of the Garden Tower with some blurbs on the right:
A couple years ago at the local farmer's market, I saw the above gizmo. My son was transfixed. He wanted to start a garden and see things grow. I knew, as these projects tend to go, that I'd end up doing the work for this thing so thought a while before starting it. I shouldn't have worried. It's easy: Big bag of organic dirt, a pound of Red Wiggler worms, and the Garden Tower. The Garden Tower sales lady suggested I put it up on cinder blocks (I used edging blocks, but same idea) as it would make it easier to access underneath. I took her advice and promptly forgot everything else she told me to do.
The dirt is to go outside the center cylinder. That much was obvious. But where do those worms go? In the middle or in the dirt? And can I put compost stuff in the middle right away or do I have to wait? Crap! I couldn't remember. So I looked up "compost" on the internet. I put kitchen scraps in the middle, put the dirt around the edge of the thing, and plopped the worms, clumps of them, into the compost. I layered it like a wormy Trifle! Anyway, that was wrong. After I had done all this and like lord of the garden said to myself, "It is good", I panicked. I called the garden lady and she told me, "Why, Melissa, no one has ever done it that way. The worms will probably die. Give it a few days and see what happens." And so I did.
The worms did not die.
In fact, the worms thrived even though they were supposed to go in the dirt. I put some starter plants in about half of the 50 openings--it was late in the season and technically, I shouldn't be planting anything at all because it was hot and around June 1st in Houston which is in Zone Hahahahaha. I don't even know my Zone. Let me go look it up. Okay. So I'm in Zone 8-B. Whatever that means.
(Y-not: As a reminder, here's where you can find your zone if you are in the USA.)
For those who are "Preppers", you will love this thing. My prepper friend has this complicated (and huge) hydroponic growing system. This garden tower produces amazing amounts of food in a small footprint. You just need dirt, water, and seeds.
Here is a picture at about four weeks on July 1:
We were already getting lettuce from seed. That's with watering it for about five minutes every morning and dumping the water that had leaked through the tower back onto the plants. The water is called "tea" and is full of nutrients aka worm poop.
That picture was taken July 1st. This picture was taken July 7th:
Here's a close-up of the tomatoes:
And here's the broccoli that decided to grow, finally, a year later after planting it the second year (from seed):
This last picture gives you a good idea of the bucket system. The bottom of the garden tower has some holes in it to all the moisture to escape. The compost cylinder in the middle has a trap door on the bottom where you can occasionally extract the solid composted material. I have yet to do this because....ta da! I'm lazy. This is my third growing year and I'll probably pull it out to make more room for compost.
A couple of caveats about the Tower:
1. These things do better in full sun, but I didn't want mine in full sun because that would plop it in the middle of the yard. So, the part of it shaded doesn't grow as quickly. The new Garden Towers fix this by making it able to rotate. I love that feature and can't wait to get a new one. They are due February of this year.
2. Don't plant tomatoes with strawberries. Tomatoes win. Put strawberries in their own tower.
3. Don't plant any obnoxious herbs. You know, the kind that have huge root systems and take over everything. I did this with Mint. Now, my mom is convinced I'm going to have to get new dirt and do the whole thing over. But I am lazy, remember, so I just keep yanking it out and things keep growing so whatever.
4. It's vertical. You don't have to bend. You don't have to weed. You don't have to really do much of anything but water it.
5. I did have to deal with nasty horned caterpillars that munch through tomatoes. They were at eye-level, fat and getting really healthy eating my tomato leaves. I went Rambo on their azzes.
6. I planted tomatoes that looked interesting. I've done vine and bushes, Cherry tomatoes, Romas, beefy ones. Don't ask me the variety name. I plant a bunch and see what grows. A weird thing happened this year in that I had tomato plants come back from the dead nine months later after getting a hard frost last March. I thought they were hopeless, left them there, and do you know those boogers started producing tomatoes this month? I have proof. Here they are:
Tomatoes are next to an apple for scale reference. I've let them sit for a bit. I wish I had kept track of this tomato variety because I think they're my favorite. They hang like a vine which is good because huge bushes on top of the tower can block the sun down the sides.
7. Vines like squash and watermelon should be planted near the bottom. They'll just craw along the ground if you have room for them. It's quite amazing. Possums ate mine, though. I hate possums.
8. I don't get weird or fancy with my compost.The idea of using human hair (as I read on one composting site) makes me want to barf, so I keep it straight forward and use kitchen scraps.
9. I've planted everything from carrots to beans to peppers to tomatoes to squash to every herb to marigolds to roses and yes, even hydrangeas. Everything grew...eventually. The broccoli was weird and came when it was darn well ready. Ditto the carrots. I planted every kind of lettuce and got sick of it I had so much.
10. I figured that with the money I saved not building raised beds (a necessity in Houston for drainage) and time, I broke even by year two. Maybe after year one. The Garden Tower produced so much (it's producing peppers and tomatoes in the winter right now, for heaven's sake, and yes we've had a bunch of freezes and no, I haven't covered them) that I give away veggies during the summer. We simply can't keep up once it's going strong.
I whole heartedly recommend the Garden Tower to everyone. The lazy will love the results. The industrious will probably be able to efficiently grow more of what they love than they thought possible.
Here's the re-designed and improved tower:
And here are some cool videos:
What to plant:
Bonus: KT asked me if I ever saw cockroaches. Answer: Never.

Y-not: Thanks, Melissa!
Now let's see what KT has in store for us this week:
Is your winter interest outdoors or indoors?
Not long ago, Y-not posted photos of trees noted for their winter features. She also linked some knock-you-socks-off landscapes from Western Russia featuring trees in snow. I thought about the photographer waiting in the wilderness to capture just the right light for each photo. I was glad it wasn't me.
I once read that most people who love winter actually love the prospect of feeling safe from the effects of winter. People like to have a ski lodge around after a few runs down the slopes. And what is an ice skating party at the old pond without a big kettle of resin-baked potatoes to warm your hands? Like we say here on the Saturday Gardening Thread, "Many parts of a pine tree are edible."
Anyway, the photos from Western Russia reminded me of Napoleon retreating from Moscow. He came back from this experience to fight another day, but thousands of his soldiers did not. Sometimes, it is much more appealing to be indoors than in the cold winter weather.
Over at the Garden Rant group blog, they have been arguing about whether there is even such a thing as "Winter Interest" in the garden. Three basic propositions have been presented:
Proposition #1: It is depressing to walk around in the garden during winter. Go inside and force some bulbs.
Some bulb require pre-chilling. If you're all out of pre-chilled bulbs, buy some that are almost ready to bloom at the nursery or supermarket and re-pot them.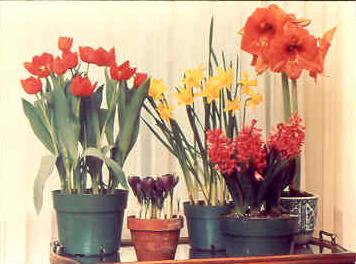 Proposition #2: The beauty of winter is mostly evident in sweeping landscapes. Get out of your yard.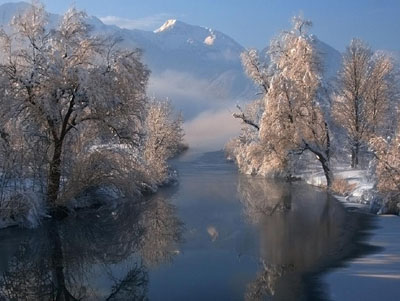 Proposition #3: Of course you can have "Winter Interest" in your yard. Plan for lighting, hardscaping and bird-attracting features to enhance the view through your favorite window, while you are drinking hot cocoa.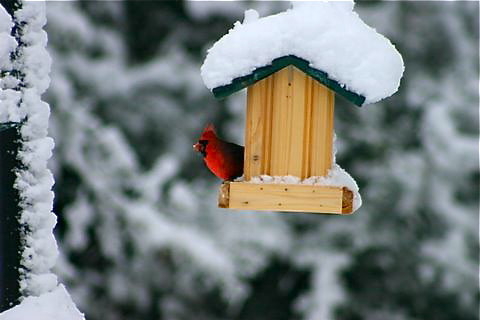 Are you actually going out into your garden this time of year? Admiring it through a window? Avoiding the garden altogether?

Y-not: Thanks, KT! And now, here's our co-host, Weirddave:
The squirrel proof starter garden is practical and pretty damn clever, but anything can be a container garden, all you need is something to hold the dirt. Of course, you'll have to use your head,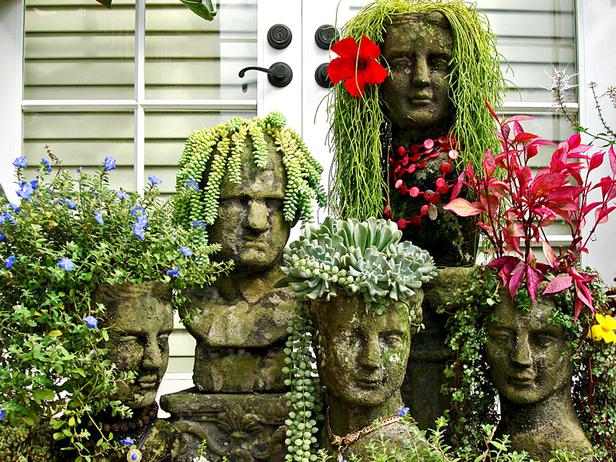 and make sure you have the tools you need.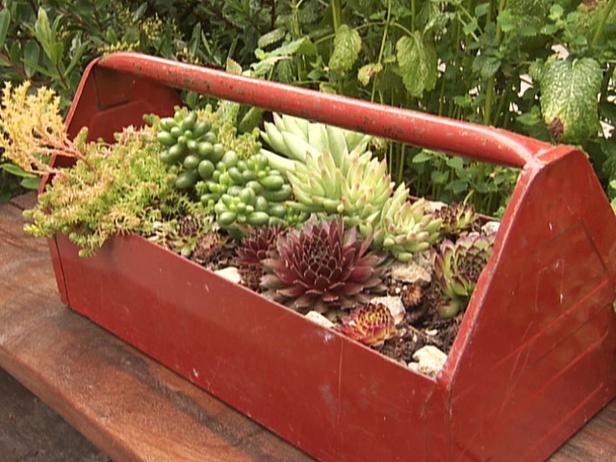 Be warned, container gardens can be a boatload of work,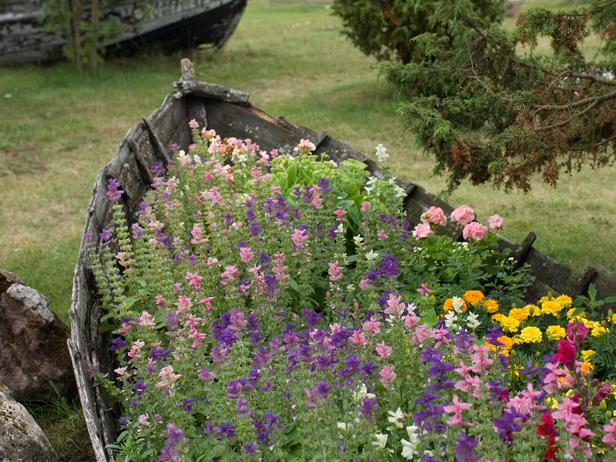 and at the end of the day you'll just want to slip into bed.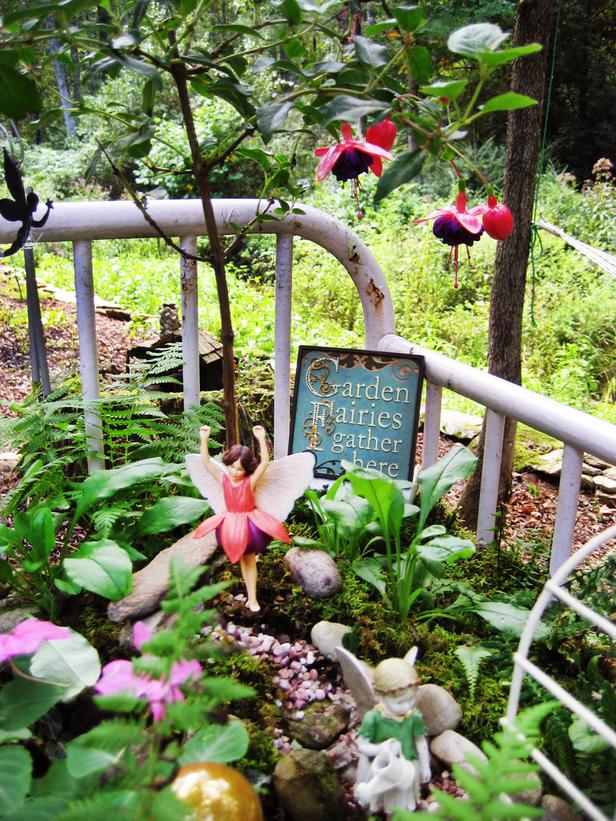 Just remember, the whole point of home gardening is to enjoy yourself and have pun!

Y-not: Thanks, WD. Well, I have a lot of material left in my Inbox -- and we will be addressing the garden planning question that came up last week in future posts -- but let's wrap things up for now with amazing photos of ancient trees. Here's a sample:
"Elegant in shape and form, these strange and magnificent baobabs seem to rise effortlessly to heights of 98 feet, found only on the island of Madagascar."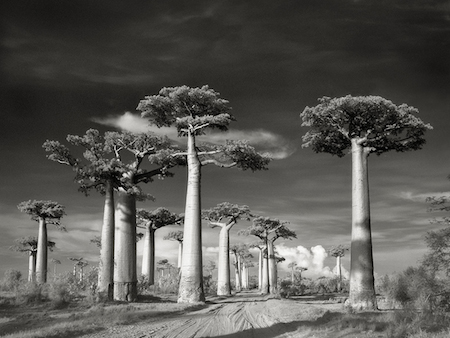 Pretty sure these trees do NOT fit into planters, no matter how innovative!

What's happening in your neck of the woods this week?
**Updated the title b/c I forgot to add KT and Weirddave! Sorry!**

posted by Open Blogger at
02:30 PM
|
Access Comments