« Gaming stuff
|
Main
|
AFC Championship »
January 18, 2015
Emergency Food Thread: Fast Food Edition [Y-not filling in for CBD]
Your usual host, Charlie Brown's Di (who as everyone knows runs a classy operation on Sunday afternoons) is indisposed, so today's edition will be decidedly down-market. Yes, I'm talking "fast food."
Restaurants Struggling With High Food Prices
During the 1980s and 1990s, many restaurant chains set their sights at the middle class, offering reasonably-priced meals that entire families could enjoy and afford. But as the middle class shrinks and inequality becomes more of an issue, these chains are hemorrhaging customers, and it's ultimately going to doom them. Another product of less-than-ideal economic conditions are rising food prices. There have been a variety of factors behind skyrocketing prices for food, including climactic conditions and tighter regulations. As a result, consumers and businesses are feeling the pinch.

For many restaurants, they've simply had to absorb the costs. Consumers will likely just find another place to eat if they feel prices are too high, and the cutthroat world of food offers consumers alternatives almost everywhere they look. To keep customer traffic up, businesses are simply cutting deep into their profits, and the effects are being felt all the way up the chain. Some of these companies probably won't make it another five years. Others have maybe a decade. The fact is, unless some of these chains can find ways to cope with rising food prices while also retaining their customer base, they're cooked.
The restaurants that they identify as struggling in the current economy include McDonalds, Tony Roma's, and - most alarmingly for chemjeff - Applebee's.
Study of fast food portion sizes, nutrient content, and calories finds little has changed
Although there has been no increase in fast-food portion sizes, and the nutrient content of such foods has remained fairly stable, the researchers say their analysis revealed "high variability" in the nutrient content of fast foods between each chain.

They note, for example, that the calories found in a large cheeseburger meal - with fries and a regular cola - varied from 1,114 to 1,757 among each restaurant over the study period. Such calorie contents account for 57-88% of an individual's recommended calorie intake, which Lichtenstein says "does not leave much wiggle room for the rest of the day."

Furthermore, 2013 data from the studies revealed that a cheeseburger meal over the three fast-food chains accounts for 65-80% of a 2,000 calorie-per-day diet and 63-91% of the 2,300 mg of sodium per day recommended under the US Dietary Guidelines for Americans.
Follow the link if you feel like being irritated by some weapons-grade nannies.
Do fast food bans work? I've seen enough examples that they do not work to feel utterly exasperated by the approach. Here's a round up from a liberal-sounding outfit out of Wisconsin called What Works for Health:

Zoning regulations that limit fast food outlets are a suggested strategy to improve the food environment and encourage healthy eating (CDC-Healthy places zoning, Mair 2005). Available evidence suggests that proximity to schools is associated with increased fast food purchases and obesity rates among adolescents (Alviola 2014, Davis 2009a, Currie 2010, Babey 2011) and, in some cases, living in areas with many fast food outlets has been associated with higher body mass index (Fleischhaker 2010) and greater fast food consumption, especially among low income individuals and adolescent males (Boone-Heinonen 2011, Forsyth 2012). However, in other studies, fast food outlet density has not been associated with overweight and obesity (Viola 2013) and availability is not associated with consumption frequency or body mass index (Richardson 2011, Hickson 2011). Additional evidence is needed to confirm effects.
I'm sure the regulatory war on fast food will continue, whatever the results.
In response (or anticipation), chains like Wendy's are removing sodas from their kids' menus, because nothing is more lethal than 8 ounces of 7-UP. /sarc
On to another fast food "war," there's currently a lot of competition over three menu items:
Chicken nugget deals are incredibly cheap at fast food restaurants right now, and coffee promotions are cheaper still. Competition over breakfast sandwiches is white hot too.
Nothing says "quality" like fast food coffee. I'll stick with my Nespresso Vertuoline, thank you very much. (No, I didn't pay $350 for mine.)
More about The Chicken Nugget Price War here:
Starting [last week], Burger King, owned by Restaurant Brands International of Ontario, Canada, is advertising their 15-cent chicken nugget promotion, reviving their battle with McDonald's over the ever popular fast food item.

Burger King is offering a box of 10 chicken nuggets for $1.49, a more reasonable amount and price than the McDonald's deal of 50 nuggets for $9.99 and chicken nugget lovers will tell you that 15 cents a piece is cheaper than 20 cents each. The bottom line is that both companies are after the foot traffic and sales.

According to CNBC, when this very same "war by chicken nuggets" was launched on October 7, 2014, Burger King used the same tactic they are using today, undercutting the price of the McDonald's chicken nugget in a bid to drive more traffic to their doors.
If you were to be drafted into the Chicken Nugget War, for which "army" would you fight?
According to Thrillist these are the best fast food chicken nuggets: I gotta say, the chicken strips I had at our recently opened Dairy Queen were pretty good.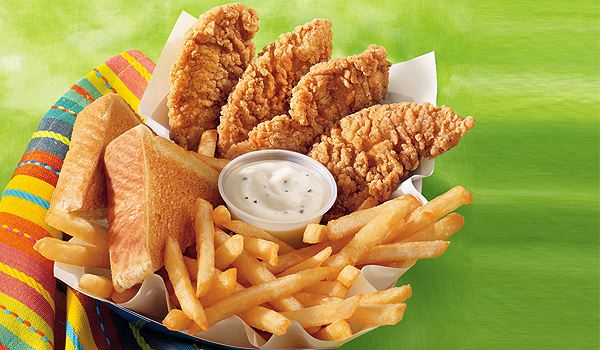 Four-Piece Chicken Strip Basket from Dairy Queen has 1,340 Calories
Sadly, it's probably because they're loaded with fat. (Follow that link for a list of The 25 Fattiest Fast Foods according to a Business Week article from a few years back. DQ's strips fall in at #6.)
I eat fast food on occasion (i.e.: rarely), primarily when Mr Moxie is away or I'm on my own for dinner after a long day. But I don't give in to that temptation very often. Instead I try to cook for myself, usually a small piece of lean meat such as elk (cooked very rare), a salad, and some sort of potato. ('Pretty sure my Irish heritage makes me genetically programmed to love taters.)
What's your go-to "comfort food?"
Here's a simple recipe for twice-baked potatoes:
Wash one (or two) large baking potatoes. Dry thoroughly, rub skin with oil, and prick skin. Cook in convection oven directly on the rack until the potato "gives" when pressed (about 45 minutes at 400 F in convection mode).
Remove potatoes and when they are cool enough to handle, cut in half lengthwise. Using a grapefruit spoon, score and then scoop out the potato, making sure to not pierce the skin.
Mash potato with a little butter, cream, and grated parmesan cheese. (If you are watching your diet, you can substitute with either low fat sour cream or even yogurt, but keep the parmesan because it adds a punch of flavor for very few calories.) Fill the potato skins and top as desired. (I usually use some low fat shredded cheddar cheese and bacon bits.) Return to the oven (on a tray) and bake until the cheese has melted (about 10-15 minutes at 400 F in the convection oven).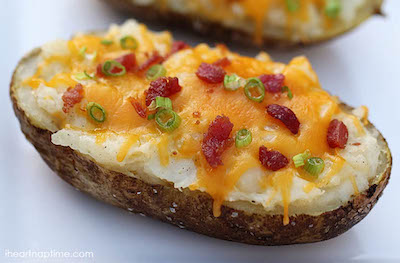 I usually make extras and have them for lunch during the week. They seem to keep well in the fridge for a few days.
By the way, if you don't have one, I highly recommend getting a table top convection oven. I have convection in my main ovens, but they are full-sized so they are slow to warm up and they heat up the house too much in the summer months. Since getting my Breville Smart Oven, I have done a lot more casseroles, baked potatoes, and other foods that require an oven.
To close things up, let's look at Bloomberg's Utopia:

So... what's cooking in your kitchen?

posted by Open Blogger at
04:45 PM
|
Access Comments