« College Football Semifinals, Game 2
|
Main
|
Open Thread »
January 01, 2015
Overnight Open Thread (1-1-2015) - A New Year
I'm traveling so this is about all I could squeeze out during limited access to wifi.
Political correctness is communist propaganda writ small. In my study of communist societies, I came to the conclusion that the purpose of communist propaganda was not to persuade or convince, nor to inform, but to humiliate; and therefore, the less it corresponded to reality the better. When people are forced to remain silent when they are being told the most obvious lies, or even worse when they are forced to repeat the lies themselves, they lose once and for all their sense of probity. To assent to obvious lies is to co-operate with evil, and in some small way to become evil oneself. One's standing to resist anything is thus eroded, and even destroyed. A society of emasculated liars is easy to control. I think if you examine political correctness, it has the same effect and is intended to.

-- Theodore Dalrymple
Scared America: 8 Crises and Collective Panics of the 1970s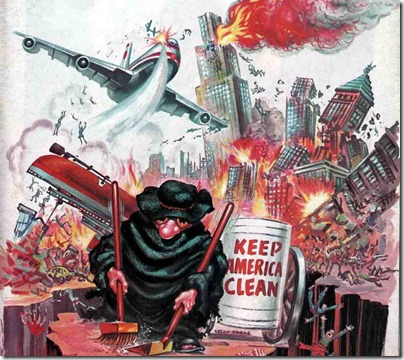 Nashville Chief Of Police Responds To Resident's Letter Asking Why Ferguson Protesters Are Being Allowed To Disrupt Their City (And Being Served Hot Chocolate And Coffee)
This letter is being lauded as long and thoughtful which I suppose it is. But I also found it condescending and evasive about the central issue that the resident brought up along with a strong whiff of political correctness.
The chief seems to be a stand-up guy with a longtime background in law enforcement. But here he's either responding as a typical politician or he's just muddle-headed. Read it and see if you agree.
Investment Aphorisms Collected by the Motley Fool
Women with workplace power are more depressed. Men, not so much.
Hindsight Is 30/06: A Critique Of The M1 Garand
The M1 from an engineering and historical view including the good, the bad, and the ugly.
A Paper by Maggie Simpson and Edna Krabappel Was Accepted By Two Journal
Porn Stars Before and After Makeup
Yahoo group. That is all.
Come on be a smartie and join the yahoo group party! For the children.
And my lo-fi Twitter spew.
Tonight's post brought to you by the card that Biff from Back to the Future hands out to people who approach him: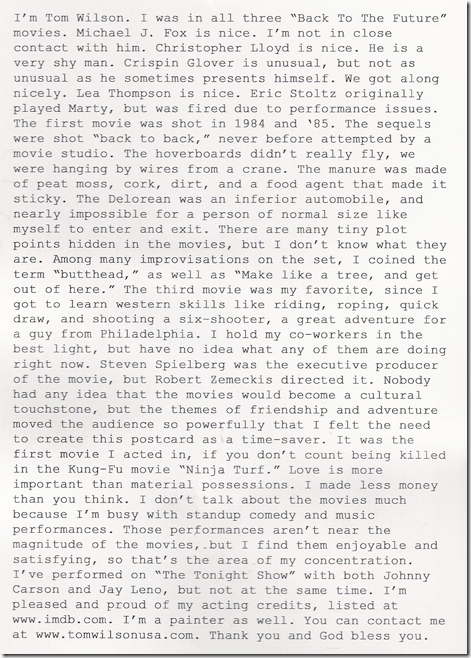 Notice: Posted by permission of AceCorp LLC. Please e-mail overnight open thread tips plus $1 for S&H to maetenloch at gmail. Otherwise send your scraps to BizarroAce. Do not taunt happy-fun ball.

posted by Maetenloch at
10:35 PM
|
Access Comments