« The Gaming thread (without much gaming)
|
Main
|
Ted Nugent Explains How An Electric Guitar Works (CBD) »
December 21, 2014
Food Thread: Miscellaneous Stuff [CBD]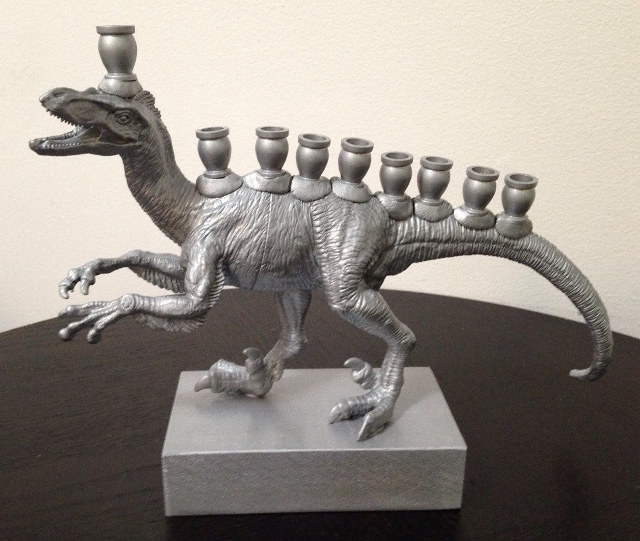 Hanukkah is a relatively minor Jewish holiday that has been raised to ridiculous heights because of its proximity to Christmas. But that's okay, because giving and receiving gifts is rarely a bad thing. And we get to make potato pancakes (latkes), which go fantastically with sour cream. Although there are some Jews...deeply, irredeemably disturbed Jews....who eat them with apple sauce.
And did I mention doughnuts? They're called sufganiyot in Hebrew.....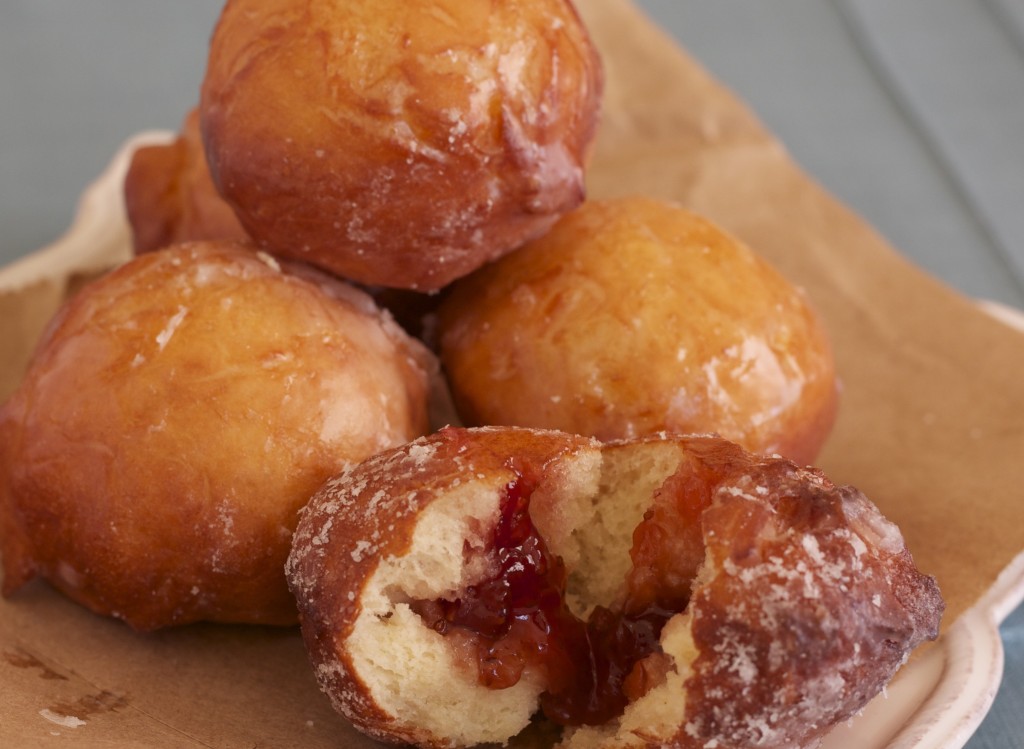 Hanukkah is the celebration of the liberation of Jerusalem and the Temple from the Greek (Seleucid) occupiers by a Hasmonean family called the Maccabees. The miracle upon which this holiday is based is The Miracle of The Light, in which the sacred oil that burned in the Temple's menorah lasted eight days, when there was only enough for one day. The menorah used during Hanukkah has eight branches; one for each of the days of the miracle; unlike the Temple's menorah, which had the standard seven branches.
The Hasmoneans were successful in freeing Judea from the Greeks, and had an independent kingdom until the Romans showed up in 63 BCE.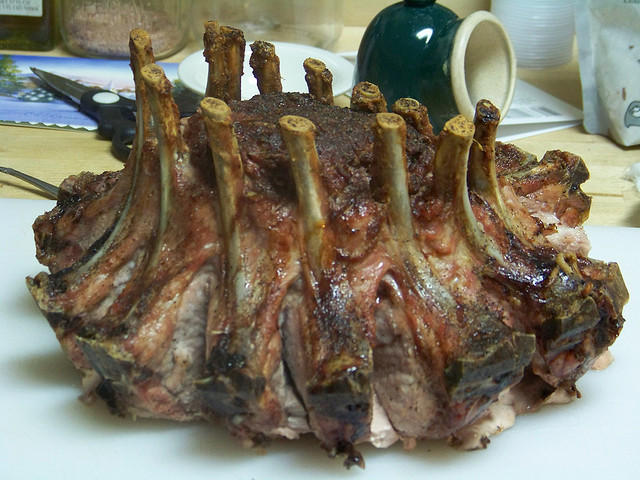 Crown Roast of pork is a classic preparation, but is it purely cosmetic, or is there some function to shaping the roast in a circle and stuffing it? Clearly it looks grand, but I am disturbed by the frenching of the ribs (get your minds out of the gutter). That's some of the best meat on a roast...that succulent mix of fat and meat, nestled against the bone where one can gnaw it off in little pleasure-packed bites.
And the circular shape eliminates the end pieces, which get nice and crispy and crunchy.
At least one of you is making a Crown Roast for Christmas dinner, so this is not an academic question......

From a Bartender Friend of Mine
The end of the year is a time of reflection and contemplation. With that being said I've decided to list the most memorable things that have been said to me, or that I have overheard at the bar this year. Some were said directly to me, and others were overheard, but not by eavesdropping, just by the fact that I cannot stop sound waves at certain decibels from hitting my eardrums.

Some of these also reflect the obvious fact that people sometimes forget that bartenders can hear, and most of the time we are a hell of a lot more sober than they.

1) Him -- I'd like a gin martini.
Me -- Excellent. Do you have a preference on the gin?
Him -- Ummmmmmmmm, how about Ketel One.
Me -- Ketel One is a vodka.
Him -- Whatever man, I'm just trying to impress this girl who's in the bathroom and I thought a martini would make me look more sophisticated.

2) Her -- I've had this tampon in for like 17 hours.

3) Her -- Excuse me, but are you French? [Said to the bartender. In NJ. CBD]
Me -- No.
Her -- Walks away without another word.

4) Her -- I don't know if I'd call myself upper class, but I live in Ridgewood [pompous suburb. CBD] so I guess I have to be, right?

5) Him -- So I have a match.com date here tonight. It's our first time meeting.
Me -- Well, I wish you the best of luck.
Him -- If it doesn't work out do you know any strip clubs in the area?

6) Him -- Is that my wife? Shit I told her I was at our daughters basketball game. Cover for me.

7) Her -- Do you know any GOOD restaurants in the area?

8) Him -- I can't wait till pot is legal in New Jersey. Then I won't have to suffer through all the hangovers.

9) Her -- Instead of potatoes would it be possible to get a bigger steak?

10) Him (after bringing in an inebriated young lady) -- Oh I don't want anything. We just had to stop somewhere because she thinks she's going to throw up.
Crunchy Pan-Fried Cod
Cod filets (about 6-8 ounces per person)
Flour
Egg
Panko bread crumbs
Butter
Vegetable oil
Preheat oven to 300F
In a large oven-safe non-stick skillet melt a few teaspoons of butter over low heat.
Cut the filets into single portions, trying to keep each piece uniform (they will cook more evenly).
Dry the pieces and then lightly salt and pepper them just before cooking.
Whip an egg until frothy, adding a bit of salt and pepper to taste.
Turn the heat under the skillet to medium high and add 1 ounce of oil.
Dust each piece of cod with lightly seasoned flour. I use salt and pepper, but whatever makes sense is fine.
Starting with the thickest pieces of fish, dredge the cod through the whipped egg wash and then through the Panko bread crumbs, making sure that the fish is covered completely. If necessary pat the crumbs gently to help them stick to the fish. As you prepare each piece, put it in the skillet so the Panko doesn't get soggy.
Place the thicker pieces in the middle of the pan, which is usually hotter than the edges.
Cook for a few minutes until the Panko is lightly browned and crunchy, and then flip gently with a wide spatula.
Cook for a few minutes more, and then finish the fish in the oven for 5-6 minutes.
Serve immediately with a few squirts of lemon.
For an added bite, toss some crushed red pepper into the panko.....

posted by Open Blogger at
04:00 PM
|
Access Comments