« Michele Obama: Someone Asked Me to Reach Something for Them at Target So That Was Racism
|
Main
|
Morning Thread (12-18-2014) »
December 17, 2014
Overnight Open Thread (12-17-2014)
"When I started playing Bond it became apparent, in 1977, that I would have to leave the UK if I wasn't to pay ninety-eight per cent tax on my salary: an actor's life in the spotlight is short, so we need to look after our pennies, and that's why I decamped to Switzerland with its lovely snow-capped tax benefits."

-- Roger Moore
Dishonest Politifact Announces Its Lie of the Year: Claims About the Threat of Ebola
Only they actually aren't a lie and in fact are generally true. So here are some examples of their choice of 'lie' of the year:
Fox News analyst George Will claimed Ebola could be spread into the general population through a sneeze or a cough, saying the conventional wisdom that Ebola spreads only through direct contact with bodily fluids was wrong.

"The problem is the original assumption, said with great certitude if not certainty, was that you need to have direct contact, meaning with bodily fluids from someone, because it's not airborne," Will said. "There are doctors who are saying that in a sneeze or some cough, some of the airborne particles can be infectious." False.

U.S. Sen. Rand Paul, R-Ky., described Ebola as "incredibly contagious," "very transmissible" and "easy to catch." Mostly False.
Except that as Patterico points out that the CDC published this poster in October which makes the very same claim that George Will was making:

And in regards to Rand's statement of opinion about Ebola Patterico makes this note:
Looking at it another way, "at least anecdotally" (and, let's face it: fact-checkers around the globe universally agree that anecdotal evidence is the Gold Standard for fact-checking), one might anecdotally observe that health-care workers who believed they were taking every precaution and yet inexplicably ended up contracting the disease might come away from that experience saying: gee, it seems like Ebola is easier to catch than I realized!! Why, one might even call it "incredibly contagious" or "easy to catch"!
Because if Paul's statement were in fact truly false, then there would absolutely no reason to wear these kinds of suits when working with ebola patients.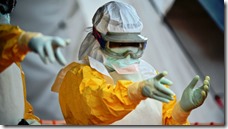 Meanwhile Don Surber points out the REAL lie of the year which alone has caused untold amounts of national harm:
The lie of the year is Dorian Johnson's statement to Wolf Blitzer about the shooting and death of Michael Brown in Ferguson, Missouri, last August: "I saw the officer proceeding after my friend Big Mike with his gun drawn, and he fired a second shot and that struck my friend Big Mike. And at that time, he turned around with his hands up, beginning to tell the officer that he was unarmed and to tell him to stop shooting. But at that time, the officer firing several more shots into my friend, and he hit the ground and died."

That was a lie. The autopsy and testimony from at least a half-dozen witnesses confirm that Dorian Johnson lied through his teeth.
No Free Speech at Marquette University
The campus Cultural Revolutionaries have now made discussion of forbidden topics and disagreement a crime. And a crime to be dealt with via a Kafkaesque mockery of due process.
Marquette University, the Jesuit school in Milwaukee, has shot itself in the foot again. Weeks ago in a "Theory of Ethics" class, philosophy instructor Cheryl Abbate listed several possible topics of discussion, but said one of them -gay marriage-could not be addressed because any opposition argument would offend homosexual students, and besides society has already agreed that gays can marry. This is a strong pattern for the campus left: topics they want to talk about (e.g., the Keystone pipeline, abolishing fraternities) are discussed endlessly, even in classes where the topics have little or no relevance. But topics they don'twant discussed are banned as "already settled" or as harassment.

Did Marquette overrule Abbate and say that gay marriage can certainly be discussed in class? Or that Catholic doctrine cannot be off limits at a Catholic university? Well, no. Like so many other universities, Marquette passed on the free speech issue and went after a lone professor-John McAdams-who had criticized Marquette's woeful reaction to Abbate in his blog, "Marquette Warrior." The next step was very predictable: Marquette suspended McAdams, said he is under investigation and banned him from the campus, without listing any charges against him. Presumably the unannouced charge is harassment, since the letter from Dean Richard Holz to McAdams ended with a sentence saying "I am enclosing with this letter Marquette's harassment policy..:"
I used to think of universities as loony playgrounds for a few professors (while most did actual work) that ultimately had little impact on the rest of society. But now the toxic insanity is spreading outside of its campus incubators and so I'm now actively rooting for the downfall of modern universities - which is sad because I love learning and intellectual pursuits and hate to see it get torn down along with the circus of dangerous fools that most campuses have become.
Do Voters Actually Hate Gridlock?
Voters are tired of a dysfunctional Washington and want leaders who can make the government work.
But Moe Lane says no way:
...and yet, every trend in American politics since November 5th, 2008 has been in support of a dysfunctional Washington.  I know that the Beltway hates hearing this, but the voters keep telling us at the ballot box that they never want to see the horrors of the 111th Congress - the mutant, deranged poster-child for 'functional' government - ever again.  That's why we flipped the House in 2010, and the Senate in 2014.  That's why we took so many governorships in 2010 and managed to keep them in 2014.
Meet Bill Nye The Anti-Science Guy
I've never been a fan of Bill Nye "the Science Guy." Partly it's because I'm from a different generation. I grew up with Isaac Asimov and Carl Sagan as my introduction to science, and Nye always struck me as a cheap substitute. I find something condescending in his hyperkinetic manner, as if science couldn't actually be interesting and exciting in its own right, as if it could only be interesting if the guy trying to explain it to us is bouncing off the walls. It all seems like Science for People with Attention Deficit Disorder. So you get travesties like Bill Nye supposedly explaining evolution using emojis. It's as dumb as it sounds, which is a shame given how important the theory of evolution is.

All of that is harmless enough, I suppose-more a waste of an opportunity than any active kind of evil. If not for the fact that the "science guy" is out undermining the basic creed of science.

Nye has joined with 47 "scientists, science writers, and other experts" who issued a statement "taking the media to task for using the phrase 'climate skeptic,' saying that the word 'denier' is more accurate."
Nye was a little after my time and I've never been a fan of his frenetic style either. Which as Tracinski points out seems to reflect a lack of faith on Nye's part that science is interesting by itself. And then you have the lecturing...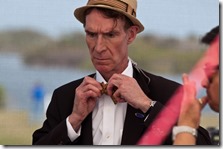 Apparently Enjoying the 'You Had One Job' Meme Means You're A Bad Person Now
And guilty of classism and privilege.
Of course, if you laughed at that little sight, you're probably a bad person. At the very least, you're engaging in some "casual classism." Here's Bovy:

"The question is, why this mean-spirited (if sometimes quite funny) meme, and why now? Aren't we supposed to be living in an era of hypersensitivity? Why hasn't the privilege of users of this hashtag been called out? (According to a few minutes of Googling, it has not.) [Emp. mine]"

This is a rather glaring example of one of the Internet's least attractive qualities: grievance hunting. Consider that second parenthetical: Bovy has literally gone looking for outrage about this thing, found none, and told you that you should, in fact, be outraged by it. Or, at the very least, made to feel shame for chuckling about it.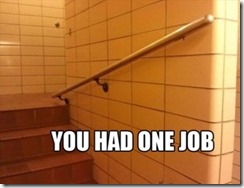 A-10s are now back in the fight. Again.
'Carry That Weight' Activists Get Fined For Dumping Mattresses
This is supposed to be an outrage or something but last I checked dumping soiled mattresses on someone's front door was considered harassment and likely to get you charged with littering among other charges.
In October, Carry That Weight activists - who are helping Columbia University student Emma Sulkowicz carry a mattress similar to the one on which she was raped in order to bring attention to the university's negligence of rape victims - staged a protest in which they left 28 mattresses at the doorstep of university President Lee Bollinger, one for each of the students who had signed a Title IX complaint against the university. In a breathtaking and unintentionally meaningful move, the university promptly threw the 28 mattresses in a dumpster and fined the activists $471 for damaging the mattresses.

In response, the activists left a mattress-sized check (well, OK, it was a check painted onto a mattress) for Bollinger at his doorstep again, asking Bollinger to support the activists. The actual fine has been covered by women's rights nonprofit Ultraviolet, who may have another few dollars to pay out, now.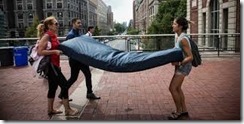 Guns and the 1965 Boy's Life Ads
Ignore the snark about shooting stuff and marvel over what boy's magazines used to look like. What I remember most about reading Boy's Life occasionally in the middle to late 70s was that its blend of articles on shooting/hunting/sports, biographies, history, stupid jokes, and a bit of man etiquette along with self-improvement was precisely tuned to the exact things that boys would be interested in reading about. I don't think anything like that exists today.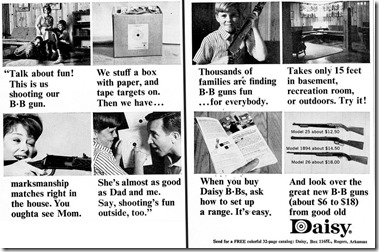 Can you tell the difference?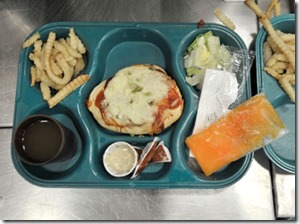 The Group knows what you did.
Tonight's post brought to you by today you are a man: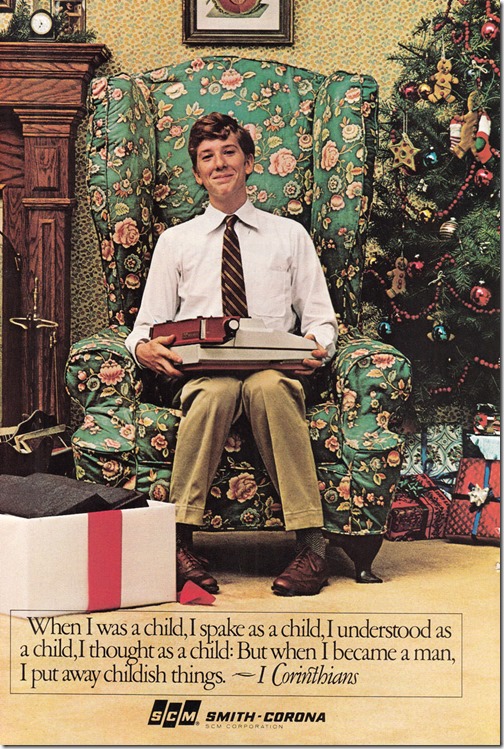 Notice: Posted by implicit permission of AceCorp LLC. Please e-mail overnight open thread tips to maetenloch at gmail. Otherwise send tips to Ace.

posted by Maetenloch at
10:38 PM
|
Access Comments