« Cool Ice Open Thread [krakatoa]
|
Main
December 27, 2014
Saturday Gardening Thread: Repeat Edition [Y-not and KT]
**This thread got stomped last weekend, so I'm reposting it, because KT and I put a lot of work into it.**
Inspired by the Christmas season - and by KT's description of the Dwarf Tomato Project below - today's theme is "elfin." (Yes, I *know* Dwarves and Elves are not the same! "Shut up," she explained.)
To get us in the mood, how about a song?
When I read KT's section of the gardening thread, I thought about doing my portion on bonsai, since they are "dwarf" plants and also because I see a lot of bonsai suggested as gift items in my local nurseries. But I know nothing about the art of bonsai. Does anyone here pursue this hobby?
Anyway, I'm a literal (literary?) gal so I decided to latch onto the "elf" idea instead. Now for me when I think of elves I do not think of Santa's elves or the Keebler elves or even Elvis (SWIDT?).
I think of Tolkien's elves.
You'll recall that the dirty Scandis from the Nobel Prize Committee held the opinion that JRR Tolkien's writing was no big shakes. Bunk! Anyone whose literary work so thoroughly displaces a long-held notion of elves as small, clever imps with his own vision deserves a lot of credit. To me elves will always be tall, mysterious beings who spend their days writing poetry and who smell vaguely of patchouli.
What does this have to do with gardening? Think about the world Tolkien created, filled not just with races of beings and their histories, but also with plants. So it got me thinking about those plants and Tolkien's possible sources of inspiration.

According to Tolkien's biography, he spent part of his childhood in the West Midlands, including rural Worcestershire. Today, it is home to a couple of nice botanic gardens, the Birmingham Botanical Gardens and Winterbourne. (You can read a nice article about the sites that shaped Tolkien's writings about Middle Earth here.)
Tolkien's experiences in Europe during World War I may also have inspired him. Although I believe the notion that LotR was intended as an allegorical story about the World War has been refuted, Tolkien did draw inspiration for the Dead Marshes on Northern France after the Battle of the Somme. (History buffs might find this page describing the Somme Battlefields of interest.)
So let's see if we can relate any of the "elvish" plants Tolkien describes to real plants.
A tree of Numenor recognisable by its yellow flowers that hung in long clusters from its branches. The laurinque was especially common in the wooded southeastern peninsula known as the Hyarrostar, and though its wood was of little use, the Numenoreans valued it for the beauty of its hanging flowers."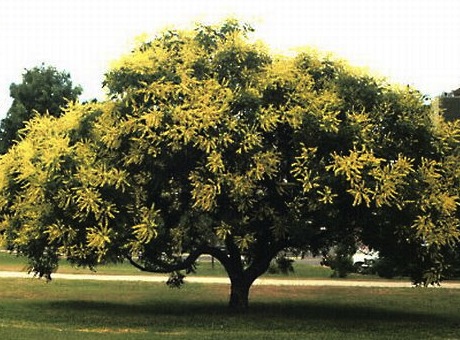 This description immediately made me think of the Goldenrain tree (Koelreuteria paniculata). We had one in the house we rented a few years ago here in Utah, but they are also found in Europe (although not native to it). And there's even a famous one at Oxford University, that was planted in honor of Gandhi. (The tree is also known as The Pride of India.) Recall that Tolkien was a professor at Oxford.
There's another tree called a Golden Chain Tree (Laburnum anagyroides), but I like my Oxford University connection so I'm sticking with that guess!

Mellyrn (aka "Mallorn")
A huge Elven tree that grew in Tol Eressea, Numenor and in Lothlorien. Bilbo's Party Tree was also a mallorn.
Its bark was silver and smooth, and its boughs somewhat upswept after the manner of the beech; but it never grew save with a single trunk. Its leaves, like those of the beech but greater, were pale green above and beneath were silver, glistering in the sun; in the autumn they did not fall, but turned to pale gold. In the spring it bore golden blossom in clusters like a cherry, which bloomed on during the summer; and as soon as the flowers opened the leaves fell, so that through spring and summer a grove of malinorni was carpeted and roofed with gold, but its pillars were of grey silver. Its fruit was a nut with a silver shale.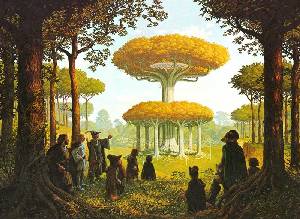 Could it be the Common Beech?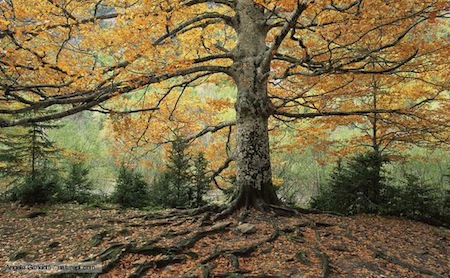 Here's the Woodland Trust's description of the Common Beech:

Mature trees grow to a height of more than 40m, and develop a huge domed crown. The bark is smooth, thin and grey, often with slight horizontal etchings. The reddish brown, torpedo-shaped leaf buds form on short stalks, and have a distinctive criss-cross pattern.
Young leaves are lime green with silky hairs, which become darker green and lose their hairs as they mature. They are 4–9cm long, stalked, oval and pointed at the tip, with a wavy edge.
Beech is monoecious, meaning both male and female flowers grow on the same tree, in April and May. The tassel-like male catkins hang from long stalks at the end of twigs, while female flowers grow in pairs, surrounded by a cup. This cup becomes woody once pollinated, and encloses one or two beech nuts (known as beechmast).
I found a lot of great images of beech trees at British websites. I have the impression they really love this tree. Here's a link to the BBC's pages. This blogger has some lovely images she captured while looking for bluebells. And you can read more about beech trees and their fruit here.

OK, this last tree has me stumped... (SWIDT?)
A sweet-scented tree that grew in Numenor, and especially in the western region known as Nisimaldar. It was the custom among Numenorean mariners to have a cut bough of oiolaire placed on the prow of their ship before setting out on a voyage, as a symbol of good fortune. According to Wikipedia, "It had "ever-green, glossy and fragrant" leaves and throve upon sea-air; its bough was believed not to wither "so long as it was washed with the [sea]-spray", which is the source of its name ('ever-summer' in Quenya)."
Is anybody up on their Norse mythology? It sounds like Tolkien must have been inspired by the Vikings, but I struck out when trying to identify this tree.
Anyway, it was fun poking around the internet for a few hours trying to track down Tolkien's inspiration.

While I was trying to find a Viking connection to Tolkien's trees, I stumbled into this which seems appropriate a few days before Christmas, The Legend of Mistletoe:

Baldur, grandson of the Norse god Thor, woke up one morning certain that each and every plant and animal on earth wanted to kill him. His mother consoled him. His wife consoled him, but all to no avail. As Baldur cowered in his room, half-wild with fear, his mother and wife decided to ask every living thing to leave their poor Baldur in peace. They begged the kindness of the oak tree, the pig, the cow, the crow, the ant and even the worm. Each agreed. Then, as Baldur paused to celebrate his release from torment, he felt a pain in his chest. He had been stabbed and killed by an arrow made from the wood of a mistletoe plant. Mistletoe was the one species on earth his wife and mother had failed to notice.
Baldur died, but a lesson was learned: Never forget about the mistletoe. Mistletoe would come to hang over our doors as a reminder to never forget. We kiss beneath it to remember what Baldur's wife and mother forgot.
I hope you all have a hottie to kiss under the mistletoe this year.
And now, without further ado, here's the incomparable KT!

The American Garden Dreams of FDR
Olivia de Havilland, one of the few surviving actresses from The Golden Age of Hollywood, recently did an interview with Garden and Gun. She described a conversation with FDR about gardening, over dinner at the White House. I guess it was natural for her to bring up Gone with the Wind:

He thought every American should own an acre of land. The country was then in the grip of the Depression. Millions were not only starving but were without resources of any kind. I think the president felt that through owning and cultivating an acre of land, most Americans could be self-sustaining in case of catastrophe. He may well have been influenced by the role that Tara played in Scarlett's life -- it sustained her. Then there were Gerald O'Hara's words: "Land is the only thing in the world worth working for…because it's the only thing that lasts."
I'm going to live through this . . .
Ms. de Havilland apparently had this conversation with FDR before the WWII Victory Garden campaign. FDR convinced a lot of people to grow a garden as part of the war effort.
Seeds for Victory Gardens
Nostalgia for Victory Gardens in the days before F1 hybrids became popular brings us (sort of) to the Victory Seed Company, one of several small but really dedicated seed preservationist sites. They sell seed of vegetables, grains, flowers, herbs and tobacco. Among other endeavors, they have a good selection of the tomato varieties introduced by the old Livingston Seed Company, back when seed companies said "hybrid" when they meant a stabilized, open-pollinated cross bred from traditional varieties.
Victory also has a selection of dwarf and container tomatoes, including both heirlooms and some new varieties from the Dwarf Tomato Project. See the discussion of this unusual project below. Of their heirlooms, Burpee's Quarter Century is reputed to be an excellent container tomato for desert climates.
Preppers and seed savers who order from this company should consider the inexpensive rechargeable desiccant packets for storing seeds (except bean seeds), preferably in the refrigerator or freezer. Their selection of gifts for gardeners is eclectic. How about a Traditional Glass Pickle Ornament? The hardwood dibble seems a little expensive to me, but some people appreciate quality tools and not everyone has a dibble. Or maybe someone you know would like a Victory Garden Kit. Though Victory offers a pre-selected one, they actually recommend that people pick varieties suited to their own yards for prepper-type seed collections.
Territorial Seed Company also has a "Victory Garden Seed List". Bet we could find similar lists in other catalogs. If you already know which varieties do well for you, catalogs for market growers are a good source for larger quantities of seeds.
The Cross-Hemisphere Dwarf Tomato Project
The dream FDR described to an actress -- an acre of land for every American -- has been replaced by the new progressive dream of squeezing lots of people into very small living areas. And many people today would not really know how to devote an acre of ground to growing food. In recognition of today's smaller gardens, a committed group of amateurs organized the Dwarf Tomato Project.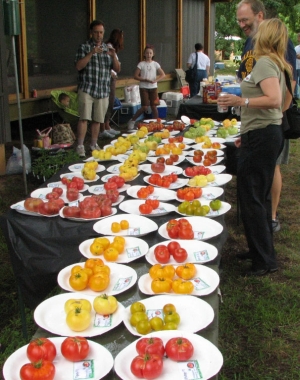 Dwarf tomato plants come in two basic versions (with some variations): [1] Determinate, or "bush" tomato plants (fruit forms on terminal branches, often over a short season or even all at the same time) and [2] Indeterminate Short Internode tomato plants (ISI or Compact Indeterminate). The second category of plants produces fruit on branches that continue forming over a long season. But the branches are not as "viney" as the branches of regular indeterminate tomato plants.
The only old large-fruited heirloom ISI tomato generally recognized by "tomato nuts" for exceptional flavor is New Big Dwarf. Some of these "tomato nuts" decided it would be nice to have additional high-quality ISI dwarf varieties for today's smaller gardens. They formed two teams of amateur tomato breeders, one in the Northern Hemisphere and one in the Southern Hemisphere.
Normally it takes at least 8 generations to stabilize a new open-pollinated tomato variety. By sending seed from one hemisphere to the other, two generations per year are possible, cutting development time in half.
As varieties selected by the project team members are stabilized, they are released through small, preservation-minded seed companies. I am considering "Rosella Purple". One of its parents is "Stump of the World" - the only heirloom among my top 5 performers during this year's hot, dry summer.

Y-not: Thanks, KT! And now here's our co-host, Weirddave: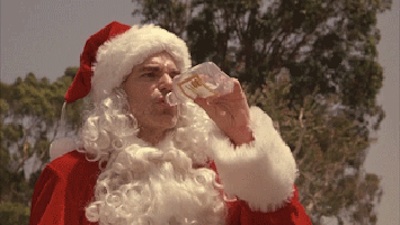 *hic!*

Y-not: Hmmm... I guess Weirddave was up late last night!
To close things up, here's a cute video about John Rhys-Davies, who played Tolkien's dwarf, "Gimli:"
He was the featured voice artist for the Mormon Tabernacle Choir's Christmas edition of Music and the Spoken Word this year. We didn't go this time, but we have gone to a couple of the MTC Christmas concerts and they are pretty impressive. (I think the video becomes available a the following year.)

posted by Open Blogger at
04:00 PM
|
Access Comments