« Fundamental Concepts : A Melting Pot, Not a F****** Salad Bowl [Weirddave]
|
Main
|
Open Thread »
December 06, 2014
Saturday Gardening Thread: Granola Edition [Y-not, Weirddave, and KT]
Welcome to the Saturday Gardening Thread! Today we'll be doing some exploring in the West, home of fiddlers, preppers, and Christmas tree farms.
Today's thread is brought to you by the Hippy Dippy Weatherman:
Pop quiz, courtesy of Mental Floss: Name the top states in terms of Christmas tree production. My first guess was Oregon. (We'll be learning more about this lovely state in KT's section down below.)
There are many types of Christmas trees, some are favored in one part of the country more than others. I'm sure part of this is owing to availability and local climate. Here's a handy selection guide for those of you in the U.S. (There's also a link to a guide for our friends in the U.K.)
First, a poll:
Here at Casa Y-not we tend to go for firs, either Balsam or Fraser, depending which trees look best when we get to the lot. In years past, we got a few Blue Spruces. We've never gotten a White or Scotch Pine. My impression is that that's more of a Southern thing -- feel free to correct me. Fortunately, out West fir trees are widely available: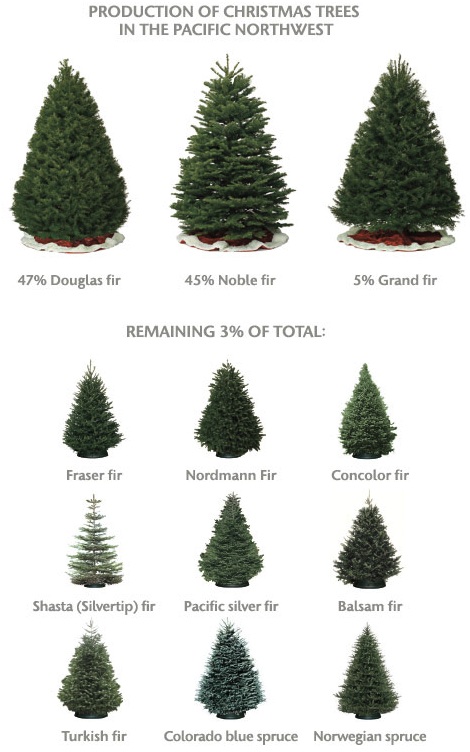 We always go to a lot or local nursery to get our trees, but choosing and cutting your own tree is also popular. Here's a handy reference for self-cut tree farms. Over at Better Homes and Gardens I found this helpful tree selection guide. And our friends at Popular Mechanics offer this How To Guide on finding, harvesting, and maintaining a Christmas tree.
Or you could grow your own, in which case you might find this Pocket Guide to Christmas Tree Diseases a helpful reference.
If you're interested, maybe we could do a show and tell of our Christmas trees (or Hanukkah bushes!) and other holiday greenery (wreaths, garlands, Christmas cactuses, and the like) next week. If you'd like to share a picture of your holiday greenery with the horde, contact me at my Twitter account moxiemom or by email at bailesworth AT g ma il DOT com.

Take it away, KT:
GARDENING IN HARMONY WITH HUMANS
People sure have a lot of different ideas about how and why to grow a garden. We have a lot to learn. As cold descends upon the nation, I thought it might be nice for us to take a little virtual trip to some relatively mild Western climes for a little farm and garden history. First stop is Oregon.
There have been some challenges to civil society lately. If you're thinking of distancing yourself a little from the madding crowd, Oregon is a pretty good place to start learning whether or not this is a good idea - and if it becomes a good idea, how to do it. A few decades ago, quite a few people made a serious effort in Oregon to separate from the larger society.
Hold your horses, Oregon -- here comes The Horde
Oregon is also the home of the nation's only winter vegetable catalog, produced by Territorial Seed Company. Territorial's catalogs are quite pricey, but provide excellent information for growers, particularly in the Pacific Northwest. They cater to the organic gardening crowd, but also feature seeds from conventional, Big Ag sources (though they're trying to phase out Monsanto-acquired companies). They are very aware of the concerns of preppers. Featured prepper veggie: open-pollinated, disease-resistant pickling cucumber Wautoma.
The founder of Territorial Seed, Steve Solomon, sold the company a long time ago in order to return to a simpler life. He has written a new book of interest to preppers (and others): Gardening When It Counts: Growing Food in Hard Times. (Y-not: If you can, try to use Ace's Amazon link.)

This book has revealed some culture clashes among the proponents of "sustainable gardening". Check out the Amazon reviews to see what I mean. He recommends wide spacing of plants where water is in short supply. This goes against the grain of the "intensive gardening" theories that dominate the sustainability movement.
I tried the wide spacing idea for this year's poor, drought-stricken winter garden. I'll report back on it later: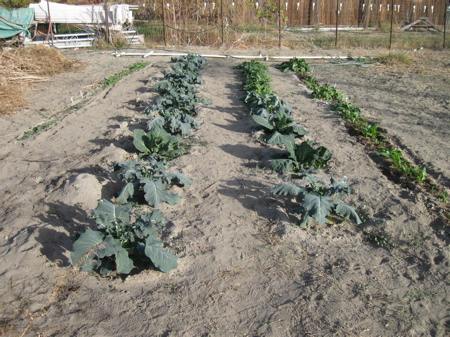 Now on to western Idaho for a little personal, sort-of-related history: Long ago, my parents took our family to eastern Oregon, then into Weiser, Idaho. This farm town is just across the border from Oregon, in Idaho's mild-weather "banana belt" near the Snake River (not that you can grow bananas there). My sister was competing in the Junior Division of the National Old Time Fiddling Contest.
This was during the heyday of the "back-to-the-land" Oregon Hippies. Many of them came across the border to "experience" the fiddling contest. It was not much like Woodstock, perhaps to the disappointment of some. These were genuine hippies, complete with makeshift trailers. Some of them really fit the "dirty hippy" label. Trust me.
It was interesting to see how the contest organizers minimized culture clashes between the hippies and the more conventional farming community natives who were part of the "dominant culture" among the fiddling contestants and other musicians. Harmony was maintained primarily by setting up public-venue entertainment that the hippies could attend. This kept them from disturbing the serious jam sessions and other events favored by contest participants and their families. The "circus" part of "bread and circuses" worked well in this setting, especially given that the "alien culture" was pretty mellow.
The Oregon Hippies are mostly not exactly hippies anymore. Many of them learned a lot during that time about things like the importance of public health measures, how to get along with other people and growing food in difficult circumstances. Their influence on gardening remains. So does the influence of Oregon's earlier pioneers. Steve Solomon's focus on gardening during hard times may resonate with some in The Horde at this particular time, whether or not we agree with his methods.
If you're not quite ready for a book like that, I have a suggestion for some pleasurable garden-themed reading for this winter: Principles of Gardening, by Hugh Johnson. It is out of print. This book includes some fascinating history regarding ornamental and edible gardening. It also covers principles that help explain how gardens work. Some of those Oregon Hippies should have read it before returning to the land.
This book is beautifully written. The author became famous writing about wine. I had a copy years ago, but someone borrowed it and never returned it. So irritating. I may pick up a copy so I can read it again. I think it could help provide some balance to the "what is happening to the world?" thoughts which intrude lately.
And in recognition of the importance of maintaining some harmony with others, here is some Twin Fiddling from Weiser, Idaho.

Y-not: Thanks, KT! And now heeeere's Weirddave:
Hippies.
There is a solution:
I have little to say on Christmas trees, as mine are now of the artificial variety. Gingy is allergic to real trees, and she's more important than my nostalgia, so it's plastic and wire at Casa Weirddave. I did buy a real nice 10 footer this year, dark green, really fits well in the living room with it's 12 1/2 foot ceiling. We'll be decorating it tonight, which is always a blast. I hope you and yours have a similar wonderful family moment soon.

Y-not: Thanks, Weirddave!
To wrap things up, here's Ronald Reagan lighting the national Christmas tree:

What's going on in your garden this week?

posted by Open Blogger at
02:30 PM
|
Access Comments