« Sunday Football Thread
|
Main
|
Gaming Thread 11/16/2014 »
November 16, 2014
Fundamental Concepts: Vive la difference! [WeirdDave]
Here's one that Hollywood loves. You see it in entertainment, media, journalism and academia. It's beloved by the LGBPTTQQIIAA+ community (That's not a joke, that's what they're up to now-"Lesbian, Gay, Bisexual, Pansexual, Transgender, Transsexual, Queer, Questioning, Intersex, Intergender, Asexual, and Ally." The + is for those people whose sexuality hasn't been discovered yet, or for people who haven't lobbied hard enough to get their particular kink included in the victimology role call. The + is most definitely NOT for the "cisnormative" heterosexual people who make up 95% of the population). "Feminists" love to dress it up in little duck outfits and trot it out at the drop of a hat. Cultural Marxists get absolutely giddy at the though, it does such a good job of tearing down traditional family structure. I'm sure you've heard or read it yourself:
There is no difference between men and women. It's a cultural artifact
Bullshit.
Fortunately for us stogy old conservatives, there is a great deal of scientific evidence that proves, yes, men and women are different. Physically, the differences are obvious. Men are generally bigger, stronger and faster than women. That's not to say that an individual woman might not be bigger, faster or stronger than an individual man, but as a group they are not. The 400 meter world record time for women is held by Marita Koch, who did the quarter mile in 47.60 seconds. That's damn fast, Ms. Koch is at the absolute pinnacle, the best of the best. However, a high school boy, Darrell Robinson, covered the same distance in 44.69 seconds, and he's not the best of the best ( The mens world record is 43.18 seconds, held by Michael Johnson). As of the last time I saw figures, 20 women had attempted the U.S. Army Ranger school. Only 3 made it past the first day, and none finished the course. Please note, this is not a criticism of those women who are fine, brave, determined people, any one of whom I'm sure could kick my ass. No matter their dedication and determination, however, none of them was physically able to complete a course that 80% of infantry man are able to complete.
On the other hand, in some ways women are physically superior to men. They generally have a higher threshold for pain. Most demonstrate superior dexterity. Again, while an individual man may have more pain tolerance or dexterity than an individual woman, as a group women have us beat in both categories. They have to give birth, right there is a far as you need to look in the pain front, however if you consider "traditional" womans activities,things like sewing, knitting, typing and crafts, as well as modern professions that women excel at such as lab work, all of them require a high degree of dexterity.
OK, physical is obvious, but how about mentally? Well, science has studied that as well. Below are diffusion tensor imaging scans of a man's brain (left) and a woman's brain (right). What's fascinating is that they reveal that the sexes are wired differently. Men have more front to back neural connections, while women have more side to side connections between the hemispheres of the brain. What does that imply? Here's an article from CBS News that discusses the implications. Here and here are two more articles discussing these differences.

So, all that being said, what's the fundamental concept here? Even though there is a small (but vocal) minority denying the obvious (look above for the groups they belong to. They have an outsized impact on the culture), I think most people would admit that nothing I've said above is controversial or anything beyond obvious. True, but it is a principle that needs to be stated: Men and women ARE different. No, what's more important is this concept:
Just because men and women are DIFFERENT, that doesn't mean that either one is SUPERIOR
THAT is where the whole mess goes all Harrison Bergeron. I like being different than my wife, and not just sexually. The other evening, I was in the garage, doing what my young son likes to call "man stuff". I cut up some scrap wood for kindling for the fire. I worked on some garden tools. I mixed stabilizer into the gas tank of the motorcycle, then ran the carb dry for the winter. I made sure the genny was gassed up and oiled in case we lose power this winter. The whole time I was perfectly happy and content.
At the same time, my wife was upstairs doing stuff that interests her. In this case, knitting. She wasn't knitting because I make her knit, gods no. She was knitting because she enjoys it. She can take raw wool, card it, wash it, dye it, spin it and then knit it into the most amazing creations, like this shawl.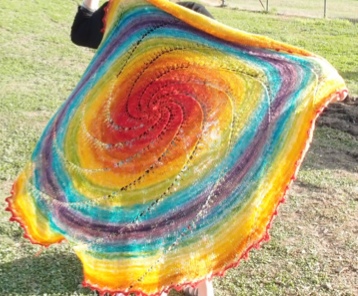 Now, none of this is to say that she couldn't have done all the things that I did that evening (although I most definitely could NOT make a shawl like that. Give me a sheep and you get lamb chops, not clothing), although what was for me enjoyable would have been an onerous chore for her. What we each did that night was different, we both enjoyed ourselves, and it was complementary. Our individual differences, inclinations and tendencies led us both to chose to do things that benefited the household as a whole. It's the same with the larger differences between men and women as groups. There's differences, and thank God for that. Whether you believe we got here through God or evolution, these difference between men and women complement each other and make a greater whole.
The problem starts when you look at differences between people, groups or genders through the warped lens of leftism. Leftism is poisoned by an absolute belief that any differences can only be explained through a framework of oppressor/victim. The women mention above who weren't able to complete Ranger training must have failed because they are somehow oppressed. It can't simply be because they don't have the physical attributes necessary for the task. Different outcomes have only one possible explanation: an ism. Sexism, racism, tribalism, theism, whatever. There's an ism for every day of the year, all of them serve the purpose of denying one jaw droppingly obvious truth: People are different. Cultures are different. Genders are different. What the leftest is absolutely unable to do is to accept the simple fact that different does not always mean one is better than the other*. They're just....different. So what? How boring would the world be if nobody was any different from anyone else?
So there's the concept: Men and women are different, and it's completely natural and a good thing.
*Sometimes it does mean that. My culture is better than Iran's culture, by any measure. Deal with it.

posted by Open Blogger at
02:15 PM
|
Access Comments