« Open Thread: Incredible Graphic of the Week [Y-not]
|
Main
|
Overnight Open Thread 11/15/14 (tmi3rd) »
November 15, 2014
OT Thread #2-NSFW Rant and Rave Edition [WeirdDave]
Everything should go below the cut.

Click if you dare.

Alright, I'm up late and feeling ornery, I've had a few beers, so drop your c*cks and grab your socks, it's time for a little tour of my white, hetero normative, racist, hater, conservative, Rethuglican, common sense, redneck, elitiest brain. Not for the faint of heart.
First up, Jonathan Gruber. This week we got confirmation of what folks on our side have always known: our "betters" despise us. Never mind that they probably know less about life in the real world than a crack addicted, transgender squirrel tasked with changing a tire (speaking of changing a tire, who wants to bet that Gruber couldn't manage that feat within a ten minute window?) on the Cross Bronx expressway. What would these people do if they weren't enabled by the coercive power of government to enrich themselves. Can you imagine Jonathan Gruber running a car dealership?
What's really funny about that video is that it's a spot on parody of a real commercial that used to run in Baltimore for Bill Kidd's dealership. Even the announcer voiceover is perfect.
Next, let us consider our nuclear deterrent. It's a pretty important facet of our national defense, no? You would think that at least the basics would be adhered to, wouldn't you? You would be wrong. It came out this week that three ICBM bases in North Dakota, Wyoming and Montana shared a single wrench to tighten and loosen the bolts on our nuclear weapons. Three sites. One wrench. Jesus, word is that Putin has a whole team of doctors working round the clock to treat an erection that has lasted far longer than four hours. Three bases in three different states. One wrench. How did they get the wrench from one base to another as needed? FedEx. No, I'm not kidding. "Uh, Jimmy? We got a situation here. I need the wrench in no more than 59 minutes. Now 58:59...58...57.." Not to worry though, top men are on it. Top men. Sec Def Chuck Hagel assures us

"We now have a wrench for each location," he said. "We're going to have two wrenches for each location soon."
Two wrenches each. Be still my breaking heart. How much are we spending on healthcare for illegals again?
Hey, mankind landed a rocket on a comet. That's pretty impressive, kinda like hitting a tennis ball with a BB. From a mile away. Dr. Matt Taylor spearheaded the effort, and after it succeeded, he gave an interview on TV. Much to his chagrin, he was wearing a shirt that had pinup girls on it. That shirt had been designed by a female friend of his, but it didn't matter. He was crucified by the feminist SJWs. Here's his shirt: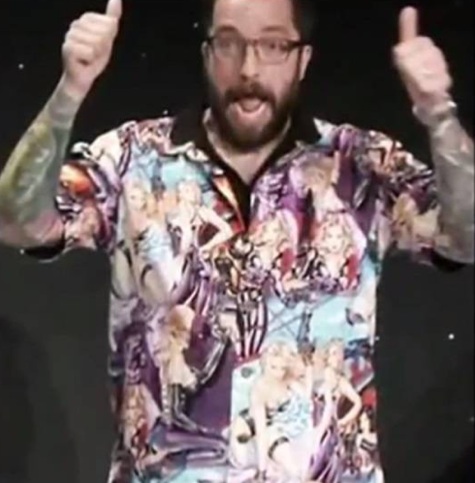 He gave an interview after the fact where he apologized for wearing the shirt. He said he'd made a "big mistake" by wearing the shirt. He cried during his apology. I won't link that because he doesn't deserve any more humiliation. Here's the thing. If I had the ability and smarts that Dr. Taylor has, I'd spit in the eye of the SJWs who complained. "Listen, sweetheart (and oh, yes, I'd call them sweethearts), f*ck you. I just hit a tennis ball with a BB at millions of miles. Let's see you hit a dodge ball with a rock across a gym, then we can talk". Seriously. Until our society decides to stop giving legitimacy to these insane a$$holes by treating their whines like they actually mean something, we're doomed. F*ck you. You wanna be offended? Be offended. Being offended doesn't magically give your delusion substance. Don't expect me to give a rat's a$$ over your "offense".
Finally, I give up. "Now is the time for all good men to come to the aid of their country". Yea? How long has it been since this is my country? My country, The United States of America, is a beacon of freedom to the world. We value ability, competence and hard work. We're proud of our accomplishments, humbled by our failures and dedicated in our desire to make the world a better place.
Is that the America we live in today? If not, why not? It's still the America I want, the America I'll fight for (I was just kidding about the whole "give up" thing), the America I want for my kids. But then again, what do I know? According to popular media, I'm just an a$$hole.
I close with a classic P.J. O'Rourke rant:
"I was having dinner…in London…when eventually he got, as the Europeans always do, to the part about "Your country's never been invaded." And so I said, "Let me tell you who those bad guys are. They're us. WE BE BAD. We're the baddest-assed sons of bitches that ever jogged in Reeboks. We're three-quarters grizzly bear and two-thirds car wreck and descended from a stock market crash on our mother's side. You take your Germany, France, and Spain, roll them all together and it wouldn't give us room to park our cars. We're the big boys, Jack, the original, giant, economy-sized, new and improved butt kickers of all time. When we snort coke in Houston, people lose their hats in Cap d'Antibes. And we've got an American Express card credit limit higher than your piss-ant metric numbers go. You say our country's never been invaded? You're right, little buddy. Because I'd like to see the needle-dicked foreigners who'd have the guts to try. We drink napalm to get our hearts started in the morning. A rape and a mugging is our way of saying 'Cheerio.' Hell can't hold our sock-hops. We walk taller, talk louder, spit further, f*ck longer and buy more things than you know the names of. I'd rather be a junkie in a New York City jail than king, queen, and jack of all Europeans. We eat little countries like this for breakfast and shit them out before lunch."
That's right multi-cultural a$$holes, you just try to keep up with us. F*CK YOU!
Edits added by Y-not in the spirit of reducing the F-bombs and whatnot.


posted by Open Blogger at
06:20 PM
|
Access Comments