« College Football Thread
|
Main
|
The Battle of Ia Drang »
November 15, 2014
Saturday Gardening Thread: Eats Shoots and Leaves [Y-not, WeirdDave, and KT]
Good morning, gardeners! Today's thread is brought to you by The Green Giant:
This famous advertising icon debuted in 1928, but he did not start out as a success. As you can see from that early advertisement, he was kind of creepy. So changes had to be made:
Giant's transformation was tackled by none other than young Leo Burnett, who improved the Giant's hunched posture, turned his scary scowl into a sunny smile and clothed him in a light, leafy outfit.

He also gave the tender tall guy a new backdrop -- a valley of crops that highlight the Giant's height.

When Mr. Burnett opened his own agency in 1935, Minnesota Valley was one of its first clients. The Burnett agency soon added the word "Jolly" to the giant's name, and by 1950, Minnesota Valley changed its name to Green Giant Co.

The Giant's early TV appearances, in 1958, however, were not as stellar. Bob Noel, a writer at Burnett, once made these comments about the Giant's early TV appearances: "They tried men painted green," a puppet figure and animation. The problem is "when you try to move the Giant around and really show what he looks like, he comes off a monster. The baby cries and the dog goes under the bed."
Some years later, the Jolly Green Giant was given a pal, Little Green Sprout:

In 1973 the Sprout character was introduced as an apprentice to the Green Giant. He helps the Giant tend to the valley and was created to represent the voice of the consumer. In advertising, he is curious, enthusiastic and well-taught by the Giant.

Throughout the years, the Giant has always been popular with the public, and merchandise has been available since the beginning of his career. There is even a 55-foot fiberglass statue of the Jolly Green Giant, erected in 1979, presiding over his birthplace in Blue Earth, Minnesota!

The Jolly Green Giant is one of the most recognized advertising icons of all time. Advertising Age magazine ranked him as the third most recognizable advertising character of the 20th century, behind only Ronald McDonald and the Marlboro Man.
Do you know why the Jolly Green Giant wears a red scarf? Well, it was added when the company came out with a line of frozen vegetables, which brings us to our mini-topic: preserving your garden produce by freezing.
I found an excellent resource on the science of freezing at the University of Minnesota extension website. It's quite extensive, including having separate instructions for vegetables, herbs, and fruits. Here's a sample:
Fresh produce contains chemical compounds called enzymes which cause the loss of color, loss of nutrients, flavor changes, and color changes in frozen fruits and vegetables. These enzymes must be inactivated to prevent such reactions from taking place.

Enzymes in vegetables are inactivated by the blanching process. Blanching is the exposure of the vegetables to boiling water or steam for a brief period of time. The vegetable must then be rapidly cooled in ice water to prevent it from cooking. Contrary to statements in some publications on home freezing, in most cases blanching is absolutely essential for producing quality frozen vegetables. Blanching also helps to destroy microorganisms on the surface of the vegetable and to make some vegetables, such as broccoli and spinach, more compact.

The major problem associated with enzymes in fruits is the development of brown colors and loss of vitamin C. Because fruits are usually served raw, they are not blanched like vegetables. Instead, enzymes in frozen fruit are controlled by using chemical compounds which interfere with deteriorative chemical reactions. The most common control chemical is ascorbic acid (vitamin C). Ascorbic acid may be used in its pure form or in commercial mixtures with sugars.
Last year I didn't read before I froze my herbs and it showed. They became discolored and really not very appealing for any type of use. I'm going to try to do it right this year! Swearsies!
Take it away, KT!

Sprouts, Shoots and Micro-Greens
Some hard-core gardeners (including some of the people who comment on the Saturday Gardening Thread) get a little depressed in winter. Maybe some of us could allay our winter blues by growing some sprouts, shoots or micro-greens indoors. There are a few other things you can grow indoors in winter, too.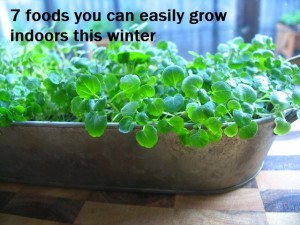 Sprouts for munching raw are harder to find in stores than they used to be. That's because of multiple deaths from E-coli contamination of organic sprouts in Europe a few years ago. If you want to sprout seeds to eat raw, get seeds certified to be pathogen-tested. Several catalogs sell pathogen-tested sprouting seeds. For you preppers out there, it is also possible to kill potential pathogens on seeds for sprouting by a variety of methods.
Shoots and micro-greens go a step beyond sprouting in plant growth. More leaves are allowed to form. The roots are not eaten. They are generally grown on soil-less planting mixes or artificial mediums. Because they are not kept constantly moist, pathogen contamination is not the same concern it might be with raw sprouts. As far as I can tell, the difference between "shoots" and "micro-greens" is mainly the size of the seeds you start with. They need less light than seeds you intend to grow into big plants outdoors, because much of their energy comes from the seed at this early stage.
Johnny's Selected Seeds is my go-to source for information on micro-greens, and they offer a tech sheet on growing shoots. Tech sheet? That's because Johnny's core customers are market growers for high-end restaurants and specialty markets, including organic growers.
Johnny's paper catalog (and their website) categorizes micro-greens into herbs and veggies, then into "fast-growing" and "slow-growing" categories. "Slow" for a micro-green means 16 to 25 days. There are photos of all the little micro-greens. The next one I will likely try is "Persian Cress".
Their paper catalog also qualifies as a Dreamy Winter Catalog for home gardeners. Some commercial catalogs discourage orders from home growers, but Johnny's does not. Nice photos, though not as big or lush as those in the Burpee catalog. Johnny's offers much better information on plants, plus cultural tips. Prices are high for a commercial catalog, but often a little lower than Burpee's prices.
Johnny's selects their veggie seed varieties carefully. They sell the superlative summer turnip "Hakurei" (does not do well in really cold, wet weather) and a red one called "Scarlet Queen". The hairless leaves can be used in salads. One wild arugula is named "Wasabi", for those who like that sort of thing in their salads. There are always a few surprises in Johnny's product line, worth checking out. They also do some breeding, like the distinctive summer squash "Zephyr", bred from summer squashes and a winter squash. It is fun for kids to grow.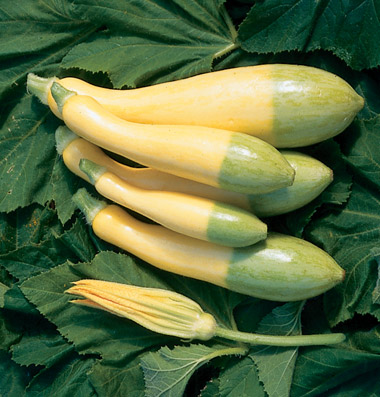 Y-not: Thanks for that, KT!
Some of you might recall that last weekend WeirdDave shared with us an interesting "business deal" he had made. Well, I'm not sure how it's turning out for him, but here is some exclusive surveillance footage taken of WeirdDave last week:
Hmmm...
To close things up, keeping with the theme of young greens, here is Joni Mitchell's "Little Green"
I didn't know that this song was about Mitchell's daughter, whom she gave up for adoption. You can read a little bit about the circumstances, here. Joni Mitchell is a very troubled person with a lot of anger that she directs at people and places that have not earned her wrath, imho. However, her album Blue is pretty much a masterpiece. It and Dylan's Blood on the Tracks were very important to me when I was growing up. And I think her voice is beautiful.

What's happening in your gardens this week?


posted by Open Blogger at
03:04 PM
|
Access Comments