« BLIZZCON Thread 11/09/2014
|
Main
|
The 'I Can't Stand The Dead Space' Open Thread - [Niedermeyer's Dead Horse] »
November 09, 2014
Food Thread: Cubanos and other assorted stuff [CBD]
Thanks to ColdBeer1 (slap) for a great idea for a food thread.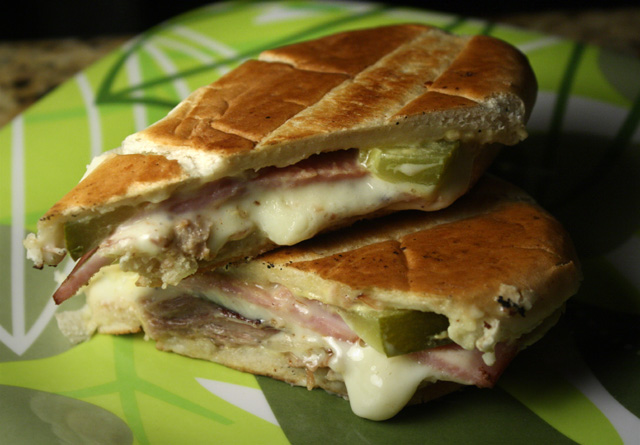 At first glance, it's just a grilled cheese and ham sandwich. But there are enough peculiarities that make it unique, and delicious.
The great thing it that there are various ways to make it. Instead of slow-cooked pork, I often use butterflied, garlicky chicken breasts as a great, quick bachelor substitute.
-- ColdBeer1
And this is a great point; it is an infinitely modifiable sandwich. Sure, it won't be a genuine Cubano, but the original was probably made from sawdust and old tires. Cuba is a very poor country (thanks communism!), and I am confident that the American variant of the sandwich is superior (assuming, for the sake of argument, that it even originated in Cuba).
Actually, there is very little fact, and vast amounts of supposition about the origins of the Cubano, which is probably why there is significant variation in its construction.
Just along Bergenline Ave. in West New York NJ (big, but shrinking Cuban community) there are many coffee shops and restaurants that make them, and they are all a bit different. I haven't had a bad one yet....
This is where it all begins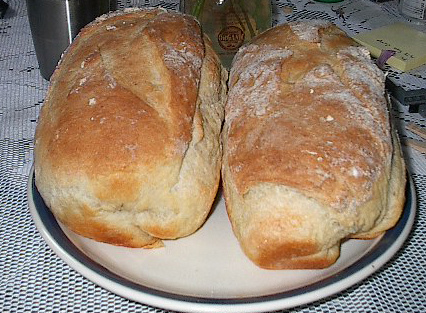 It's just a sandwich roll, but perfect for its purpose. Not too yeasty, not too toothsome and crusty, otherwise the sandwich wouldn't press correctly. And maybe just a hint of sweetness.
The heart of the sandwich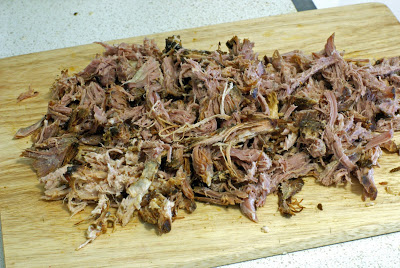 Pulled pork Cuban style has a garlicky, tart bite that is just marvelous. Although...I wouldn't sneer at a Cubano made with classic American pulled pork.
The rest of the sandwich is simple: a slice or two of ham, thinly sliced pickle, some mustard or mayonnaise -- and here is where it gets dicey.
Swiss cheese or provolone? They're different, and your choice is important. I prefer Swiss because it is milder and doesn't compete with the pork.
Construction is simple; bread -- yellow mustard (or mayo, or both) -- ham -- pork -- cheese -- pickles -- cheese -- pork -- ham -- yellow mustard -- bread.
Butter the bread on both top and bottom, and it's ready to cook. A press obviously works well, but a cast-iron pan will work too. Just use something heavy to press the sandwich as it cooks, and flip it so that both sides get a bit toasty. The goal is not to make it insanely crispy, just heat it through, melt the cheese, and get some browning on the bread. And don't be shy about compressing the sandwich....go for it!
As for variations? Chicken breast, chicken thigh, turkey, sliced pork, the aforementioned Provolone, honey mustard, hot peppers.....you name it -- it will work.

Congress passed the Bill of Rights 225 years ago today. Why the struggle for food freedom is at the heart of those amendments.
Foreign chefs with specialized knowledge acquired through cultural traditions, upbringing or life experience may qualify for visas to work in the U.S.
Spare me. Cooking in expensive restaurants is work that Americans just won't do? Teaching a line cook new techniques is pretty much all that chefs do in these restaurants. A temporary visa is all that is needed.
The city of Berkeley, CA became the first municipality in the country to approve a tax on sugar-sweetened beverages Tuesday.
Do not read this article if you are irritated by pomposity, elitism, arrogance, incipient fascism, and general assholishness.

This is an Ina Garten recipe that, as usual, is well conceived and just damned good.
LEMON BARS
Ingredients
For the crust:
1/2 pound unsalted butter, at room temperature
1/2 cup granulated sugar
2 cups flour
1/8 teaspoon kosher salt
For the filling:
6 extra-large eggs at room temperature
3 cups granulated sugar
2 tablespoons grated lemon zest (4 to 6 lemons)
1 cup freshly squeezed lemon juice
1 cup flour
Confectioners' sugar, for dusting
Directions
Preheat the oven to 350 degrees F.
For the crust, cream the butter and sugar until light in the bowl of an electric mixer fitted with the paddle attachment. Combine the flour and salt and, with the mixer on low, add to the butter until just mixed. Dump the dough onto a well-floured board and gather into a ball. Flatten the dough with floured hands and press it into a 9 by 13 by 2-inch baking sheet, building up a 1/2-inch edge on all sides. Chill.
Bake the crust for 15 to 20 minutes, until very lightly browned. Let cool on a wire rack. Leave the oven on.
For the filling, whisk together the eggs, sugar, lemon zest, lemon juice, and flour. Pour over the crust and bake for 30 to 35 minutes, until the filling is set. Let cool to room temperature.
Cut into triangles and dust with confectioners' sugar.

posted by Open Blogger at
04:00 PM
|
Access Comments