« Early Morning Open Thread - [Niedermeyer's Dead Horse]
|
Main
|
Gun Thread - Maintiens le droit Edition »
November 02, 2014
Sunday Morning Book Thread 11-02-2014: I Got Dem NaNoWriMo Blues Again [OregonMuse]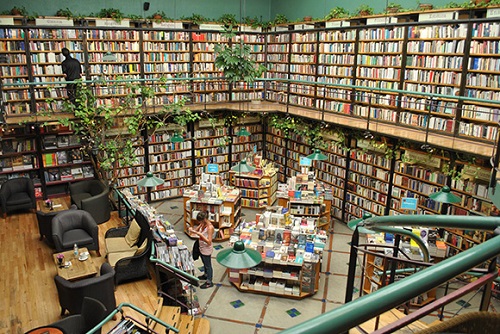 Cafebreri'a El Pe'ndulo Bookstore In Mexico City, Mexico
Good morning morons and moronettes and welcome to AoSHQ's stately, prestigious, and high-class Sunday Morning Book Thread. The only AoSHQ thread that is so hoity-toity, pants are required. Or kilts. Kilts are OK, too. But not tutus.

It's That Time of Year
Well, it's November, and you know what that means, don't you? Yes, the time for NaNoWriMo, supposedly the dread of authors' agents everywhere, has come upon us once again. For writers, the goal is to muster the strength, discipline, and above all, the gluteal stamina to create a 50,000-word rough draft of a novel in the 30 days of November. The whole process is outlined here.
And if you need motivation, here are some pep talks from celebrity authors (heh, I've actually only heard of one of them).
Although this author argues that what we need is not so much a writing month, but rather a national editing month:
So I've decided to try to maximize my NaNoWriMo. I'm calling it NaWriSoMo. National Write [or edit] Something [seriously, anything] Month. My goal is just to write, futz around with, or retool, something creative every single day this month, from ten minutes' worth of scribbles to a few hours of story revision, with a particular focus on getting early-morning writing time onto my calendar.
So what are you waiting for? Get to work! Remember, as the NaNoWriMo site motto reminds us, the world needs your novel.

Money For Me, But Not For Thee
Of course, the public life and persona of Lena Dunham is such a target-rich environment, it's almost too easy, but I can't resist piling on.
So, the story is: it turns out that Dunham is, hold on to your hats, a big fat hypocrite:
It has come to light that Dunham has hired performers to entertain the audiences at her new book tour. She told The New York Times, "I wanted it to have an arts festival feel, which is why we now have all these remarkable, special weirdos who I found on the Internet." What a hoot. But here's the problem: prior to a Twitter storm, Dunham planned to pay her special weirdos nothing.
I guess she was shamed into paying them. But the article, while not excusing Dunham's hypocrisy, does point out that working for free is not unheard of in the entertainment industry and the exposure and resume' enhancement is sometimes offered as compensation in lieu of actual pay. And everyone involved is OK with this.
But all of this aside, I think the real question is, are there really people out there willing to pay $38 to see Lena Dunham on her book tour? Really?
Impossible Murders
A dead body is found in a room. The cause? Murder. But all the doors were locked. No one could have gotten in or out. The classic "locked room" crime has been a staple in mystery/crime stories for over a century. What would be cool, though, would be if someone grabbed a bunch of these locked-room mysteries and put them in a single volume. Fortunately, that has now been done. In The Black Lizard Big Book of Locked-Room Mysteries,
Edgar Award-winning editor Otto Penzler has collected sixty-eight of the all-time best impossible-crime stories from almost two hundred years of the genre. In addition to the many classic examples of the form - a case of murder in a locked room or otherwise inaccessible place, solved by a brilliant sleuth - this collection expands the definition of the locked room to include tales of unbelievable thefts and incredible disappearances. Among these pages you'll find stories with evocative titles like "The Flying Death", "The Man From Nowhere", "A Terribly Strange Bed", and "The Theft of the Bermuda Penny", not to mention appearances by some of the cleverest characters in all of crime, including Arthur Conan Doyle's Sherlock Holmes, Georges Simenon's Jules Maigret, Agatha Christie's Hercule Poirot, Dashiell Hammett's Continental Op, and many more.

A Conservative Fiction Site
From going to and fro on the internet and from walking up and down it, I was made aware of the site ConservativeFiction.com. Upon subsequent investigation, though, it unfortunately appears to be pretty much dead. The readers' forum is apparently gone, and the last blog entry was posted last June. But the reason I'm bringing this up is because there is still something of value on that site, an authors page where you can find a pretty good selection of books by conservative and libertarian authors. It's got your usual suspects like Sarah Hoyt and Larry Correia, but there are others I'd never heard of, and maybe you haven't either. While I can't vouch for the quality of any of what's listed, you might find something that looks interesting to you.

Books of Note
All of the other cobs have already mentioned this, so I'll get on board, too, albeit a bit late. I'm talking about ex-CBS reporter Sharyl Attkisson's book Stonewalled: My Fight for Truth Against the Forces of Obstruction, Intimidation, and Harassment in Obama's Washington, which, even though it won't be released until later this week, is a #1 best seller in multiple Amazon categories, and #28 over all. Good for her. I can hardly wait to read the hysterical 1-star reviews.
Of course, this is not the first time this has happened at CBS. This is not the first time one of their reporters got fed up with the incessant partisan hackery that so constitutes CBS News and took their business elsewhere.
I'm referring, of course, to ex-CBS reporter Bernard Goldberg, who describes his awakening to the reality of CBS hackery in his first book Bias: A CBS Insider Exposes How the Media Distort the News. This book was, if you can believe this, not well received by CBS, who did what they usually do when criticized, namely, circled the wagons and called him names. That brought Goldberg's next book Arrogance: Rescuing America from the Media Elite, and I guess he really thought it could be reformed. But the title of his last book, A Slobbering Love Affair: The True (And Pathetic) Story of the Torrid Romance Between Barack Obama and the Mainstream Media, sounds like he has given up all hope. You can see the sad progression in his books from "we need to fix some things" to "serious reform is necessary" to finally "aw, screw it."
But getting back to Attkisson, I really hope she doesn't choose to pursue a career with Fox News. Then she could be written off as just more "faux noise" by the progressive gang of howler monkeys, and ignored.

Books by Morons
Gunnar Grey, A long-time stalking lurking moronette wants me to introduce to her latest novella, Star of Wonder, which she describes as an "inspirational Christmas paranormal~paramilitary adventure~romance". To flesh that out a bit:
Star of Wonder is the story of Captain Kenneth Rutland, a libertarian combat engineer on loan to the NATO Rapid Response Team. His life's gone horribly off course, this Christmas he's looking to shake things up a bit, and things shake him up instead.
She has provided an excerpt from the first chapter, which you can read here.
Grey is also the author of Deal with the Devil, which won the 2013 Chaucer Award for Historical Fiction.

___________
We all know longtime moron commenter Mary Poppins' Practically Perfect Piercing, who regales us on the weekday morning thread with amusing gossip and other stories from the Hollywood of yesteryear. It's obvious that MP4 has forgotten more about the early days of Hollywood and the film industry than the rest of us will ever know. And not only that, but he's also an expert in "Ripperology", i.e the body of accumulated knowledge concerning the Jack-the-Ripper murders. He's currently reading a book about another mysteriously unsolved murder: Tinseltown: Murder, Morphine, and Madness at the Dawn of Hollywood by William Mann. MP4 tells me:
[This is] a reexamination of one of Hollywood's biggest mysteries, the 1922 murder of director William Desmond Taylor. Most theories around the case center on either Taylor's unwanted lover, ingenue Mary Miles Minter, or her dragon-like stage mother as Taylor's murderer, but Mann has a different theory that sees the murder as a blackmail plot gone bad.
And like many Hollywood productions, it's a full and diverse cast of characters, including
three beautiful, ambitious actresses; a grasping stage mother; a devoted valet; and a gang of two-bit thugs, any of whom might have fired the fatal bullet. And overseeing this entire landscape of intrigue was Adolph Zukor, the brilliant and ruthless founder of Paramount, locked in a struggle for control of the industry and desperate to conceal the truth about the crime.
This story sounds so fantastic that if it hadn't actually happened, somebody would have to have written it.
Of course, MP4 is an author in his own right. His book The Director's Cut, which he tells me is perfect "for fans of silent films and/or cozy mysteries", is available on Amazon:
When makeup artist Toby Swanson joined the Fox Film Corporation in 1914, he hoped to sneak a kiss from the studio's newest star, the seductive vamp Theda Bara. But when a scene goes horribly wrong, Bara's film is cancelled and her dreams of stardom crushed. Unless...she can prove what looked like an accident was really murder
Kindle price, $2.99.

___________
Author Rodney Page wants you to know about his book, Powers Not Delegated, a political thriller involving
...an administration plagued by corruption and erupting scandals...A legal challenge to the administration's overt violation of First Amendment rights makes its way to the Supreme Court, itself on the verge of succumbing to Washington's creeping deception. An evil alliance between Al Qaeda and Iran plots the murder of thousands of Americans, but the danger is ignored by distracted politicians more intent on subverting the Constitution in order to retain power...In the midst of a government run amuck, remarkable courage is displayed by a group of governors, the CEO of an automobile company, and a congressman from coastal Georgia as they fight to bring the country back from the abyss. But are they too late?
Kindle price, $4.61.

___________
So that's all for this week. As always, book thread tips, suggestions, bribes, rumors, threats, and insults may be sent to OregonMuse, Proprietor, AoSHQ Book Thread, at the book thread e-mail address: aoshqbookthread, followed by the 'at' sign, and then 'G' mail, and then dot cee oh emm.
What have you all been reading this week? Hopefully something good, because, as you all know, life is too short to be reading lousy books.

posted by Open Blogger at
09:16 AM
|
Access Comments