« Annie Lennox: Bumping and Grinding in Skimpy Underwear for the Sexual Delight of Men Isn't "Feminism"
|
Main
|
IS Now Lobbing Mortar Shells Into Baghdad's Green Zone »
October 21, 2014
World Series Game One
If you're interested in this baseball thing. If not, there are other things.
Before I go here I want to echo something Ace said in the Annie Lennox post, having 2 now adult daughters and being conservative pretty much ruined me on young girls being sexually provocative and that was before this twerking nonsense came along.
It's one of the reasons you don't get risque cheerleader pics, I'm talking Maxim like stuff, so pat yourself on the backs because my pain is your pain.
OK baseball tonight. The Kansas City Royals and the San Francisco Giants, 8:07pm EDT. The Royals haven't been to the show since 85. Both teams ripped through their AL and NL series (KC went 8-0 and the Giants 8-2). I'm pullin for KC because the hell with the Giants.
There's no cryin in baseball.
There's no cheerleaders either.
So what.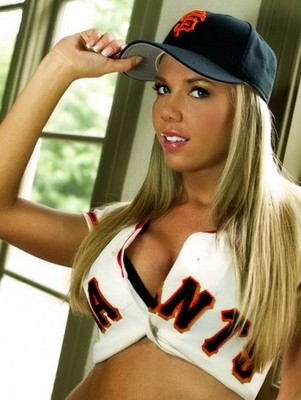 Just because I don't like the Giants (for kickin my Rangers in the teeth 4-1 in the 2010 series) doesn't mean I can't like her.

posted by Dave In Texas at
07:55 PM
|
Access Comments