« Open Thread
|
Main
|
Late Night Bedspins: Postmodern Jukebox Part II [dri] »
October 16, 2014
Overnight Open Thread (10-16-2014) – Ebola of Spades Edition
"Communists are just Nazis with better PR. UCLA is doing some of that PR."

-- Glenn Reynolds on UCLA's Angela Davis tribute.
One of the things I've been watching for is whether ebola infections take off in more populated countries around Liberia such as Nigeria. But surprisingly Nigeria seems to have managed to completely stop the ebola breakout. Here's how they did it:
Once the country's first Ebola case was confirmed, Port Health Services in Nigeria started a process called contact tracing to limit the spread of the disease and created an emergency operations center to coordinate and oversee the national response.

The group worked with the airport and airlines, triaged any potential cases, and decontaminated the airport as well as areas inhabited by people who might have come into contact with the virus, according to the CDC. Entry and exit screening was also established at ports in Nigeria.

Health officials used a variety of resources, including phone records and flight manifests, to track down nearly 900 people who might have been exposed to the virus via Sawyer or the people he infected. That group was monitored for symptoms for 21 days. Those under observation were required to check in with officials twice a day to provide health updates, according to The Independent.

If someone was showing symptoms or failed to provide an update, that person was checked on.

As soon as people developed symptoms suggestive of Ebola, they were isolated in Ebola treatment facilities. Without waiting to see whether a "suspected" case tested positive, Nigeria's contact tracing team tracked down everyone who had had contact with that patient since the onset of symptoms.

During this contact tracing process, officials made a staggering 18,500 face-to-face visits.

Aside from the contact tracing, Nigeria ensured a highly organized, methodical, and informed response to the outbreak, which was crucial. Officials who were part of the emergency operations center had access to the proper resources, and some had experience containing other viral diseases like polio.

All 19 confirmed cases were traced back to Sawyer, and no cases have come up since, marking a successful containment of the virus. The outbreak in Nigeria will be declared officially over on Monday if no new cases come up before then.
The Obama Administration: Less competent than Nigeria.
At this point I'm not even sure they could pull off even a simple email scam if the fate of the entire US depended on it.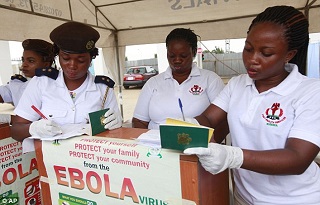 And what is the CDC in the US doing? Well they're sending out clipboard guys to make sure everyone else is wearing hazmat suits properly while transporting ebola patients.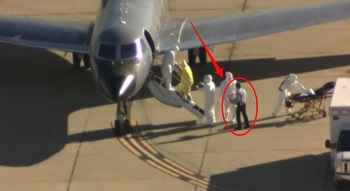 So Far Doctors Without Borders Has Lost 9 People to Ebola, 16 More Are Infected
A South African pediatrician with Doctors Without Borders, said her team made the difficult decision not to resuscitate babies unless they were newborn out of fear that the staff might become infected by bodily fluids, notes the AP. A Doctors Without Borders clinic in the town of Bo in Sierra Leone also made the decision to turn away pregnant women because childbirth reportedly poses a greater risk to staff.

The first Ebola-related death in America was Liberian national Thomas Eric Duncan who passed away in Texas just over one week ago. He had contracted the deadly hemorrhagic virus from a pregnant woman that he was trying to help save back in his home country.
NBC's Dr. Snyderman Violated Quarantine, So the Maid Gets Fired
Remain Calm, All Is Well: Obama Issues Executive Order Authorizing Reserve Call-Up to Deal With Ebola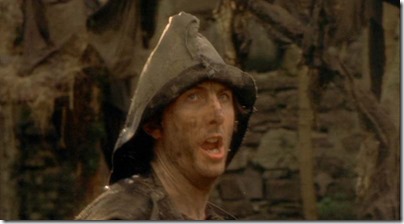 Is It Unfair to Criticize Obama Over Ebola?
We have seen Obama tell potentially exposed West Africans it's OK to ride the bus, while the CDC tells potentially exposed Americans to stay off public transportation. We have seen the CDC tell an infected nurse to ride on an airplane, and then seen the CDC head say that never should have happened. We have seen CDC officials tell a woman to go shopping in public with her partner after they had both spent time in close contact with an Ebola patient who has since died. Meanwhile the CDC and NIH tell us they could have prevented it all, if we had just given them more money - and never mind the money they spent on studies about poo-flinging monkeys or the rerun-watching habits of Americans, or their lavish multi-million dollar health centers with zero-gravity chairs and mood music.

My goal is not to use a health care crisis to take a few cheap whacks at Obama. My goal is to suggest that people question their trust in government, and to prompt them to consider that maybe, just maybe, they need to think for themselves.
Ezra Klein Voxplains "Rape Culture" Justice: Better 10 Innocent Men Suffer, Than 1 Guilty Man Escape
The Yes Means Yes law is trying to change a culture of sexual entitlement. That culture of sexual entitlement is built on fear; fear that the word "no" will lead to violence, or that the complaint you bring to the authorities will be be ignored, or that the hearing will become a venue for your humiliation, as the man who assaulted you details all the ways you were asking for it. "No Means No" has created a world where women are afraid. To work, "Yes Means Yes" needs to create a world where men are afraid.

For that reason, the law is only worth the paper it's written on if some of the critics' fears come true. Critics worry that colleges will fill with cases in which campus boards convict young men (and, occasionally, young women) of sexual assault for genuinely ambiguous situations. Sadly, that's necessary for the law's success. It's those cases - particularly the ones that feel genuinely unclear and maybe even unfair, the ones that become lore in frats and cautionary tales that fathers e-mail to their sons - that will convince men that they better Be Pretty Damn Sure.
A few hundred years ago Klein would have been voxplaining that even though most of the people burned and drowned weren't actually witches, it was still necessary to expunge the culture of sorcery and enchantments from society.
The Biggest Problem with 'Affirmative Consent' Laws No One's Really Talking About
But there's one big factor that no one's really talking about.** And that's that this law changes precisely nothing. Absent obvious physical trauma or the presence of drugs in the system of a victim, sexual assault is a he said, she said situation. You're just changing the subject of the "said." "Did you ask for affirmative consent?" "Yes. Yes I did." "Did he ask for affirmative consent?" "No. No he did not."

And we're back to square one.

But hey, something must be done! So it might as well be something aggressively stupid, you know?
Houston Mayor Tries to Pretend She Knew Nothing About the Sermon Subpoenas
She claims she just found out about them on Oct. 15th. But here's what she tweeted on the 14th: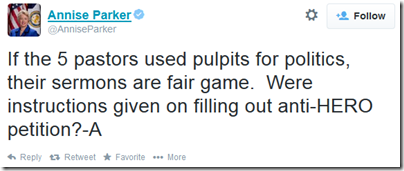 Joe Biden's Son Kicked out of Navy Reserves Due to Cocaine Use
He just joined them last year at the age of 43 after getting a waiver for his age and a waiver for a previous drug offense. Clearly he inherited his father's judgment and good sense.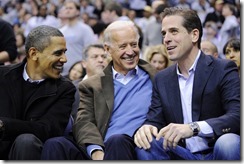 Democratic Candidates Go All Pauline Kael
They don't know anyone who voted for Obama in 2012.
Conservative Group Winning MoveOn's Video Contest So They retroactively Change the Rules
St. Louis Walmarts Locking Up Ammo Because Possible Riots
Jenny McCarthy Says Something Dumb
And other slightly smarter people are all bothered that she wasn't dumb in the correct way.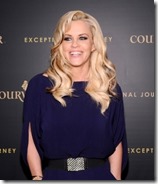 How The Original Star Wars Effects Got Made
No CGI here.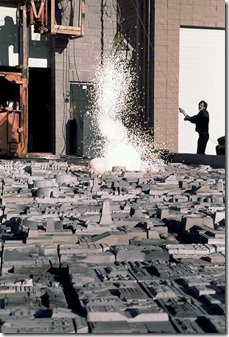 Was TV Better Back in the 70s?
Possibly in a some ways.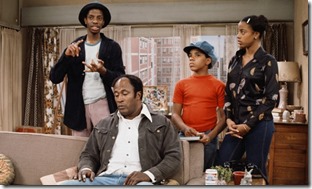 Post Modern Jukebox Is Going on Tour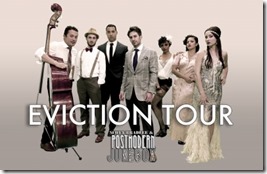 Man Arrested For Aggressive Mopping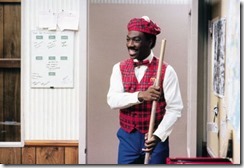 Yahoo group. That is all.
Come on be a smartie and join the yahoo group party! For the children.
And my lo-fi Twitter spew.
Tonight's post brought to you by Mae West: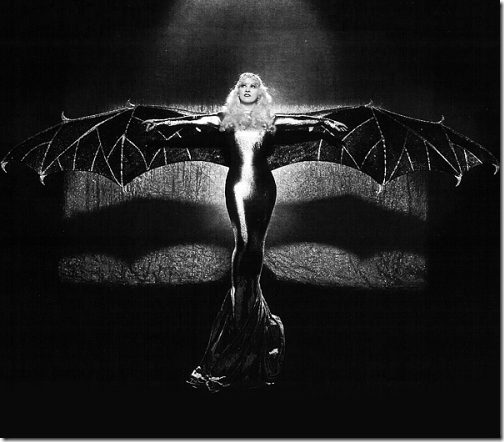 Notice: Posted by permission of AceCorp SA. Please e-mail overnight open thread tips plus $1 for S&H to bunker_maetenloch at gmail. Otherwise fax your scraps and dreams to BizarroAce. Happy-fun ball is in the isolation ward and should not be disturbed. Blue Horseshoe loves Anacott Steel.

posted by Maetenloch at
10:39 PM
|
Access Comments