« The World Will Change When Baghdad Falls to ISIS
|
Main
|
Top Headline Comments 10-15-14 »
October 14, 2014
Overnight Open Thread (10-14-2014) – Bloggers Who Know Trust Crisco Edition
When Michael Kimmel talks about men and boys - at least ones unreconstructed by feminism - it is often in a tone that ranges from ironic condescension to scolding rebuke and outright antipathy. He waxes enthusiastic about "rape awareness" measures that treat all men as potential rapists - such as "splash guards" on a college's public urinals with the slogan, "You hold the power to stop rape in your hand." Tackiness aside, such a stunt directed at any other group would be readily seen as "hate." Imagine proposing that "You are looking at someone who can stop terrorism" be inscribed on bathroom mirrors at a campus Islamic centre.
Basket Cases and Interesting Times
This all began on September 6 when ten members of the new AQIS (Al Qaeda in the Indian Subcontinent) attacked a Karachi naval base and were repulsed after a six hour gun battle. Three attackers were killed and seven arrested. One of the defenders was killed. The attackers came via small boats and at first were believed to have bribed some of the naval security personnel to assist them in getting on board the Pakistani frigate docked there. The gun battle on the ship did minimal damage (mostly bullet holes). Interrogation of those arrested led to raids that seized weapons, ammo and explosives as well as documents. It was also eventually found that some of the attackers thought they were going after an American warship tied up at dockside in the base. But that was a Pakistani frigate and there were no American warships in the base. ISIL responded by mocking al Qaeda for being inept and getting ten Moslems killed or captured because of a stupid mistake.
Ha ha silly AQIS can't do anything right.
Well except that...ohhh...oh snap:
Further investigation found that three of the attackers, including one of those killed, were junior naval officers. Actually one was a former naval officer, having been dismissed from the navy in May for his outspoken support of Islamic terrorism. That man, Owais Jakhrani, was killed. He was also the son of a senior police commander in Karachi and had recruited two of the other attackers who were junior officers still on duty. The plan was apparently to hijack the frigate and use it to attack an American warship currently off the coast. Taking a frigate out to sea requires more than four people, even if all four are trained sailors. So the question is; who else was in on this plot and how many of them were sailors at the naval base? ...At least eight additional naval personnel have been arrested, apparently because they had been in touch with the three Islamic terrorist naval officers. It is also known that three higher ranking naval officers (lieutenant commanders) were arrested two days later as they attempted to flee the country.

...All this is worrisome for many Westerners, and a growing number of Pakistanis and Indians because the Pakistani military has control of Pakistani nuclear weapons. The Pakistani government always insisted that its nukes were well guarded, but after this latest incident there are more doubts.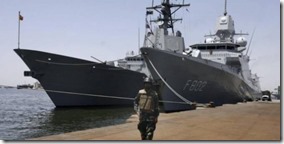 And if you don't want to weep with frustration, you might not want to read either this or this.
Sorry for all the bummering - in compensation I offer you this ewok: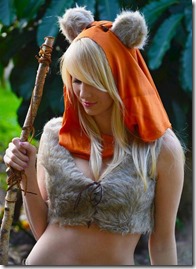 Remain Calm, All Is Well: Boyfriend of Ebola Nurse Admitted to Hospital With Ebola Symptoms
CDC: There's No Evidence That Cats and Dogs Can Develop or Transmit Ebola
Hitler Finds Out About Ebola: "But It's Not That Contagious...."
One of the better Downfall parodies.
William Sardo: People didn't want to believe that they could be healthy in the morning and dead by nightfall, they didn't want to believe that.

Narrator: It was the worst epidemic this country has ever known. It killed more Americans than all the wars this century - combined.
Andrea Mitchell, Wheelchair Truther?
So I Guess The Reasons Why Bowe Bergdahl Left his Base Will Forever Just Remain a Mystery
City of Houston Demands Pastors Turn Over Sermons
The city of Houston has issued subpoenas demanding a group of pastors turn over any sermons dealing with homosexuality, gender identity or Annise Parker, the city's first openly lesbian mayor. And those ministers who fail to comply could be held in contempt of court.

...The subpoenas are just the latest twist in an ongoing saga over the Houston's new non-discrimination ordinance. The law, among other things, would allow men to use the ladies room and vice versa.  The city council approved the law in June.

The Houston Chronicle reported opponents of the ordinance launched a petition drive that generated more than 50,000 signatures - far more than the 17,269 needed to put a referendum on the ballot.

However, the city threw out the petition in August over alleged irregularities.

After opponents of the bathroom bill filed a lawsuit the city's attorneys responded by issuing the subpoenas against the pastors.

The pastors were not part of the lawsuit. However, they were part of a coalition of some 400 Houston-area churches that opposed the ordinance. The churches represent a number of faith groups - from Southern Baptist to non-denominational.
This is so patently un-constitutional and just plain un-American that a counter-suit is not enough - there needs to be widespread civil disobedience and the public officials who went along with this thuggery should experience some real fear for their own safety.
The Collective Suicide of Conservative Talk-Radio
It's no secret what's happening. There's simply too much advertising on conservative talk-radio. Year after year, it gets worse. Anytime I tune in, I land on a litany of commercials. Commercials, commercials, commercials. Yes, you need advertising to pay the bills, but this is way over-the-top. It's unlistenable.

Consider one of the top shows in the nation in the 3-6 p.m. slot, which I'll leave nameless. I used to listen daily. Now, I occasionally check in around 5:08, when the host finally starts the hour. He provides about 14 minutes of content before going to a long break that doesn't bring him back until about 5:27. At that point, he typically says something like, "Okay, when we come back.." He leaves for another marathon of advertisements (and some news) that doesn't end until around 5:37. The cycle repeats through the show's end.

There can't be more than 33 minutes of actual program per hour. It's obscene. Why would anyone listen to this?
This is why I listen to talk radio via podcasts.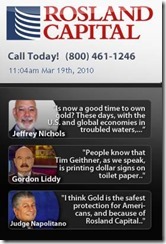 Pssst - Can I Interest You in Some Official AoSHQ Crisco?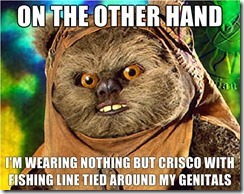 The Archie Comics Gang Will Face Off Against the Predator in an Upcoming Issue
Okay they're just trolling us at this point.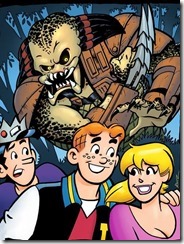 The AoSHQ group. Watch yer cornhole.
Teh Tweet!
Tonight's post brought to you by space hoodies: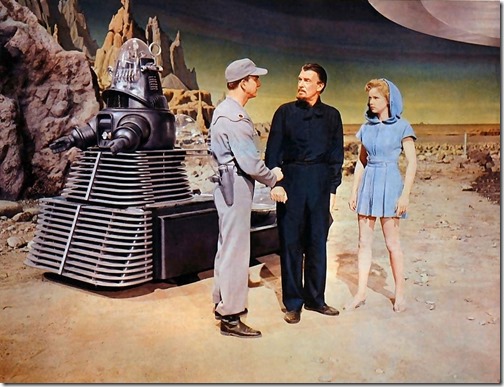 Notice: Posted by permission of AceCorp LLC. Please e-mail overnight open thread tips to maetenloch at gmail. Otherwise send tips to Ace.

posted by Maetenloch at
09:58 PM
|
Access Comments