« My God: Mass Grave Found in Hills Near Town in South of Mexico; Police Suspected of Delivering Over the Victims to Drug Gangs for Murder
|
Main
|
Top Headline Comments 10-10-14 »
October 09, 2014
Overnight Open Thread (10-9-2014)
"There never was an anti-war movement. Deep down, I think - most of us knew that anyway. It was an anti-Bush movement. War had nothing to do with it - it was all about the Left finding a way to regain power."
Ahlus Sunnah Wal Jama'ah Association of Australia spokesman Mustafa Abu Yusuf:

"The beheadings, it's an abhorrent act, don't misunderstand me. But what about the British in Malaya in the 1950s?"
Awesome. I'm gonna start working that 'But what about the British in Malaya in the 1950s?' line into all my arguments now.
The teenager's mother, Syreeta Myers, told The Associated Press by phone Thursday that her son was holding a sandwich when the officer killed him Wednesday night.
Apparently 'sandwich' is the new urban slang term for a stolen 9mm Ruger pistol.
Your Old English Lesson of the Day - The Meaning of 'Man'
But as the gender-neutral meaning of man is still evident in manslaughter and in the phrase no man's land. As it turns out, the meaning of 'an adult male' is relatively new. In Old English (roughly, prior to the Norman invasion of 1066), this word-pronounced then with a vowel articulated further back in the mouth-did not mean a 'male person' but had only the gender-neutral sense of 'a human being, person (male or female)'. The word acquired the sense of 'adult male' in Middle English. Prior to that time, an adult male was a wer, as distinguished from a wif, which then meant 'woman (of any marital status)', as it still does in idiomatic expressions like old wives' tale and in the compound midwife, originally meaning 'with woman (during labor)'. The word wer began to disappear in the late 13the century and was eventually replaced by man, which retained its old, more general meaning as it acquired the new, gender-specific one. (The term wer did survive, however, in such terms as "werewolf," which make one wonder whether a female lycanthrope should be referred to as "wifwolf".) Note also that the Old English man had additional meanings besides 'person', including 'servant, vassal', as in all the king's horses and all the king's men (we retain this meaning to this day).
So English today uses man in both senses due to history and language evolution rather than machinations of the Patriarchy. And those who don't know history are doomed to do stupid crap like this.
Islamic State Grants 'Non-Infidel' Certificates
If you convert to Islam, ISIL will give you this card valid for three months.
To whom it may concern,

We hereby notify you that the one named Na'il Salu bin Basaam of the people of the al-Raqa emirate took and satisfactorily passed a course on Repentance.

Based on this, we hereby grant him this certificate confirming that he is not an infidel [kafir] and that it is impermissible to lash, crucify, or rape him, unless a legitimate reason arises for the soldiers of the caliphate or if it's been established that he has returned to apostasy and wants his freedom.
The no-rapin' without a good reason clause is a nice touch. But we really can't judge because of the British in Malaya in the 1950s.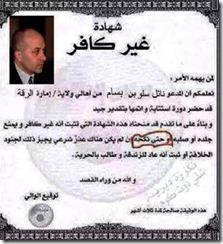 WeaponsMan's Guide to Airstrikes
Here PGM = Precision Guided Munitions and SOF = Special Forces
We have said this before, but it bears repeating: so repeat after the WeaponsMan:

PGMs, no SOF on ground, result misery.
No PGMs, SOF on ground,  result misery.
PGMs, SOF on ground, result happiness.

But that mantra is informed by the idea that you're trying to actually win, not simply kick the can past the election to the next scheduled bugout.

And let's loft another one up there for all y'all to take a swing at:

Any enemy that's not worth utterly destroying, is not worth fighting.

A military exists to kill things and break people. It's a blunt instrument's blunt instrument; trying to use it to "send a message" is like trying to use a 16# sledge to tune a piano. You will have an effect on the piano, and sound will be emitted.
So You Think We Don't Have a National Gun Registry...
The Day They Changed the Gauge
After the Civil War, the economic recovery of the southern United States hinged on trade with the North and moving goods westward via the railroad. But there was a problem. Tracks in the South had been built with a gauge (or track width) of 5 feet but the majority of tracks in the North had a 4-foot 9-inch gauge (more or less). So after much planning, over a concentrated two-day period in the summer of 1886, the width of thousands of miles of railroad track (and the wheels on thousands of rail cars) in the South was reduced by three inches.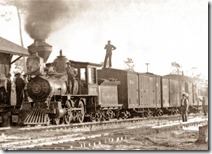 A zoo in Japan has been forced to admit that it tried to mate two male hyenas for four years, after mistakenly thinking that one of them was female. After the two animals struggled to reproduce, the zoo conducted a gender test under anaesthesia.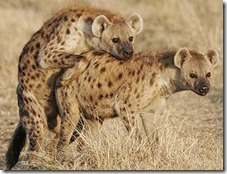 Yahoo group. That is all.
Come on be a smartie and join the yahoo group party! For the children and because of the British in Malaya in the 1950s.
And my lo-fi Twitter spew.
Tonight's post brought to you by the best kind of color: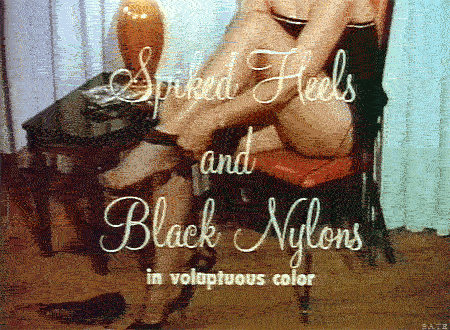 Notice: Posted by permission of AceCorp LLC. Please e-mail overnight open thread tips plus $1 for S&H to maetenloch at gmail. Otherwise send your scraps to BizarroAce. Do not taunt happy-fun ball. Because it's dangerous and because of the whole Brits in Malaya thing.

posted by Maetenloch at
10:46 PM
|
Access Comments