« Overnight Open Thread (10-7-2014)
|
Main
|
Wednesday Morning News Dump »
October 08, 2014
Top Headline Comments 10-8-14
Happy Wednesday.
---
CNN is reporting that ISIL will capture Kobani (also spelled Kobane, depending on which news organization is reporting), which, if you've been following things, is the Kurdish town in Syria that's been under siege for a while. It has been ISIL's largest offensive since the taking of Mosul, and the U.S. and its allies have been conducting air strikes to help prevent it. But
I guess we're almost done with that?
The U.S. officials said the primary goals are not to save Syrian cities and towns, but to go after ISIS' senior leadership, oil refineries and other infrastructure that would curb the terror group's ability to operate -- particularly in Iraq.

[...]

The U.S. goal is to first beat back ISIS in Iraq, then eliminate some of its leadership and resources in Syria, the U.S. administration officials said.
"It's obviously horrific to watch what's going on the ground, but it's important for the United States, for us to also step back and remember our strategic objective as it relates to our efforts and our engagement in Syria," State Department spokeswoman Jen Psaki told reporters.

According to the U.S. administration officials, if all goes as planned, by the time they are ready to turn their attention to Syria, some of the Syrian opposition will be trained enough to tackle ISIS in earnest. The U.S. has been undertaking efforts to arm and train moderate Syrian opposition forces, who are locked in a fight against both ISIS, the al-Assad regime, and a variety of other armed groups.
It sounds like, having been informed that defeat is imminent, the administration wants us to know it wasn't really trying to win at all.
---
Remember how Democrats were sure Americans would come around on Obamacare after it was implemented?
How 'bout no: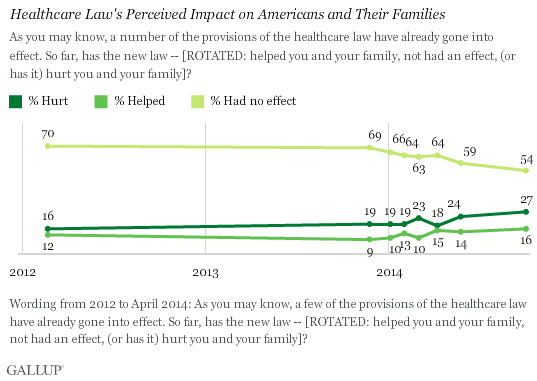 ---
Coming to the small screen:

posted by Gabriel Malor at
06:39 AM
|
Access Comments