« College Football Thread
|
Main
|
Fore! - [Niedermeyer's Dead Horse] »
October 04, 2014
OT Thread - Illidan Stormrage* Edition [WeirdDave]
So, Ebola's here. Ain't we got fun? Honestly, I don't expect Ebola to affect the US like it does Africa, we have far more medical knowledge and infrastructure than they do over there. In addition to that, we have a far greater understanding of pathogens, an awareness of disease vectors and the ability to minimize risk.
Well, some of us do. H/T-Twitchy
Runner up: Naive Liberal Texas Judge Enters Ebola Apartment Without Protection.
Still, the English language has the word "pandemic" in it because pandemics happen. If this virus starts rolling through the population, even though the number of people directly affected may be small as a percentage of the population, I think panic will be far more dangerous than the bug itself. The fact that we have government officials who are seemingly incompetent, corrupt and addicted to cover up and lies doesn't make me very sanguine about our chances of avoiding a panic, or mitigating it when it happens.
So I've gone prepper. Not in a big way, I'm not building any bunkers, the guns remain locked in the safe, and I'm going about my daily activities normally, but given that we live in a society that is so wonderfully technological that most stores operate on an almost on demand delivery system, given what happened when the food stamp glitch struck a while back, and given that if the virus does start to spread amongst the general population, the correct reaction from the government should be to limit or forbid human interaction and transportation (Am I confident that they will do this? No.), I've started to stock up. (<----Run on sentence FTW!) Let the world outside got to hell, I'll be cozy (chopped a cord of firewood in the spring) and well fed at home.

Once that decision was made, the question became how and on what? I decided to be a bit drastic. Suppose things go to hell outside my door, what do I want to have available to hunker in place? Well, first I decided that I was not going to count on anything in the freezer. Now, I know this is extreme. If the power grid goes down for any length of time, the guns WILL be out of the safe. See, I have a lot of meat in the freezer. I'm a bargain shopper who likes to buy in bulk when I find a good sale (or a mis- marked item. Some months back I was in Wegman's when I noticed that they had an entire case full of vacuum sealed strip steaks mispriced at $3.99/lb. I bought all of them. Emptied the case.). Also, if I keep the freezer closed and full, I could probably keep that meat frozen by selectively running it off the genny for a few hours at a time for a good long while. Even after that runs out, I can smoke or dehydrate the meat to make it last even longer. Still, if I'm going to do this, I'll assume: no freezer, no fridge.
Once I had that out of the way, I then had to decide how much I wanted to stock up on. I decided one month of meals for a family of 3 (2 adults, 1 child), all of it shelf stable. If things go to hell for longer than that we're all in an end times scenario anyway. I also decided that I would buy items that we already eat. If nothing happens, hey, I won't have to do much grocery shopping for a while.
Shopping trip one happened this afternoon, and here's the result: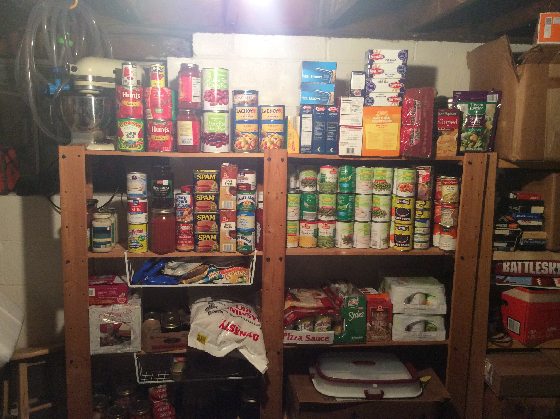 That right there cost me about $175. Most of that stuff is stacked four cans deep. If society does break down completely, and it looks like I'm done for, my final act will be to track down the person who decided not to design veggie cans with dimpled bottoms that stack neatly into the tops of other cans and shoot him. Really, is it that hard?
Wegmans (not generally the place to prep on a budget) had canned veggies for about $.50/can. Between that and the home canned veggies that we already had, I'm good on green stuff. Pasta is fine, and I plan to make two big pots of sauce this weekend and can that. I do that anyway, but since spaghetti sauce was on sale 3 jars for $1.99, I picked up 6 of the store kind anyway. Protean is weak (canned meat? Generally ugh. Tuna is OK, so lots of that. The La Choy chow mein was a childhood favorite. As an adult, nostalgia lets me sorta kinda enjoy it. Beans I can eat but don't prefer, still, beggars and choosers, and Little loves them. Corned beef hash rocks. Spam is good when you haven't eaten it in a while, but it gets old fast.), starch OK (25lb bag of rice plus another 20 or so boxes and pouches of Uncle Bens and Rice A Roni for variety) and breakfast stuff almost non existent.
Tomorrow, I'm going to finish shopping. Cereal, powdered eggs, powdered milk, flour, sugar (plus airtight, bugproof bins for them and the rice), instant mashed potatoes, cooking oil,100 gal of water, canned fruit, soup and crackers. Probably some snacky type stuff as well. All stuff (except for the powdered eggs and milk) that I would buy over the next few months anyway. I'll pick up antibiotics, aspirin, first aid supplies and bleach as well.
And then I'll wait. If nothing happens, we'll eat (except for the bleach) it down over the winter or rotate it out normally, basking in the knowledge that I'm now one of those doomsday fools (or 1/12th Mormon).
*See video below for thread title:

posted by Open Blogger at
04:11 PM
|
Access Comments