« OK Horde, here's your chance to tell me I'm wrong [WeirdDave]
|
Main
|
Gaming Thread 9/28/2014 »
September 28, 2014
Weekend Travel Thread: Funny Bone Edition [Y-not]
Greetings morons and moronettes!
While we all nervously scan the German newspapers for signs of moronette, HR's, arrest for disorderly conduct at Oktoberfest, how about a few chuckles?
Courtesy of Travel and Leisure, here are some funny signs you might encounter while on your travels. As co-author of the Garden Thread, I like this one: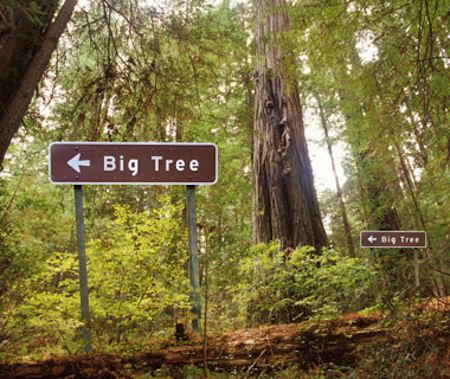 (I'd hate to see the dogs in that neighborhood!)

Courtesy of NomadicSamuel dot com, here's a list of recommended travel blogs known for their edgy humor. There are some good links there. Here's an excerpt from one of the recommended blogs, Johnny Vagabond, describing a trip to Bangkok:
I think I'm finally adapting to the heat and humidity here. By adapting, I mean that my entire body has transformed itself into a single, massive sweat gland.

Yesterday morning, as I dressed for my visit to the Amulet Market, I made the first mistake. I'd run out of clean underwear and decided to just go commando. I do it all the time at home, right? What could possibly go wrong?

My second mistake was wearing a fancy shirt I'd purchased from REI right before I left home. It was a high-dollar, high-tech, water-resistant short sleeve with an SPF of 30 (huh?). I think it even spoke Spanish. What it did not do, alas, was ventilate. At all. Wandering about the market in 96 degree temps and 100% humidity, I felt like I was wearing a $50 garbage bag.

I was soon drenched, with sweat running down my back and soaking my pants -- I looked like I'd been bobbing for apples with my ass. Eventually making my way onto the grounds of a quiet university, I found a bench in the shade, and sat awhile to cool off -- setting the scene for my third mistake...
Follow the link to read the horrifying rest.

I'm not a big reader. Years in academia may have burnt me out, particularly from long-form reading (novels, biographies). That said, when I read for pleasure I tend to gravitate to anthologies of short stories or writers who write in an episodic style (Wodehouse's "Jeeves & Wooster" books are amongst my favorites). I've noticed that travel books tend to fall in this category, so I tend to gravitate to them. I especially enjoy them when I'm traveling -- their episodic format makes excellent light reading.
Here's CNN's list of the Top 15 Travel Books of all-time (I've edited the content for length):

15. "The Sex Lives of Cannibals" (2004) By J. Maarten Troost
At age 26, Troost leaves the cushy city life and embarks on a two-year stint in the heat-blasted "end of the world" -- in this case, the equatorial Pacific atoll of Tarawa in the Republic of Kiribati.

14. "Vroom with a View" (2006) By Peter Moore
From Milan to Rome on a '61 Vespa nicknamed Sophia. If you understand the "Sophia" reference you'll appreciate not just where the Italy-intoxicated Moore goes, but where he's coming from.

13. "The Lost Continent" (1989) By Bill Bryson
The preeminent bard of genial travel laughs embarks on a 38-state tour in search of the vanishing small town America of his youth ... in his mother's aging Chevy Chevette.

12. "Coasting" (1999) By Dick Flinthart
A swaggering travel guide that takes in the good, the bad and the malignant features of 2,800 kilometers of Australia's East Coast.

11. "Killing Yourself to Live" (2005) By Chuck Klosterman
Extemporaneous pop culture critic Klosterman sets off on a U.S. cross-country road trip with a twin purpose: look up old girlfriends and visit the places where famed rockers, from Buddy Holly to Lynyrd Skynyrd to Kurt Cobain, met their tragic fates.

10. "Out of Sheer Rage" (1997) By Geoff Dyer
Some travel for discovery.
Some travel to for recreation.
Dyer travels for procrastination.
To put off writing a book about D.H. Lawrence, he roams the planet (Rome, Greece, Mexico, United States) in an elaborate stall.

9. "Queenan Country" (2004) By Joe Queenan
Charmed and discombobulated in equal measures, unapologetic Yank Joe Queenan travels through Old Blighty -- homeland of his wife and extended family -- to find out what makes the British tick.

8. "Are You Experienced?" (1997) By William Sutcliffe
The only novel on our list follows Brit gap-year bounder Dave on a hellish (for him) excursion to India, providing the author ample opportunity to spew murderously funny vitriol at unwashed backpackers, high-end package tourists, Intimate Yoga hucksters and over-solicitous locals.

7. "Into the Heart of Borneo" (1984) By Redmond O'Hanlon
True to the title, naturalist O'Hanlon, along with poet pal James Fenton and three native guides, makes his way up exotic jungle rivers into the forbidding interior of Borneo.

6. "Westward Ha!" (1947) By S.J. Perelman
The longtime "New Yorker" columnist's jaunty, round-the-world voyage by sea west from Hollywood to "all the areas celebrated by Kipling, Conrad and Maugham," then to the Middle East and Europe -- in all, 27 countries in nine months.
Follow the link to see the books that made their Top Five list.
I've read several of the books on the list, including Bryson's although they overlooked my favorite, "Notes from a Small Island". Here's a brief excerpt from a chapter in which he describes his experiences at a run-down boarding house in Dover:
I'd intended to turn in early, but on the way to my room I noticed a door marked RESIDENT'S LOUNGE and put my head in. It was a large parlour, with easy chairs and a settee, all with starched antimacassars; a bookcase with a modest selection of jigsaw puzzles and paperback books; an occasional table with some well-thumbed magazines; and a large colour television. I switched on the TV and looked through the magazines while I waited for it to warm up. They were all women's magazines, but they weren't like the magazines my mother and sister read. The articles in my mother's and sister's magazines were always about sex and personal gratification. They had titles like `Eat Your Way to Multiple Orgasms', `Office Sex - How to Get it', `Tahiti: The Hot New Place for Sex' and `Those Shrinking Rainforests - Are They Any Good for Sex?' The British magazines addressed more modest aspirations. They had titles like `Knit Your Own Twinset', `Money- Saving Button Offer', `Make This Super Knitted Soap-Saver' and `Summer's Here - It's Time for Mayonnaise!'

The programme that unfolded on the television was called Jason King. If you're of a certain age and lacked a social life on Friday evenings in the early Seventies, you may recall that it involved a ridiculous rake in a poofy kaftan whom women unaccountably appeared to find alluring. I couldn't decide whether to take hope from this or be depressed by it. The most remarkable thing about the programme was that, though I saw it only once more than twenty years ago, I have never lost the desire to work the fellow over with a baseball bat studded with nails.

Towards the end of the programme another resident came in, carrying a bowl of steaming water and a towel. He said, `Oh!' in surprise when he saw me and took a seat by the window. He was thin and red-faced and filled the room with a smell of liniment. He looked like someone with unhealthy sexual ambitions, the sort of person your PE teacher warned that you would turn into if you masturbated too extravagantly (someone, in short, like your PE teacher).
What are your favorite books about travel? Do you have any funny stories to share?

To close things up, here's Monty Python's take on air travel:

Which one is Ace?


posted by Open Blogger at
02:49 PM
|
Access Comments