« OT Thread - Atheists [WeirdDave]
|
Main
|
Woe be to the ones with slow bandwidth (Gaming thread 9/21/14) »
September 21, 2014
Sunday Travel Thread: Oktoberfest! [Y-not and HRatAoSHQ]
Guten tag! Welcome to your Oktoberfest edition of the Sunday Travel Thread!
We have a special treat this week as our very own HR, who is an enthusiast of all things Teutonic, is guest blogging. This week was inspired by my own small plans to attend the Utah Oktoberfest held at Snowbird ski resort and the certain realization that it would be pretty lame compared to the Real Thing held in Germany.
So, before I regale you with tales of the Utah version, let's hear from our resident expert, HR:
Munich's Oktoberfest 2014 kicked off yesterday and runs through Oktober 5. I'm going later this week--probably straight to the festival grounds once I clear Customs.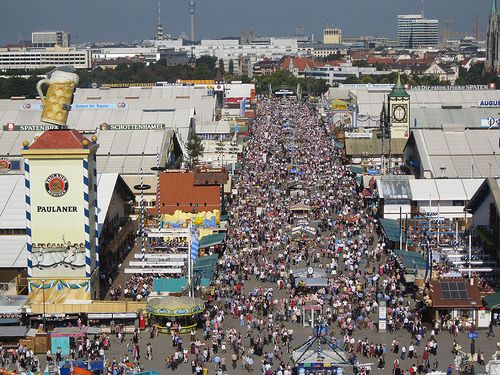 The history of the Oktoberfest starts with the marriage of Bavarian Crown Prince Ludwig (later King Ludwig I) to Princess Therese of Saxony-Hildburghausen. They invited the commoners to a wedding feast in a sheep meadow and forty thousand Bavarians showed up looking for beer. The meadow was named "Theresienwiese" in honor of the bride, and everyone had so much fun they did it again the next year, then the next year.... Over the years an agricultural fair, horse races, and carnival amusements were added and Munich's breweries sent their beer to be sold at stands run by local entrepreneurs; at the turn of the 20th century the beer stands turned into tents and minus a few breaks for wars and inflation the festival has grown into a 16-day, 6-million-visitor oft-imitated extravaganza and tourist destination.
History lesson over--now down to what Morons care about: Gaudinockerln und Bier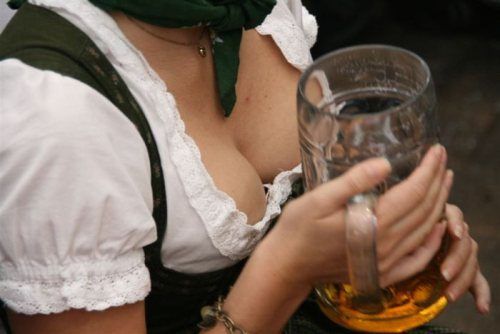 * The beer is served in 1-liter mugs called a Maflkrug, or Mafl, pronounced "moss". All the beer in the main tents comes from Munich's six breweries and conforms to the Reinheitsgebot, or German Beer Purity Law. Only Barley (which includes wheat), Yeast, Hops, and Water can be used; and the breweries all use the same recipe. Traditionally, Oktoberfestbier was an amber M‰rzen style, brewed in the spring and aged in caves during the summer, but today you will be served a Bavarian Helles. Nearly 7 million liters were served in 2013.
A word of caution: The beer served at the Oktoberfest has a slightly higher ABV than normal Helles. Eat some food, enjoy slowly, or try a Radler--half beer, half lemon-lime soda.
This year a beer will run you 10 euros or more. Do not ask for change from a 9,85 beer. Ain't no one got time for that -- they have six million other people to serve! -- and they deserve the tips. Approximately 1/6 of the visitors to the Weis'n are from outside Germany, so your server will know enough English to bring you a beer and a hunk of ox and your bill.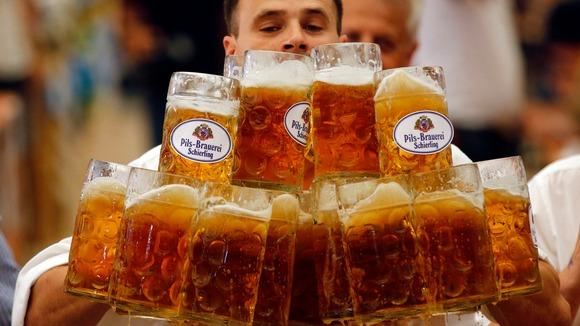 * In the tents beer can only be purchased by people who are seated. Entering the tents is free; if you have a large group you should call ahead to reserve a table (by pre-paying for beer and food). Your best bet to find a free seat is morning--beer sales start at 10 on weekdays and 9 on weekends (afternoon drinkers be advised that you may be asked to leave at 5 to accommodate evening reservations). Different tents have different foods, beers, and attitudes, some are more family-friendly than others and some are more for young party people, some have vegan food, but they're all going to have beer. Sweet, sweet beer.
If you stand up and put your foot on the table, that is a signal that everyone should stop their conversation and watch you chug your whole Mafl. You cannot back out.
Children are welcome in most tents but kids under six are expected to leave before 8 p.m.
**Y-not: I was not able to insert some of HR's images, for some reason. So here's the link to her Flickr stream.**
* So, you forgot to eat and you've been chugging and dancing on the tables and all of a sudden it's too much: head up the hill by the giant statue of Bavaria to the "H¸gel der Verlorenen Menschenw¸rde" -- the Hill of Lost Human Dignity. Pull up a patch of grass, add your vomit to the puddle, and hopefully you've remembered to write the name of your hotel somewhere on your body in Sharpie so you can find your way back tomorrow morning after the dew settles. You've got until January to claim your lost wedding rings and Viking helmets.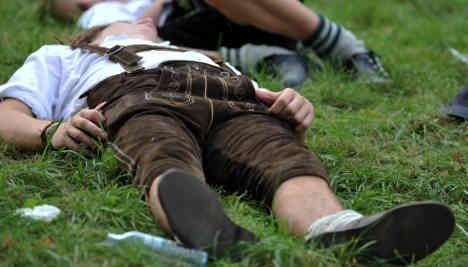 * If beer is not your only thing or you're traveling with children who don't want to sit and watch you drink beer, no worries! It's a gigantic fair, with rides and fair foods (be sure to try the traditional Bavarian delicacy "banana with chocolate on a stick"). Go on the Riesenrad, which is 164 feet high and offers a fabulous view. Go on the first Sunday and watch the parade. Recently every four years there is an "historical" Weis'n with 19th-century amusements and agricultural exhibits (in 2010 I took a lot of pictures of antique tractors and bunnies). Tuesdays are "family days" with discounts on rides and games.
* 'ettes, if you're looking for an Italian guy go on the second weekend. Italy closes down for the season mid-September and everyone heads up to Munich in campers for the party.
* 'rons, buy your best girl(s) a giant gingerbread heart to wear on a ribbon, so those Italians know they should look elsewhere.
If the TSA has put you off travel to Europe, I can recommend two domestic alternatives to get your Wurst on. Cinncinnati, Ohio is a sister city to Munich and turns a section of downtown into Zinzinnati for a weekend every September. The street festival offers German foods, music, and entertainment, complete with keg-tapping ceremony, the Running of the Wieners, and The World's Largest Chicken Dance (led in 2013 by George Takei). If you can't wait until September, try Milwaukee's GermanFest in July. A celebration of all German-speaking areas and the Americans who came from them, this lakefront festival also has authentic German and Austrian foods, music, and entertainment--try the whole hog head!--and a Schnapps Garten, local beer, dachshund competitions, and kids' activities.
TL;DR: I liked the movie.

Y-not: WOW! That sounds awesome!
I have a confession to make. Several years ago, I spent a month in Germany (Heidelberg) collecting data and kinda really hated it. Now, a big part of it was that, try as I might, I could NOT get the hang of German, so every small thing I did (I was staying at a guest house and had to do my own cooking and whatnot) was nigh on impossible. Also, my scientific host, a Brit, hated Germany and all things German (except for the beer), so he was of no help whatsoever. Also, when I was there they were still operating on a cash system. Even my traveler's checks -- in Deutsche marks, no less -- were not welcome. That made the whole experience extra-awkward as I tried to get cash to live.
I lost over 10 pounds during my month there.
(Did I mention Germany was experiencing a record heat-wave that rivaled Houston? And NOTHING was air-conditioned!)
But HR's description of Oktoberfest was so awesome that I'm looking for my passport! (Plus, I could always afford to lose another 10 pounds.)
OK, now for those of us in the good ol' US of A, as HR mentioned there are options here. One reason is that there are a lot of Germans here as this map from the Daily Mail demonstrates!
By far the largest ancestral group, stretching from coast to coast across 21st century America is German, with 49,206,934 people. The peak immigration for Germans was in the mid-19th century as thousands were driven from their homes by unemployment and unrest.
The majority of German-Americans can now be found in the the center of the nation, with the majority living in Maricopa County, Arizona and according to Business Insider, famous German-Americans include, Ben Affleck, Tom Cruise, Walt Disney, Henry J. Heinz and Oscar Mayer.
Indeed, despite having no successful New World colonies, the first significant groups of German immigrants arrived in the United States in the 1670s and settled in New York and Pennsylvania.
Germans were attracted to America for familiar reasons, open tracts of land and religious freedom and their contributions to the nation included establishing the first kindergartens, Christmas trees and hot dogs and hamburgers.

The travel and leisure publication, Gayot, provides this helpful list of the best Oktoberfest in the US. A few highlights from their list (follow their link for the full monty; it's quite a long list and there are many that have not yet taken place this Fall):
Chicago, IL -- The Windy City flaunts its German pride with oom-pah bands, brats and beer at its Oktoberfest from 9/26-9/28. More at oktoberfestchicago.org.

Fredericksburg, TX -- Fredericksburg, a small Texas town at the gateway to the Hill Country Wine Trail, reveals a strong German heritage with its Oktoberfest from 10/3-10/5.

Tulsa, OK -- Credited as the birthplace of Route 66 and once called the "Oil Capital of the World," this city in Oklahoma is also known for the Linde Oktoberfest Tulsa, which runs from 10/16-10/19.
Now a brief report on the Oktoberfest that is held at Snowbird ski resort. This was my first year going to it. I almost did not go because our State Liquor Board almost refused the special license required to hold this event. (There's some debate about whether they were going to disallow ANY beer serving or just limit it to the low-alcohol beer Utah is (in)famous for, but in any event, calmer heads prevailed.)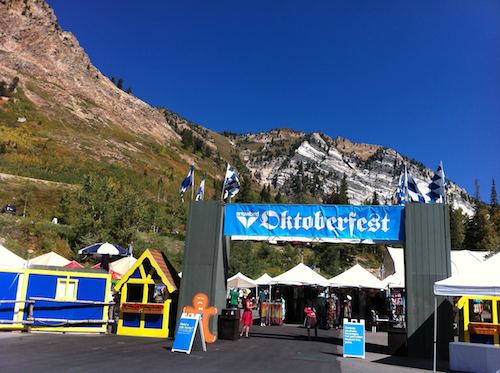 It was a glorious day yesterday -- very sunny and perfect temperatures (low 70s). The venue affords some spectacular views of Little Cottonwood Canyon, where the leaves are beginning to turn.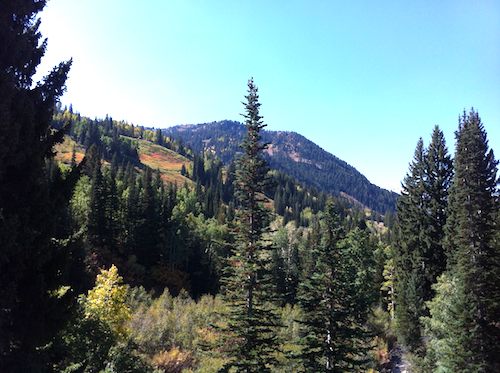 We wandered around, poked at the gift booths (although, sadly, there was only one booth that featured Bavarian-themed items), and enjoyed some really fun music while eating lunch in the "beer" hall.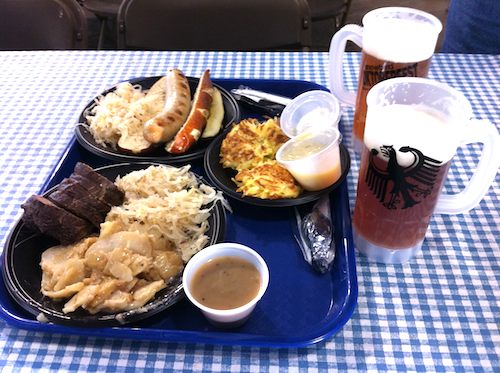 Lunch consisted of potato pancakes, a veal sausage, and a beef roll called "rouladen." I confess, the rouladen didn't do it for me.
Most of the well-known Utah breweries were represented, including Moab Brewery, Bohemian Brewery, Uinta, Squatters and Wasatch. I had a pumpkin ale from Uinta and Mr Y-not had one of their summer ales.
My favorite aspect, by far, was the music. Here's one of the groups we heard, Alpenfolk (from a YouTube of another performance of theirs):
All in all, a nice way to spend an afternoon. Definitely whetted my appetite for going to a more authentic Oktoberfest some day.

Where are your travels taking you?

posted by Open Blogger at
02:02 PM
|
Access Comments