« Weekend Headlines [CBD}
|
Main
|
Sunday Travel Thread: Fabulous Fall Foliage [Y-not] »
September 14, 2014
Sunday Morning Book Thread 09-14-2014: Lies of Our Time [OregonMuse]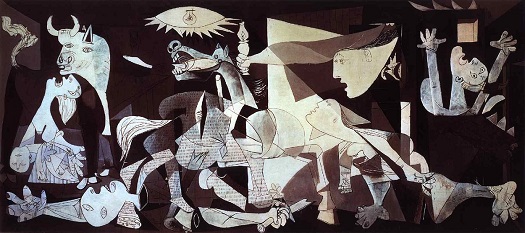 Truth
(Displayed above is Guernica by Pablo Picasso. It was created in response to the bombing of Guernica, a Basque village in northern Spain during the Spanish Civil War.)

To Tell the Truth
The 1936-1939 Spanish Civil War is one of the progressive left's big Noble Causes that they remember fondly and always write about in warm, glowing terms. It's right up there in the left's pantheon next to the civil rights movement. With what turned into a brutal military dictatorship on one side, and a motley collection of rat bastard commies on the other, it's one of those wars where you wish both sides would lose. Naturally, the international left lent their full support to the rat bastard commies and large numbers of them went to Spain to fight. A bunch of American lefties went, too, including some famous ones like Ernest Hemingway. Some in the liberal contingent, such as the authors John Dos Passos and George Orwell, grew very disillusioned when they saw the rat bastard commies behaving like rat bastard commies. And Orwell's famous novels '1984' and 'Animal Farm' grew out of what he saw happening in Spain.
All of these things are discussed in Hotel Florida: Truth, Love, and Death in the Spanish Civil War by Amanda Vaill. An interview with the author is here. She's no conservative, but the book might be interesting, as she is more interested in who;s "telling the truth".
Also, she says Hemingway was a KGB agent:
But in 1937, when [Hemingway] was...writing the script for Joris Ivens's documentary film, The Spanish Earth, Ivens had tried to enlist him as a propagandist, and possibly more, for the Communist Party, which had been supporting the Spanish government against Franco's rebels. And according to internal KGB files studied by a former Soviet agent, Alexander Vassiliev, Hemingway was recruited by the KGB in 1941 and given the code-name "Argo." It was hoped he could report on Nazi activity in Cuba and the Caribbean during World War II, but he never generated any useful intelligence and his cover was terminated in 1950.
So apparently, Ernest Hemingway was a KGB agent, but a lousy one.

'A' Is For Apocalypse
Here is a semi-amusing list of children's books for the modern age. Some of these are rather ham-handed, but riffing on children's books should be relatively easy, I would think.

Well, I Guess This Is Good
According to this, there are more public libraries than McDonald's restaurants. The raw numbers are 16,766 (libraries)to 14,157 (McDoos).
People, people, don't we have room for both?
I Have Seen The Future And It Sucks
I guess I should have known this day was coming:
Florida Polytechnic University is so new that it has only been open for a few days...The main building is the Innovation, Science and Technology Building, which is where most of the 500 new students will spend their time in class. Its second floor includes the Commons, an area that includes its library services.

The Commons does have librarians and Internet connections to all the standard electronic resources of a university library. It provides access to a digital catalog that launched with 135,000 e-books. But take a look around the room, and it's completely bookless.
135,000 books doesn't sound like a lot, not for a university where serious research needs to be done. Don't most universities have libraries comprising millions of volumes, or is that just the big boys?
But the idea of the new Florida Polytechnic library is to move away from paper. Printers for articles accessed online are available but not encouraged. Instead, the staff hopes students will organize their research online with tools that are part of the library service.
I'm still a bit skeptical. I know much material has been digitized, and maybe it's enough for a freshman term paper, but for senior and graduate-level research, I can't imagine that every source you would conceivably need has been made available online.

Cool, Man
Air-conditioning is something most of us take for granted. But the world would be a quite different place without it, says author Salvatore Basile in his new book Cool: How Air Conditioning Changed Everything.
2. In 1736, the English House of Commons was cooled by a seven-foot, hand-cranked "blowing wheel." The man at the crank was known as the Ventilator.
Heh. That just sounds funny.
10. If you tried to buy an in-window air-conditioning unit in the 1940s, you'd spend about about $350 in 1940s money, which in today's dollars is almost $3,500.
I'm thinking that the invention of the refrigerated freight car so that cattle could be slaughtered before being driven to market meant that a lot of cowboys had to find other lines of work.
And I can't imagine what is would have been like living in states like Texas or Georgia or Louisiana before the days of air conditioning. I guess you just sweated a lot. When Mrs. Muse and I were first married, we lived in an upstairs apartment without air conditioning, so on really hot days, we set up a bowl of ice cubes in front of a table fan, and that helped some. But I'm definitely spoiled on modern conveniences.

Maybe There's Some Hope
Millennials read more books than their elders, Pew study finds:
According to the report, 88% of Americans 16 to 29 years old have read at least one book in the past year, compared with 79% of people 30 and older.

And millennials who read aren't just picking up one book. "Among younger Americans who did read at least one book, the median or typical number read in the past year was 10," the report adds.
Anecdotally, I find this hard to believe. Every time I see a gaggle of milennials standing around, they're usually all fiddling with their smart phones, or texting each other. I wonder how that kind of flipping around is affecting their attention spans.
You. Get off my lawn.
Actually, I shouldn't talk. I had to make a concerted effort to start reading books again a few years ago when I suddenly realized I was spending all my free time surfing the internet, and not really reading anything of sustained length or depth.

The Japanese Have A Word For It
On one of those lists of 'untranslatable' words, I found the word tsundoku which is described 'the act of leaving a book unread, typically piling it up together with other such unread books.'
Not that, ahem, any of us on this thread would, ahem, know anything about this sort of pathological behavior.
So how many unread books do you think you have? I'm not going to tell you the number I've come up with for myself, it's too embarrassing.
This LA Times piece tells of a man in Sacramento who donated 500 boxes of books - many of them unread - to a local library. It was approximately 13,000 volumes. Now that's some serious hoarding.
On shelfari.com, there's a Compulsive Book Hoarders Group, but I think it's probably just the tongue-in-cheek name of a chat group for bibliophiles.
On the bright side, I tell myself, I'm not so bad, at least I'm not hoarding cats.

What I'm Reading
I am very much enjoying Kali's Children by Craig Allen, which I first heard about from a moron commenter, I forget who it was, but thank you, who posted a big list of science fiction authors who were discounting some of their books. It's a good space yarn: the book opens aboard a starship that has taken heavy damage from some unknown source and is trying to make a soft landing on an alien planet, with mixed success. It crash lands in an ocean, 50 feet down and the survivors have to figure out how to get to the surface and to survive, which is difficult because they're being continually attacked by whatever strange creatures live on that planet. And then they discover evidence of a starship from a decade-old war that was presumed lost in battle, and so they have to go find it. As of when I'm typing this, the Kindle version is $2.99

___________
So that's all for this week. As always, book thread tips, suggestions, rumors, threats, and insults may be sent to OregonMuse, Proprietor, AoSHQ Book Thread, at the book thread e-mail address: aoshqbookthread, followed by the 'at' sign, and then 'G' mail, and then dot cee oh emm.
What have you all been reading this week? Hopefully something good, because, as I keep saying, life is too short to be reading lousy books.

posted by Open Blogger at
09:49 AM
|
Access Comments