« Guy Who Spent The Past Four Years Lying To the Press Slips Comfortably Into New Job of Lying for the Press
|
Main
|
IRS Head John Koskinen: "Wherever we can, we follow the law" »
September 10, 2014
New York Times Baghdad Bureau Chief: Obama Ignored Iraq Problems, and Even Denied Their Reality, for Political Reasons
Not only did they ignore the actual facts on the ground in Iraq, they even whipsawed reporters and editorial pages into denying those facts.
The NYT Baghdad Bureau editor in 2012 answered some questions in a Reddit "Ask Me Anything:"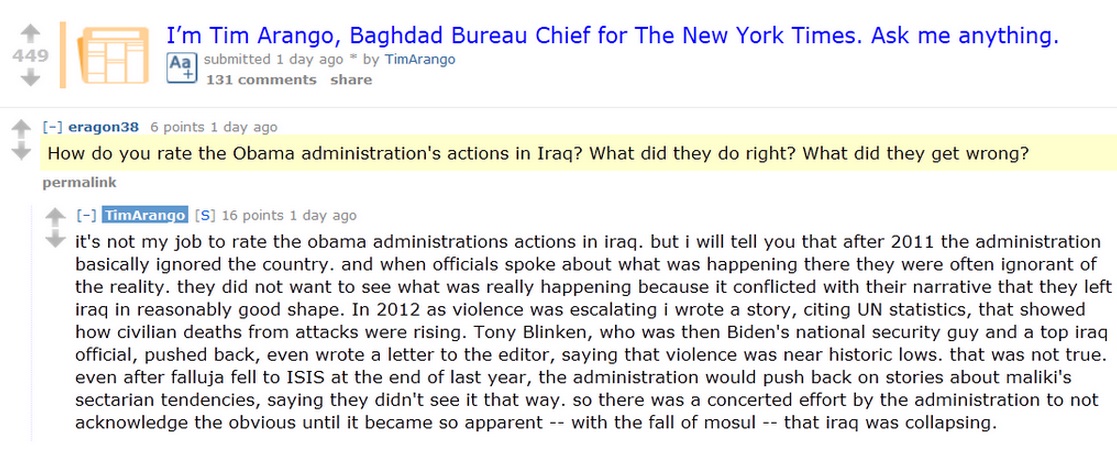 If that's too small to read, click to the National Review for an enlargeable version.
While the situation in Iraq spiraled into increasing violence and chaos, Team Obama wasted no time in telling the public -- well, first they told the press -- that everything was just A-OK. (Grammatical lapses corrected.)
It's not my job to rate the Obama Administration's actions in Iraq. But i will tell you that after 2011 the administration basically ignored the country. they did not want to see what was really happening because it conflicted with the narrative that they left Iraq in reasonably good shape. In 2012 as violence was escalating I wrote a story, citing UN statistics, that showed how civilian deaths from attacks were rising.

Tony Blinken, who was then Biden's national security guy and a top Iraq official, pushed back, and even wrote a letter to the editor, saying that violence was near record lows. But that was not true. even after Fallujah fell to ISIS at the end of last year, the administration would push back on stories about Maliki's sectarian tendencies, saying they didn't see it that way.

So there was a concerted effort by the Administration to not acknowledge the obvious until it became so apparent -- with the fall of Mosul -- that Iraq was collapsing.
The left has long charged Bush/Cheney with "overstating" the case for War in Iraq, or the threat of terrorism generally. However, on the point of WMDs, it should be noted that these were not Busy/Cheney's overstatements; they were the CIA's. Bill Clinton repeated the same overstatements, for the same reason: Because that's what the CIA's best intelligence was (even though it turned out wrong).
So did Al Gore. So did Hillary Clinton.
As to the threat of terrorism or major terrorist attacks, all of these are speculative glimpses into the future. One can charge Bush/Cheney with "overstating" the risks, but this is itself speculative: Bush and Cheney do not know the future, and neither do their critics.
However, Obama did not just mislead the country as to speculative guesses about the future. His Administration lied as regards currently-ascertainable facts existing in the current moment.
At each turn he lied about the facts about Iraq to support his particular political narrative.
Yesterday the New York Times also examined some of Obama's other statements on IS, Iraq, and terror.
WASHINGTON — When President Obama addresses the nation on Wednesday to explain his plan to defeat Islamic extremists in Iraq and Syria, it is a fair bet he will not call them the "JV team."

Nor does he seem likely to describe Iraq as "sovereign, stable and self-reliant" with a "representative government." And presumably he will not assert after more than a decade of conflict that "the tide of war is receding."

As he seeks to rally Americans behind a new military campaign in the Middle East, Mr. Obama finds his own past statements coming back to haunt him. Time and again, he has expressed assessments of the world that in the harsh glare of hindsight look out of kilter with the changed reality he now confronts.
But that's not quite right, as the NYT here suggests that Obama's statements may have been true at the time they were made, but were rendered false by ensuing developments.
As Tim Arango makes clear, however, Obama was swearing to facts known to be false at the time they were claimed.
...


To Mr. Obama's critics, the disparity between the president's previous statements and today's reality reflects not simply poorly chosen words but a fundamentally misguided view of the world.
Tim Arango seems to think it's that, plus active denial and concealment of known facts.
Rather than clearly see the persistent dangers as the United States approaches the 13th anniversary of the Sept. 11, 2001, terrorist attacks, they said, Mr. Obama perpetually imagines a world as he wishes it were.

...

White House officials said the president's opponents distorted what he said to score political points or hold him responsible for evolving events that were not foreseen. They also say Mr. Obama's past statements are hardly on a scale of Mr. Bush's unfounded assertions about Saddam Hussein's weapons of mass destruction, not to mention Mr. Bush's May 2003 speech in front of a banner that said "Mission Accomplished," meant to signal an end to the major combat in Iraq.
Obama has been claiming "Mission Accomplished" since 2011 so I don't really see what the distinction is they're trying to make -- Bush claimed "Mission Accomplished" to congratulate the troops (and himself, of course) on a war mostly won; Obama also keeps claiming "everything's fine, I did a great job in Iraq" to congratulate himself and support his worldview.
What the hell is the difference, apart from the worldview "Mission Accomplished" is being deployed to support in each case?
The article does note that Obama's new spin about these statements is itself substantially false. For example, he now claims that when he said IS was "the JV," he didn't mean IS, but any minor terrorist outfit. In fact, however, he was directly asked about IS in the series of questions that prompted this claim.
Meanwhile, the National Journal's John Kraushaar notes that Obama's endless politicking -- and, my words here, his endless recasting of reality into a dishonest campaign narrative -- is damaging his presidency.
In the latest round of polls, President Obama's approval ratings are lowest on the two issues that once were strengths--foreign policy and immigration... [H]is approval on international affairs at just 38 percent--the lowest point of his presidency and an 8-point drop from late July--even as he catered to the creeping isolationist sentiment in the country.

...


On foreign policy, the president for far too long dismissed the threat ISIS posed in the face of glaring warnings from his own advisers. While leading Cabinet secretaries, from Defense Secretary Chuck Hagel to Attorney General Eric Holder, described ISIS as an "imminent threat" and "more frightening than anything," Obama's public tone was much more measured, even recently suggesting that containment of the jihadist group was an option. To this day, he still insists on ruling out ground troops, even as he struggles to explain how we can defeat the terrorist group's base in Syria without a greater American military presence. And many military experts are also puzzled why Obama is publicly telegraphing his strategy when it doesn't serve America's interests.

But to understand the disconnect between Obama and his advisers, you have to understand how politics drives so much of the administration's decision-making...

The much-mocked phrase "leading from behind" isn't really accurate; for the Obama administration, it's leading where the public opinion of the moment takes them.

I'll refer you to Kraushaar's actual article for more. He also discusses Obama's shifting claims on immigration, and a similar overpoliticization at work on that issue.


posted by Ace at
03:30 PM
|
Access Comments