« College Football Thread
|
Main
|
Weekend Headlines [CBD} »
August 30, 2014
Saturday Gardening Thread: Writer's Block Edition [Y-not and WeirdDave]
Good afternoon and welcome to your Saturday Gardening Thread!
Today's thread is brought to you by Billboard's Top 100 Songs of 1962, which happens to be the year I was born. Here's Number 69, "Cindy's Birthday:"

Take it away, WeirdDave:
OK, got no clue what to write about today. None. Zero, Zip, Nada. I tell ya, I got nothing. So I plugged "Garden" into DuckDuckGo and scrolled way down, then started to look for interesting stuff.
What garden is complete without a geodesic dome? Not yours, I'm sure, and at the link you can buy one for only 499 €, whatever the hell a "€" is. I'd be worried that Pauly Shore would show up.
Here's a site called The Gay Gardener. There's lots of helpful tips there, but I haven't found yet how being gay affects your garden, unless you're doing in your garden what you should be doing in your bedroom, in which case I'd suggest investing in a geodesic dome with an opaque cover (see first link) if you have neighbors.
Moving on, since we're getting close to Halloween, perhaps a nice, creepy scarecrow is in order. At the link you can get ones with faces on them, although the fact that they feature a picture of one of their products with crows sitting on it makes me question how effective they are. The faces are a nice touch, if you put one out front instead of in the garden I'm sure you'll give one or two trick-or-treaters nightmares. Still not sure about crow nightmares.
If you find yourself in Iceland, you should definitely visit The Elf Garden. Why? Well, their webpage has a picture of a cat looking at a rainbow sign captioned "We are here". Isn't that enough? We are here. Much better than "How to cook forty humans" I suppose. These people seem to have the intersection of elves and gardens nailed, AND they featured a performance by "the extremely funny Teenagers, Arnor and Oli." Book your tickets now before their voices change, their "Elves and faeries and goblins, oh my" routine won't be nearly as funny in a bass voice.
I got quite excited when I noticed a link to Eden's Garden, I thought God had barred mankind from that place for eternity. Turns out it's an aromatherapy store. I looked, but couldn't find any ValuRite scented oils or essence of Ewok, so it might not be our kind of place.
Hey, here's a website about bugs. They tell you which bugs are good bugs that fight bad bugs that are bugging your garden. Garden Insects. They promise that their bugs can beat up your bugs, and even provide a link to where you can order bugs online. Shopping for AtC has never been easier. Buy now, Christmas is just around the corner.
Finally, we find a link to Michelle Obama's garden. "Today, the garden is planted, tended and harvested by Mrs. Obama, White House staff, the National Park Service and visitors." Sure. I'm willing to bet that one of those listed does just a teensy bit less work in the garden than the others. Call it a hunch. There's more: "Inspired by the First Lady's passion for healthy living and healthy eating, people across the country have revisited the American tradition of starting a vegetable garden at home." Actually Madam First Lady, Americans are "revisiting" the "tradition" of starting a veggie garden because WE CAN'T AFFORD TO BUY FOOD DUE TO YOUR HUSBAND'S LOUSY ECONOMIC POLICIES.
* mic drop *
Weirddave is out.

And now from your co-hostess, Y-not:

Today's my birthday.
I'm past the age where I actually celebrate my birthday, but I'm using the calendar date as an excuse to not feel guilty for having virtually no content for you this week!
You youngsters will discover that as you get to A Certain Age you begin to embrace your Inner Curmudgeon. I hit that age two years ago. My Inner Curmudgeon gives me license to ask to see The Manager when service sucks, to insist that hipster clerks SPEAK THE FRIG UP WHEN TALKING TO ME, and to blow off my AoSHQ duties as desired.
It's quite freeing, really. I'm not sure it compensates for waking up with aches and pains every day, but it's something.
In any event, here are a couple of things from Casa Y-not.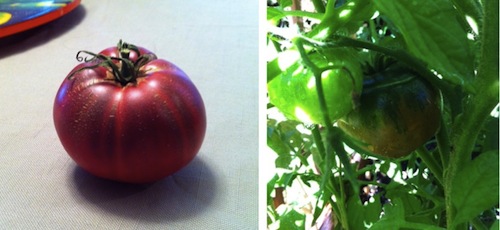 I have finally harvested a tomato! The first of the Black Carbons has produced a ripe fruit (left) which we enjoyed in a salad earlier this week. It had split in a couple of places, but it was still fine for eating. I found it to be a sweet tomato with a firm, juicy flesh. Meanwhile, a tomato from the Black Krim plant (right) is starting to ripen. I'll let you know how that goes.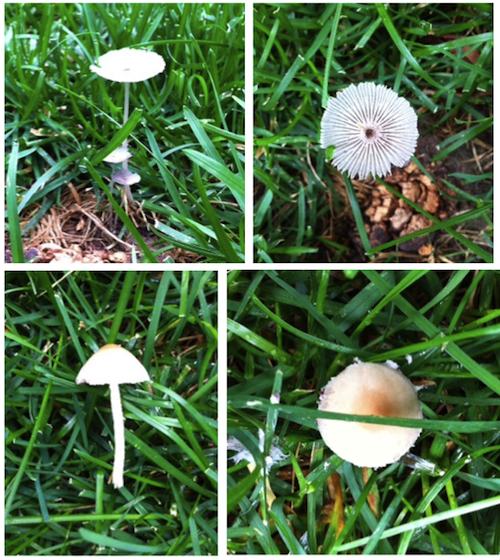 I was planning on writing up something about fungi, because we've had a lot of rain around here, which has produced tons of mushrooms in our back yard. Most of them are of the smooth, rounded cap type (lower), but I did find one funky one (upper) that was flat with ridges on the top side instead of on its underside the way most mushrooms are.
I'm not particularly bothered by the existence of these things, but if you're interested in learning more about lawn mushrooms, here's a link.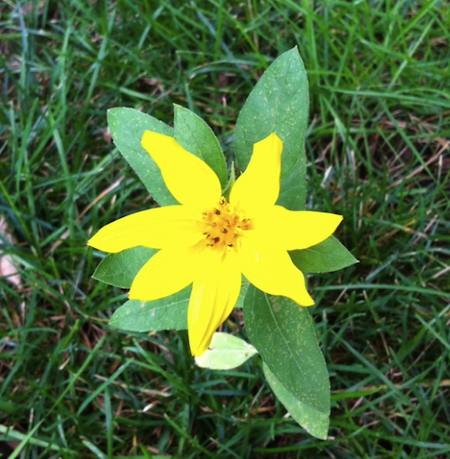 Finally, we've had some extra bonus flowers popping up in our yard recently, thanks to the messiness of the birds who visit our feeder. They're kind of pretty and are helping to fill in that "problem slope" that I told you about earlier this year. It'll be interesting to see if they return next season.

So that's it from your pals WeirdDave and Y-not. What's happening in YOUR gardens this week?

To wrap things up, here's #60 from that list, "Moon River:"

Send comments, pictures, tips, questions, and large unmarked bills to me on Twitter at moxiemom or to my gee m ail account, bailesworth.

posted by Open Blogger at
01:05 PM
|
Access Comments