« Hamas Spokesman: You Know, Jews Used to Slaughter Non-Jews to Use Their Blood In Matzohs
Update: Spokesman Won't Repudiate It
|
Main
|
Overnight Open Thread (8-4-2014) »
August 04, 2014
John Kerry Disappears from World During Weekend of Crisis, But Posts Photo to Reassure World He is Well In Command
Kerry's absence from the scene was noted, and criticized. (Instapundit disagrees, and thinks it's Smart Diplomacy to keep Kerry out of Diplomacy.)
However, a visitor Nantucket has posted a picture of Kerry.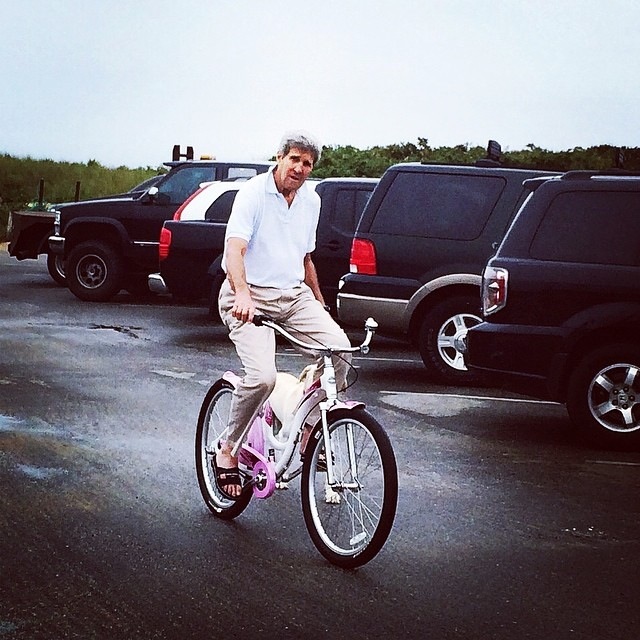 Unless that Nantucker is playing a prank without signaling it, that photo is real.
In other Open Thread news:
The Free Beacon has gone private and for-profit. They started as a non-profit, funded by the Center for American Freedom, but I guess they're experiencing enough success that they can strike out on their own and turn a profit.
And that's pretty hard on the internet.
At the Federalist, The Meatball ponders what would constitute a Republican "wave" win in the November elections. As far as the Senate, he has a specific number in mind: 8 seats.
Meanwhile, Dennis Praeger has a video out explaining the complicated simple problem in the Israel-Hamas war.
More: I posted another video below the fold.
Corrected: I incorrectly wrote that Kerry posted this picture. He did not. It was a visitor to Nantucket who says he snapped the photo of Kerry.
I botched the correction, too. The guy wasn't a resident, but, he says, a visitor.
Go Pro's "Epic Roof Jump" Video. I don't even know what to say about this.
Go Pro (which makes a camera you mount on your head, for filming stunts) had a stuntman named Ethan Swanson execute a roof jump.
I've got a lot of problems with this video.
First of all, I think it's impossible to just skid off a roof and land on a metal circular staircase without dying. I mean, what happened to his forward momentum?
And he planned that? He planned to commit suicide?
Who would plan a jump that terminates after a skid into an area filled with metal fencing?
Second of all: When the camera shows him from the side, why does he freeze in mid-air (a standard photographic effect, fine on its own) while the train behind him seems to continue at its normal speed?
Anyway, I'm just throwing this out there.
I think I linked another Go Pro viral video, one about a guy snowboarding down a very steep cliff.
Maybe I shouldn't link these.


posted by Ace at
07:38 PM
|
Access Comments