« Food Thread: Turkey Bacon Edition [CBD]
|
Main
|
The New Yorker Publishes What Looks Like an Original Form of Joke »
July 27, 2014
Bonus Gaming Thread: Review of Boardgame "Pandemic"
I heard about this game via Wil Wheaton's "Table Top" series. He really sold the game there.
It's a cooperative boardgame for 2-4 players (a fifth player can be added, if you get the expansion, Pandemic: On the Brink.) "Cooperative" means all players play together as a single team, coordinating strategy, handing important cards to each other, discussing each other's possible moves.
The opponent is the game itself, or more specifically, a deck of cards representing all the bad things which can happen during an epidemic, which the team has to respond to.
The theme of the game is disease control -- the premise is that there has been an outbreak of four deadly diseases, one chiefly affecting America and Europe, another infecting South America and Africa, another infecting the Middle East, Northern Africa, and India, and one infecting the Far East and Australia. The game is played on a world map containing 48 cities (or 48 possible hot zones).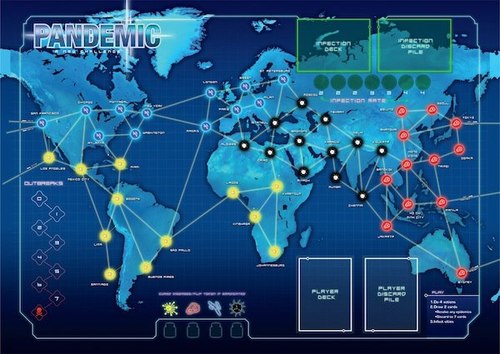 Players are members of the Center for Disease Control, and start the game in Atlanta. Each player has a "role," which is just a special power the player uses to bend the rules to the players' advantage. For example, while every other player needs five cards of the same color (for example, five blue cards to "cure" the blue disease infecting America and Europe), the "Scientist" role only requires four.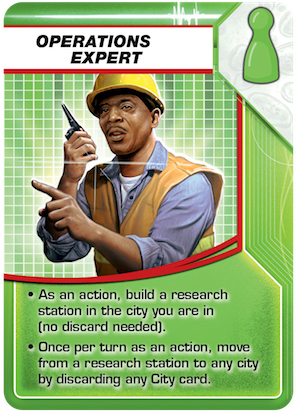 To win the game, the players have to cure all four diseases.
Players lose the game when one of three things happen: Eight outbreaks of disease occur (too many outbreaks-- the plagues run rampant over the world), the deck of cards tells the players to add disease cubes to a city but there are no disease cubes left (representing too many casualties, and thus failure), or a player is required to draw from the player deck but there are no cards left. As there is only a limited number of player cards, this imposes a time limit on the game-- and players lose if they don't satisfy their victory conditions (four cures) in time.
This last Loss Condition is a hard-coded time limit on the game. It's a bit artificial, but it does mean the game will definitely end after (depending on the initial set-up) 25 or so total player turns (not turns per player, but total turns of all players).
The game box says that games take 45 minutes, which sounds about right -- for experienced players, who know the rules. When you first play and you're doing a lot of rules-consulting as you play (learning the game by playing the game), you can expect it to take an hour and a half.
The fact that the game will definitely end after an hour or so is selling point-- more games of Risk or Diplomacy have been started than actually finished, after all. It's a useful thing to know exactly what kind of a time commitment you're agreeing to when you sit down to play the game.
The basic game mechanics are straightforward: Each turn, a player executes four actions (move from one city to another, treat a disease by removing a disease cube from a city, etc.), and then draws two cards from the player deck, which mostly contain useful cards -- mostly. But they also contain Epidemic cards, the worst cards in the game. More on that in a minute.
Then two cards are drawn from the infection deck, which indicates which cities will receive new disease cubes this round -- for example, Sao Paolo and Kolkata (Culcutta).
Before playing, the players agree as to how many Epidemic cards will be placed in the player deck -- four for newbies, five for players who know what they're doing (basically), and six for a "Heroic" mode, tough even for experienced players. (The expansion On the Brink contains a seventh Epidemic card for a "Legendary" challenge. And note that Wil Wheaton keeps saying he's playing on "Legendary" mode in his game, but he's not-- he's playing "Heroic" with six Epidemic cards, not seven.)
Epidemic cards are spaced approximately evenly through the player deck, so you don't know exactly when they're coming, but you do have a sense of when you're overdue for one.
When an Epidemic strikes, a random city card is chosen and that city takes three disease cubes, putting it on the brink of an outbreak. Then the "Intensity" track is advanced-- in the beginning, you draw two cards per turn to indicate new infections, but as the game wears on, you'll be drawing three new infection cards per turn, and finally four. The game thus begins somewhat easy but becomes tougher and more dangerous as it progresses.
Finally, the previously discarded infection cards -- which had earlier indicated which cities received new disease cubes -- get shuffled up and placed back on top of the Infection deck. What this means is that the 9 or 10 cities that have given you problems since the beginning of the game -- the ones that started out full of disease -- keep getting hammered again and again as the game progresses.
When a city has three disease cubes on it and the deck tells you to place another cube on it, the disease Outbreaks. Rather than add that fourth cube to the city, you instead add a disease cube to each city that city is connected to on the game map, and this also causes the Outbreak track to increase one step (and when you hit eight, the game ends and the players lose).
Outbreaks are especially dangerous because one outbreak can cause another outbreak, and that outbreak can cause another (or even two or three outbreaks). For example, if New York, London, Madrid, and Paris all have three disease cubes on them already, and the infection deck tells you to add a disease cube to New York, New York outbreaks to London. London, which already had three disease cubes, now outbreaks to Madrid and Paris (connected to them both).
And then Madrid and Paris both outbreak to all the cities they're connected to. Including London again!
Thus, in one bad turn, you could possibly have a chain reaction of four, five, or even six outbreaks (if you really haven't done a good job of keeping cities at only two or fewer disease cubes). In one turn, you could go from having the world's diseases under control, to being one or two outbreaks away from losing.
Players have to juggle their time between playing defensively -- plucking disease cubes off the board in order to prevent these outbreaks -- and offensively, collecting the five cards necessary to cure a disease.
Inexperienced players will usually (as I did) spend too much time removing disease from the board, because that seems like the most obvious thing to do every turn. But removing disease isn't a victory condition; only collecting the cards to cure a disease counts as a victory condition. Players have to control outbreaks while not becoming so focused on that they don't bother to do the things necessary to actually turn in a cure at a research station.
And then they run out of time (cards, actually), and lose that way.
I give the game a strong recommendation, for several reasons. First of all, it's a social game. Every move gets discussed and hashed over by everyone; players aren't sitting there silently plotting their moves. Coordination is necessary. The game can be played in a party (or at least dinner party) situation without feeling like you've squashed everything just to play a game. People will keep on talking; it's just now they'll be talking about getting the Quarantine Specialist to Cairo so that it can't chain-outbreak to Istanbul.
Secondly, the theming is good, and by good, I mean "non-dorky." Board games are inherently dorky. The dork factor zooms up to ten if you attempt to get friends to play a game that has, for example, a fantasy theming. (Pandemic made cooperative games very popular and then all sorts of fantasy-themed cooperative games came out, like Lord of the Rings.)
But it's hard to get social acquaintances to play a game where their role is an Elf. They'll accuse you of trying to trick them into playing Dungeons & Dragons, which, frankly, is kinda what you're doing.
Pandemic, however, with its world map of major cities and fairly plausible premise of the CDC attempting to control four outbreaks of virulent diseases, seems not quite as dorky.
Oh, it's still dorky. I mean, it's a boardgame. There's no avoiding that.
But less dorky than it could have been.
It's often called the best gateway game for boardgamers, and I'm sure that's due to its cooperative, social-interaction-intensive nature and a boardgame and theme that doesn't involve orcs or Magic Shields.
I also got the expansion, Pandemic: On the Brink. I'd recommend this too, but narrowly, and only after you've decided you like the game.
It doesn't contain much, physically, but it has a couple of important things.
First, it lets you add a fifth player. If you're thinking of this as a dinner party game, that's important, having the ability to play 2, 3, 4, or 5 players.
Second, it attempts to fix a game imbalance in the base game. In the base game, it's much easier (I'm told) to win with 2 players than with 4, because the city cards (necessary for curing diseases) aren't scattered into so many hands. (A player needs five cards of the same color in his hand to cure disease -- something easier to do when only two players are drawing these cards and discarding the ones they don't need.) On the Brink adds a new rule, that the deck will be stacked with fewer Special Event cards (which help players) when there are few players, and more when there are more players.
Thirdly, and this is just silly but it's awesome, if you watch that Wil Wheaton video, you'll see they're drawing disease cubes from little petri dishes. Those petri dishes are in the expansion On the Brink, not in the main game.
Eh, I love those petri dishes. It's silly bling but fits the theme so well.
The other stuff On the Brink has is three rules variants -- playing with a "Virulent Strain" epidemic (in which one disease has special (bad) powers to punish players), playing with a fifth "mutant" disease (with the mutation changing what the base four diseases do), and "Bioterrorist" challenge, which turns the game into a semi-cooperative one, with two or three playing the game normally as a team, and one Bioterrorist player playing against them, seeding cities with disease.
This variant is a hidden-movement game, where the Bioterrorist player secretly records his moves and players have to guess where he is and where he's going.
I haven't played any of those variants so I cannot judge them. They seem, to me, to be fairly minor variations, like "Low Spade in the Hole" in poker. But probably experienced players would enjoy the new challenges.
The expansion also contains six (I think) new "Roles" and six corresponding new pawns to represent them. These are mostly minor variations of the existing roles in the basic set, though a couple are new-ish.
I'd say that On the Brink is a mostly unnecessary expansion, except for experienced players, but for the fact it contains three things that seem pretty important: the rules for a fifth player, the rules adjustments for playing with different numbers of players, and those neat petri dishes.
Then again, you could probably pick up real petri dishes cheaper.
The base game, on the other hand, gets an easy recommendation.

Oh, and For Kids: The same company makes a simpler cooperative game with different theming and somewhat different rules but sort of a similar idea. That game is made for kids, or for kids and parents together. It's called Forbidden Island, and there the players have to (if I have this right) collect four treasures from a mysterious jungle island that is sinking into the ocean as they explore it.

posted by Ace at
05:31 PM
|
Access Comments