« Bad Polling News For Hillary: Less Than Half of Americans Say Hillary Clinton "Shares My Ability to Walk Under My Own Power"
|
Main
|
IRS Head John Koskinen Now Says... They've Found Some of those Old Email Back Up Tapes? »
July 23, 2014
The Independent (UK): Tear gas fired at ["Mostly Peaceful"] pro-Palestinians demonstrators in Paris
Everything except the brackets is in their headline -- the bracketed part comes from the article itself.
Riot police fired tear gas and fought running battles with pro-Palestinian demonstrators in Paris this afternoon after a banned protest march turned violent.
It just "turned" violent. Who can say who is responsible?
About 6,000 mostly peaceful protesters assembled in the Barbès area of northern Paris in defiance of a government ban. When the march was blocked by police lines after only 500 metres, a minority of young protesters started to hurl stones, bottles and sticks at the riot police.
Let's see what those mostly peaceful/minority of young protesters might look like in actual action:
Affrontements lors de la manifestation pro...
by leparisien
What's going on, of course, is that (mostly peaceful) pro-Palestinian Muslim rioters in France have declared war on synagogues and Jewish-owned businesses. Their method of protesting Israel is to throw "peace stones" through the windows of Jewish-owned shops -- and actually burn them down, too, with Peace Molotov Cocktails.
Pictures in that article; also note that those pictures are from the aftermath of another mostly peaceful protest, not in Barbés but in a Paris suburb called Sarcelles, nicknamed "Little Jerusalem" for its large (Entirely Peaceful) Jewish population.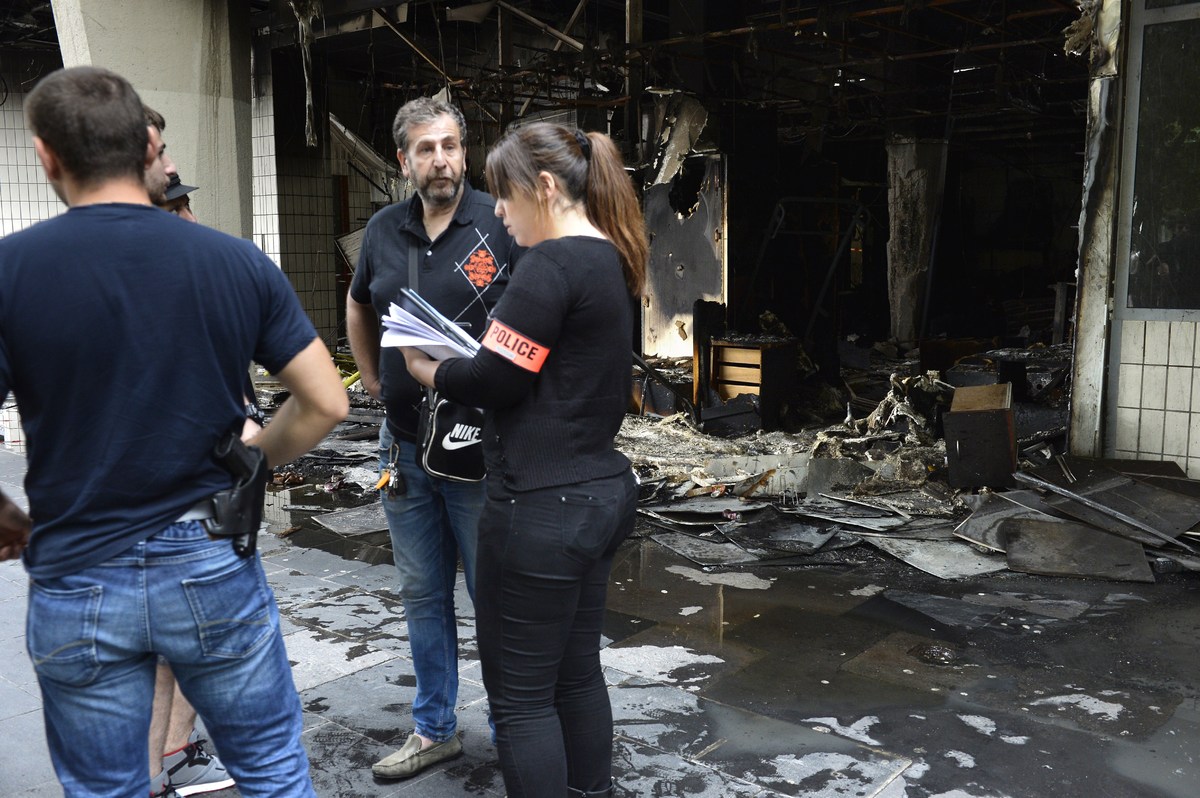 A policewoman takes down a report outside a
fire-gutted pharmacy
From the above-linked article:
"They were shouting: 'Death to Jews,' and 'Slit Jews' throats'," David, a Jewish sound engineer told The Times. "It took us back to 1938."

...


The government had banned a demonstration planned in Paris for Saturday, but posters were seen around the area which said "Come equipped with hammers, fire extinguishers and batons" and promised a "raid on the Jewish district."
There's more there. That's a Huffington Post article. Both the HuffPo and the French version of it are telling the story straight.
How bad is it? Jews are fleeing France for Israel, which is currently being attacked daily by Hamas' (mostly peaceful) rocket barrages:
More than a thousand Jews have made aliyah (the term used when Jews immigrate to Israel) in the past 10 days, according to the Israeli government.
The BBC also has pictures of what mostly peaceful anti-Jewish-business riots look like.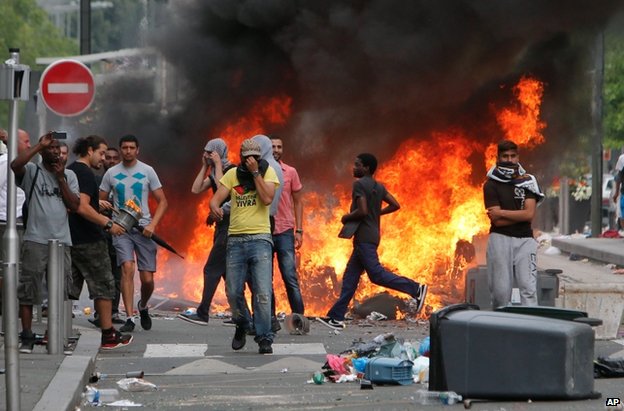 Extra gasoline bombs means extra peaceful
France has already sentenced three of the rioters to significant (for France, mind you, which permits labor unions to kidnap bosses) jail terms:
The three men, aged 21 and 28, were given sentences of between six and 10 months for their part in the rioting in Sarcelles on Sunday.

A fourth man was given a suspended sentence while a minor received a fine.
A poll of the French population indicates they're in favor of shutting these riots down, given that they seem geared precisely to result in violence against Jewish property (and, I'm sure-- Jewish bodies).
62% called themselves in favor of stopping the "protests" because they are accompanied by serious violence, while 25% said they are opposed to cracking down, because protests are so important.
I found it kind of interesting how people associated with various parties came down on this: Only 60% of the socialist left (the actual Partie Socialiste) support a crackdown, while 70% of the slightly-less-socialist right (Sarkozy's UMP) support it.
The "ultra right wing extremist Nazi-sympathizing party," the FN, supports a crackdown at a rate of 80%. I don't know much about the FN, and so I can't say if the claims that they're "extremist" or racist are true or not, but it is interesting, I guess, that they overwhelmingly support a crackdown against anti-Jewish pogroms.
On the other hand, the Front au Gauche, the most leftwing assortment, including outright communists and so forth, only supports a crackdown at the rate of 43%.
!!!
Finally, not in France, but in Gaza itself: Hamas has declared the cancellation of international flights to Israel due to their rocketing Israeli civilian centers a "great victory."
[Translated:]"The closing of Israeli airspace is a great victory for the resistance, and the crowning moment of the fall [or failure*] of Israel," said the spokesman of Hamas, Sami Abou Zouhri, in a communiqué.
So, you know. They're openly bragging about attacking civilians, but I guess we're not supposed to notice that, Because Racism.
* Or maybe "check" or "checkmate." The word generally means "failure" but it has various related meanings.

posted by Ace at
01:56 PM
|
Access Comments