« Gaming Thread 7/20/2014
|
Main
|
Still On The Hunt: Sharyl Attkisson - [Niedermeyer's Dead Horse] »
July 20, 2014
Food Thread: Frying: Because Everything Tastes Better Fried [CBD]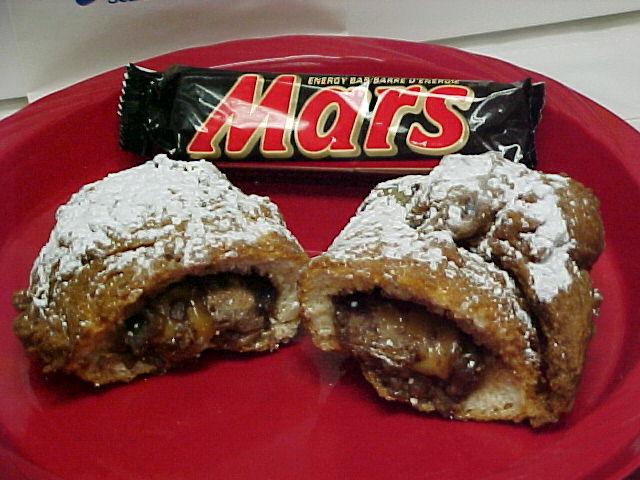 Well....almost everything.

I don't have any particular expertise with frying, but it was mentioned as a possible topic for the Food Thread by a couple of heavy hitters, so I was intimidated into doing it (don't worry; the bruises will fade).
As Harold McGee points out in his marvelous On Food And Cooking, frying is simply the use of a hot oil or fat as the cooking medium. It works well because oils and fats can be heated to well above the boiling point of water and can brown and crisp the food surface.
There are two basic techniques: shallow, or pan frying; and deep frying. Southern Fried Chicken is a classic example of shallow frying, although I can find no explanation for its advantage over deep frying other than its simplicity. If I were to guess I can't even guess.
There are as many batter recipes as there are foods to batter, and in the case of fried chicken, some are closely guarded family secrets. Add sugar for a sweet batter, spices and no sugar for savory, seltzer for a light batter, breading for extra crunch....it goes on forever.
My only word of wisdom (and we will define that loosely) is to be very careful with temperature. It is tempting to cook at the highest possible temperature, but that risks burning the exterior before the interior is cooked. And of course oil that is too cool will quickly soak into the food without browning and crisping the exterior. Use a thermometer and pay attention to the fluctuations in temperature as you add food to the oil.
I have had good luck with French Fries, mostly because I stuck with the classic technique of double frying -- once at low temperature to cook the potatoes, and then again at higher temperature to crisp and brown the outside.
As for equipment? I have a rotary fryer that works very well, although it cannot hold much. The advantage is that it is covered, so my house smells of frying for days rather than weeks. But any heavy-bottomed pot with high sides should work. Heavy-bottomed to help control temperature, and high sides to keep splatter to a minimum.
So....have at it. Recipes, advice, mockery; it's all good.
I don't remember where I found this recipe, but it is a very good version of a very satisfying dish. It's a great summer meal, because it can be served cool.
Sczechuan Noodles
6 garlic cloves, chopped
1/4 cup fresh ginger, peeled and chopped
1/2 cup vegetable oil
1/2 cup tahini (sesame paste)
1/2 cup smooth peanut butter
1/2 cup good soy sauce
1/4 cup dry sherry
1/4 cup sherry vinegar
1/4 cup honey
1/2 teaspoon hot chili oil
2 tablespoons dark sesame oil
1/2 teaspoon freshly ground black pepper
1/8 teaspoon ground cayenne pepper
1 pound spaghetti
1 red bell pepper, julienned
1 yellow bell pepper, julienned
4 scallions, sliced diagonally (white and green parts)
Place the garlic and ginger in a food processor fitted with a steel blade. Add the vegetable oil, tahini, peanut butter, soy sauce, sherry, sherry vinegar, honey, chili oil, sesame oil, and ground peppers. Puree the sauce.
Add a splash of oil to a large pot of boiling salted water and cook the spaghetti al dente. Drain the pasta in a colander, place it in a large bowl, and while still warm, toss with 3/4 of the sauce. Add the red and yellow bell peppers and scallions; toss well. Serve warm or at room temperature. The remaining sauce may be added, as needed, to moisten the pasta.

posted by Open Blogger at
04:00 PM
|
Access Comments