« OT Thread- Freemen vs Serfs Edition [WeirdDave]
|
Main
|
Tales From the Once-Golden State: Couple Will Face Fine If They Water Their Lawn, or Pay Another Fine If They Don't »
July 19, 2014
Saturday Gardening Thread: You Learn Something New Every Day [Y-not and WeirdDave]
Good morning, Gardeners!
Today's gardening thread is brought to you by The Carrot:

Via @DoreenHDickson, we have this article from The Federalist, "The 10 Stages of Clueless Gardening."
It's a fun post in which the author describes the various stages through which she's progressed during her five years of organic gardening.
Me? I skipped most of the stages and went straight to Stage 9:
Stage 9: Darwinism

You finally go back out there and see that your green beans are doing pretty well, actually. You can probably get enough to serve with supper. You also find a couple decent cucumbers and a few tomatoes that haven't been sucked dry by stink bugs. The squash? You pull them all up and end their misery. And you feel remarkably better. Survival of the fittest, baby. If a plant can live through the onslaughts of nature without your constant attention and still produce something edible, it can stay. If not, buh-bye.
Seriously, though, I'm in Year Two of my attempts at vegetable gardening and I really have basically approached it as an exercise in the Survival of the Fittest. I figure, I've given the plants (and seeds) nice raised beds with good sunlight and (usually) plenty of water and (occasionally) some Miracle Grow and the rest is up to them.
What I've learned thus far:
(1) Herbs are easy and highly satisfying and where I am, anyway, do NOT require tons of sunlight. Mine are quite happy in a couple of raised beds under the aspen trees (except for the rosemary, which gets a metric butt load of sunshine in a south-facing bed). They probably get about an hour or two of truly direct sunlight each day, the rest is filtered. Extra bonus: most of my herbs survived the winter quite happily.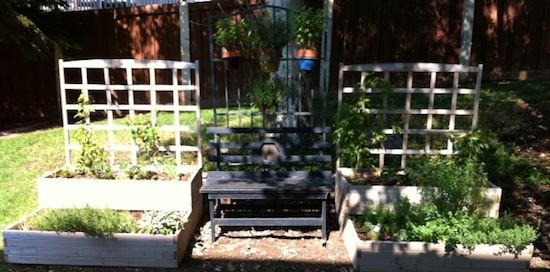 Two of our raised beds get some morning sun, but filtered light most of the day. They're home to clematis, strawberries, and many types of herbs.
(2) Something likes to eat my spinach, Swiss chard, kale, and beet tops (beets are related). I think they're leaf miners. Sort of a bummer as I really enjoy leafy greens. My beets seem to have survived the attack, but the greens are no longer appealing for eating. I did not do anything to get rid of them* and I'm not sure I want to go that route of chasing down bugs. Darwin, baby!
*(2a) An addendum to this leafy vegetable pest problem: I've discovered that my husband's catch-all recommendation for garden pests is "soapy water." Last year when the kale and chard were attacked, he suggested I spray the leaves with soapy water. This had the effect of finishing off the plants... I suppose the leaf miners died of starvation, too. This year when I noticed the beets looking wonky he again suggested "soapy water." And, as I recall, when one of my house plants took sick last year he also suggested soapy water.
Note to self: Check Medical Power of Attorney form for references to "soapy water."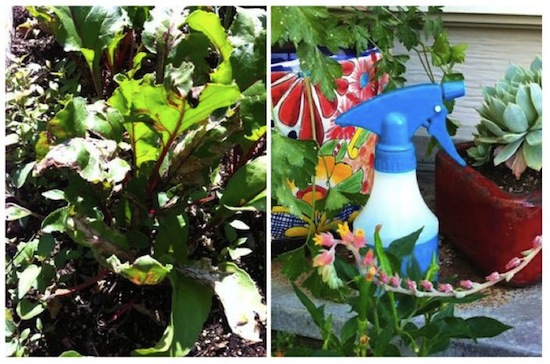 (Left) Beet leaves were attacked by something. Attack has since stopped, without intervention. (Right) Mister Y-not's Secret Weapon.
(3) I am probably the only person on the planet who can't grow a full-sized tomato. Last year's were a bust and this year's don't look much better. I have ONE, count 'em ONE, small green tomato forming thus far. Lots of flowers. No fruits. So next year I am going to do everything in my power to find that wonderful small tomato (bigger than a cherry, smaller than a full-sized tomato) that I grew last year. It produced early, made lots of fruit, and lasted all season.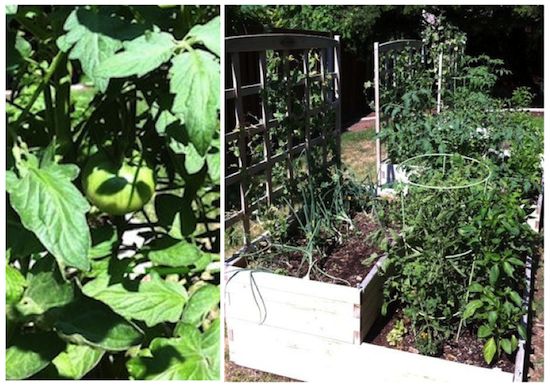 (Left) It's late-July and I have ONE LOUSY TOMATO?!! (Right) My three raised beds dedicated to veggies could probably handle a lot more plants.
(4) I'm going to have to do SOME research and planning if I'm going to maximize my garden. First, I'm pretty sure I am not putting in nearly enough plants. I see pictures of other peoples' gardens and they look so crowded compared to mine. Second, I do not have the hang of the early, middle, and late "crops" yet, so now my beds are sitting there with wasted space now that the first batch of carrots and beets are pulled.
With that in mind, here's what I learned about carrots:
To produce the best crop possible, double-dig your planting area or build up a raised bed. Loose, rock-free soil is the goal. If you have heavy soil, add plenty of mature compost.

Start sowing this cool-weather crop 3 weeks before the last expected frost; plant again every 2 to 3 weeks after that. Most cultivars take 70 to 80 days to mature, so sow your last planting 2 to 3 months before the first expected fall frost. In Zone 8 and warmer, plant carrots in fall or winter.
(Follow the link for more info.)
My first batch of carrots turned out fine (only a couple of woody ones), but they were not very big.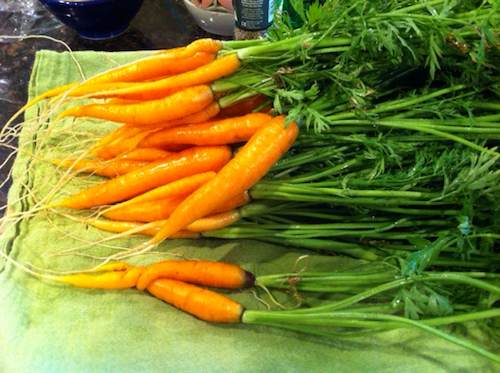 Carrots were planted directly into the ground from seed in late April. Harvested mid-July because a couple of them were getting ready to flower and were woody.
The roots are less exciting than the tops, so I decided to look for recipes that use carrot tops. This blogger assembled five ways to use carrot tops in your kitchen. I made the Moroccan-inspired carrot and chickpea salad earlier this week and it was very good.
Carrot and chickpea salad served with Moroccan-style grilled lamb riblets. Yum!
OK, so now I've pulled all of my carrots and I would like to try a second batch for the Fall:
Spring is the season most gardeners think of when they start planning their planting season. Although long-season plants such as tomatoes and peppers need to be planted in the spring, shorter-lived vegetables such as carrots can be grown twice in a year. Planting carrots during the long, hot days of summer's end will give them a fast head start and they'll grow long and sweet in the cooler autumn garden until the frost arrives.

Calculate when to plant carrots for the fall harvest by finding out the average first fall frost date in your area. Most carrots need 10 to 12 weeks to grow, so count back from your frost date to determine when to plant. For instance, in U.S. Department of Agriculture plant hardiness zone 8b, the first frost date is near the last week in November. Counting back from that date, you should plant fall carrots around the last week in August.

Here's a tool for calculating the average first frost date by zipcode.
My results:
Each winter, on average, your risk of frost is from September 30 through May 14.

Almost certainly, however, you will receive frost from October 13 through April 24.

You are almost guaranteed that you will not get frost from June 3 through September 16.

Your frost-free growing season is around 139 days.
So it looks like I should probably plant those carrot seeds this weekend... I'd better get going!

And now, here's the latest from your co-host, WeirdDave:
OK, I thought I'd turn things around for this one. My garden is going well, tomatoes ripening, the potatoes have shoots out all over the potato tower I talked about. The lettuce grew but I forgot to harvest it and it bolted (shut up). However, there are some things that I didn't plant, and I don't. Garden staples even. Why? Because everybody gives me their extras. I'm talking cucumbers, zucchini and squash. Just this week I had a client load me down with squash and zucchini.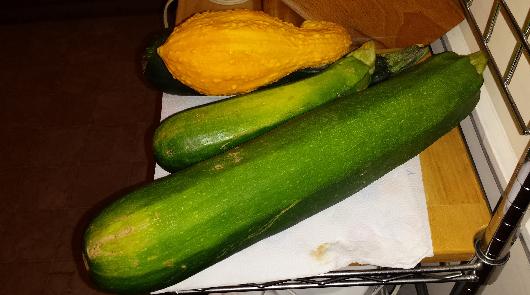 That bottom one is almost two feet long, and bigger around than my johnson! (I know, hard to believe) It will be going into bread before Gingy leaves for Canada. I made another squash for dinner, grilled. I sectioned it, then tossed the rounds into a big baggie with oil and spices (4 cup olive oil, ts garlic powder, ts each of salt, pepper and chipotle powder). Five minutes a side on a hot grill and yum. Another client gave me cucumbers and more zucchini.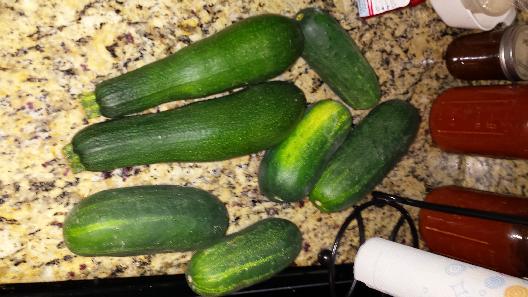 This is just the start. If experience is any guide, all summer long I'll be getting overflow from gardens of clients, friends and maybe even random boxed of veggies that show up on the front porch when I'm out. How about you, is there anything that you don't grow because you know you'll be getting plenty from friends? Or are you in the other boat, desperately searching the neighborhood for houses with no cars out front so you can leave a "present" on the stoop?
I'm sorry this is so short, but I'm tired, I spent too long working on the OT thread.

Y-not: Thanks, WeirdDave!
To wrap things, how about some songs?
Jason Aldean, "She's Country"
Gretchen Wilson, "Redneck Woman"
(Yeah, I am bound and determined to get all of you folks who say you don't like "country music" to change your tunes. I thought I didn't like it, either, until I gave it a try.)

NEXT WEEK WILL BE ANOTHER SHOW AND TELL POST.
If you have any pictures, questions, blog posts, or brags to share with the group, send them to me at my Twitter account (MoxieMom) or to my g mail account, bailesworth.
Happy gardening!


posted by Open Blogger at
02:04 PM
|
Access Comments