« If They Bring a Knife You Bring a Gun
|
Main
|
Sunday Travel Thread: Your Ideal Vacation [Y-not] »
July 13, 2014
Food Thread: Potatoes And Cheese -- A Match Made In Heaven [CBD]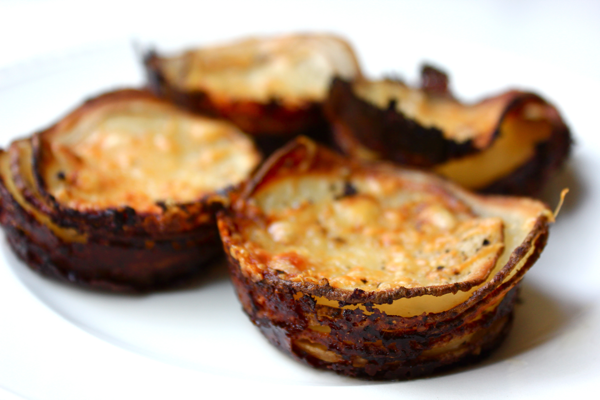 Courtesy of wittyinthecity.com
Commenter "Mongerel" mentioned these in a recent food thread, and I was intrigued. So simple! How could they taste as good as they look?
But they do. Oh my...they do!
Go to the site and read the whole thing. The writer has an interesting recipe style...sort of a narrative instead of the traditional recipe structure. Good stuff.
I have made these gratins twice in the last week, and the only issue is the size of the potato rounds. Because muffin tins widen from bottom to top, you will have to use the smaller slices on the bottom. It's like a puzzle!
A recipe from Niedermeyer's Dead Horse
Is ethanol causing food disruption?
This is one more example of the stupidity of those who call themselves journalists. Their ignorance of basic economics is stunning. Any high school student who has taken an economics class should be able to explain why, if food products are diverted for non-food use, then the market will change. We expect this stupidity from our politicians, but this story should have been front-and-center for years.
"Where do people think food comes from? That protein just magically appears, it is created in a lab somewhere in New Jersey?"
Ace wrote about Axelle Despiegelaere, the hot Belgian chick who got a gig with Loreal and then lost it because she...gasp....is a hunter! Here is Tucker Carlson, Ainsley Earhardt and some other dude talking about it....
Blueberry Scones
2.5 cups unbleached flour
1.25 tablespoon baking powder
1.25 teaspoon salt
3.3 ounces sugar
4 ounces unsalted butter cut into the smallest pieces you can manage.
1 cup buttermilk or cream (cream is better, but slightly more fattening)
1 egg
1 pint fresh blueberries (or currents or raspberries or...) dusted in flour and then frozen. (if using raspberries, cut them in half or thirds before dusting with flour and freezing)
Toss the blueberries with a bit of flour and then freeze them for a few hours. This will prevent them from breaking up when you mix them into the batter, and the end result will be whole berries distributed through the scones rather than blueberry mush in blue scones. If you use raspberries, cut them into smaller pieces before you dust them with flour and freeze them.
Preheat oven to 400 degrees F.
In a large bowl, thoroughly mix the flour, baking powder, salt and sugar. Add the butter pieces to the flour mixture, and using a pastry blender or your hands (stick them under cold water and then dry them carefully), break up the butter until it resembles sand or small crumbs (A food processor will do a great job).
In another bowl, whisk the cream and egg together, and then add to the flour mixture. Add the frozen blueberries and mix just to incorporate, do not overwork the dough.
This is messy, sticky dough. I have found that the best method for portioning is to use a large ice cream scoop.
Drop the mixture onto an ungreased baking sheet, trying to keep them as tall as possible. This recipe will make ten large scones, but tailor the size to your preference.
Sprinkle granulated sugar on them for a nice color and added crispiness.
Bake for 25-30 minutes or so until tinged with brown. If you make smaller scones they will bake more quickly, so adjust the time accordingly.

posted by Open Blogger at
04:45 PM
|
Access Comments