« Early Morning Open Thread - [Niedermeyer's Dead Horse]
|
Main
|
Things Progressives Know That Just Aren't So, Part I - Greed [WeirdDave] »
June 29, 2014
Sunday Morning Book Thread 06-29-2014: A Giant Sinkhole of Narcissistic Suck [OregonMuse]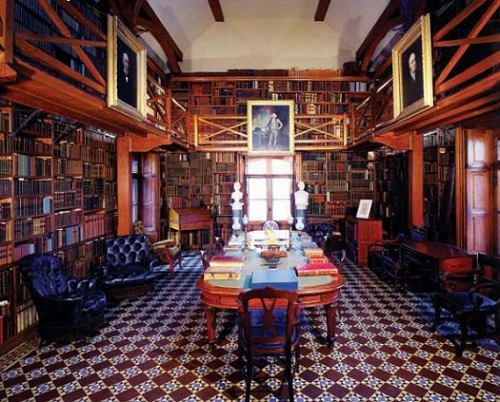 John Adams' Library, Quincy, MA
(thanks to moron "kalel666" for the library pic)
Good morning morons and moronettes and welcome to AoSHQ's stately and prestigious Sunday Morning Book Thread.
Please direct all non-book discussion to Niedermeyer's Dead Horse's cheese grits casserole open thread down below. Thanks. Think I'll have a helping myself, come to think of it.
When Narcissists Collide
"I hate that man Obama more than any man I've ever met, more than any man who ever lived," Bill Clinton said to friends on one occasion, adding he would never forgive Obama for suggesting he was a racist during the 2008 campaign.

The feeling is mutual. Obama made excuses not to talk to Bill, while the first lady privately sniped about Hillary.
I always get an embarrassingly large schadenboner whenever I read things about public figures I despise that puts them in a bad light.

The above Clinton quote is from the new book Blood Feud, by Edward Klein, and who knows if that quote, or anything else in it, is true? I like to believe it, I want to believe it, because it validates my low opinion of the individuals in question. Like the Stephen Glass fabulations in The New Republic, they're just too good to check.
But it's plausible that if you put one malignant, narcissistic power-hungry couple in the same room with another malignant, narcissistic power-hungry couple, the odds are that they're not going to get along, and bad things will happen. Hillary! supporters have been complaining for years that Obama cheated Hillary! out of her rightful 2008 nomination, i.e. Obama's political machine brought in more fraudulent votes than Hillary!'s political machine.
And when it comes down to it, there's only room in the Democratic Party for one malignant, narcissistic, power-hungry couple
So, as I said, who knows if any of this is true? It might be a fun read, though.
Klein is also the author of The Amateur, which is not kind to Obama and his administration, and also The Truth About Hillary: What She Knew, When She Knew It, and How Far She'll Go to Become President.
According to wiki, Klein was the former foreign affairs editor of Newsweak and served as the editor-in-chief of The New York Times Magazine from 1977 to 1987.
One more thing:
Their favorite bête noire was Hillary Clinton, whom they nicknamed "Hildebeest," after the menacing and shaggy-maned gnu that roams the Serengeti.
Wait a minute, the Obamas didn't invent the nickname 'hildebeest', did they? I seem to recall conservatives using that term for Hillary! way back in the 90s when Obama was still chooming and schmoozing with Billy Ayers. Am I misremembering this?
B&N spins off Nook division
The Wall Street Journal is reporting that struggling retail bookseller Barnes & Noble is in the process of separating its underperforming Nook division from its consumer bookstores:
The split, expected to occur by March, will make Nook Media a separate public company housing both Barnes & Noble's Nook e-book and e-reader business as well as its college stores. Among Nook Media's big shareholders will be Microsoft Corp. and Pearson PLC, both of which have invested in the Nook Media division but don't have a stake in the broader company.
I am very interested to see whether the Nook/MS partnership can offer good competition to the Amazon/Kindle juggernaut.
Although I have to ask, is there really that much advantage to buying a Nook, when you can simply download the Nook app to any android tablet or other device? And the same for Kindle. Maybe I don't understand, but I don't see the attraction.

Google Book App
Even though there's a ton of free, after-market e-reading apps available for Android devices, I'm finding that the best one for pdf documents is the one that comes with Android, namely, the Google Play Books app. Knowing that I had a lot of ebooks in pdf format, when I first got my Nexus tablet, I immediately downloaded the "official" Adobe pdf Reader and a couple of other pdf readers to try out. Even though all of them offered satisfactory renderings of the pdf material (EBookDroid was particularly good), I felt something was lacking. When you read a pdf book in these reader apps, you don't go from page to page, you just scroll down and down continuously, as if the material were written in one of those Egyptian papyrus scrolls, or a roll of butchers' paper. And you can go from side to side, left and right, if the material is too big to fit in the window. And, of course, resizing the text. I figured this is because the pdf format is not just for text, you can embed all kinds of graphics in a pdf document, and the reader app has to be prepared for any and all of this. As I said, it's OK, I can read pdf books satisfactorily, but it wasn't quite what I wanted.
So then I happened to read somewhere online that the Google reader app could handle pdf document as well as the ePub format. I also discovered that I could manage the Google Play library from my desktop computer. I could upload e-books from my hard drive to the Google Play "cloud" and then sync them wirelessly to my Nexus. And the Google Play Books pdf rendition gives me a better reader experience, that is, it has that page-turning effect that makes me think I'm reading an actual book.
[Note: I just checked and the latest version of the Adobe Reader will allow me to flip pages. I still think the way the Google app displays pdf files is more aesthetically pleasing, though.]

Reading Rainbow
According to this article, actor LeVar Burton has launched a KickStarter project to make a school-focused version of 'Reading Rainbow'. The original goal was 1 million dollars, which was met in only 11 hours. So Burton kicked it up to 5 million.
Then Seth MacFarlane took notice:
Now, with just five days left, Burton is hoping to give it a strong finish with Seth MacFarlane's help. MacFarlane will match, dollar for dollar, every gift made to "Reading Rainbow" between Friday and July 2, up to $1 million.
As of the time of this writing, there are 3 days left and the total is up to nearly 4.5 million.
This is a worthy idea. Kids should read more and play computer games less. Also, kids should read more and texted less. Nobody cares what they have to say, anyway. Stupid kids. Maybe if they read more, and talked less, the words that come out of their pieholes wouldn't be so dumb.
I think 'Shut Up and Read' would make an excellent slogan for this project. It has kind of an no-no-nonsense, old school feel to it.

Books of Note
So a couple of weeks ago, the Ewok in Chief posted a story about how feminists were angry, if you can believe that, because Miss USA suggested it would be a good idea if women took a self-defense course to help them feel safe "walking to your car at night."
On a discussion list for church elders, there was some back-and-forth about how do you deal with guys who show up who just creep people out. Guys with zero social skills, guys who just stare at other people, etc. One of the elders mentioned this:
I recommend reading the book "The Gift of Fear" by Gavin de Becker as a way of understanding what is going on with your creep-o-meter. The author has worked for a lifetime in protecting people from housewives and tradesmen to Hollywood stars and diplomats.

He says the feelings you get like "I just KNEW I shouldn't have gone into that room" or "I KNEW I shouldn't have talked to that guy" more often than not have a basis in behavioral observations that are valid, even if we can't fully explain their meaning. He would say that if your members, and (especially) if you have ladies who are feeling uncomfortable, you should listen to them very carefully.

I liked the book enough that I bought each of my adult children a copy.
The book in question is The Gift of Fear and Other Survival Signals that Protect Us From Violence by Gavin de Becker.
From the Amazon blurb:
These days, no one in America feels immune to violence. But now, in this extraordinary groundbreaking book, the nation's leading expert on predicting violent behavior unlocks the puzzle of human violence and shows that, like every creature on earth, we have within us the ability to predict the harm others might do us and get out of its way. Contrary to popular myth, human violence almost always has a discernible motive and is preceded by clear warning signs.
Emphasis mine. Mr. de Becker is also the author of another book that looks pretty interesting, if you want to pay the steep price for it, Just 2 Seconds, a technical manual for professional guardians and protectors, containing reams of information on past assassinations, and what the data shows as to how attackers can be deterred.
___________
I ran across a review of The Global War on Christians: Dispatches from the Front Lines of Anti-Christian Persecution by John Allen, who, after detailing the horrific abuses suffered by Christians interred by the government in Me'eter, Eritrea, asks
"why the abuse at Me'eter doesn't arouse the same horror and intense public fascination as the celebrated atrocities that unfolded at Abu Ghraib, for instance, or at Guantanamo Bay. Why hasn't there been the same avalanche of investigations, media exposés, protest marches, pop culture references, and the other typical indices of scandal? Why isn't the world abuzz with outrage over the grotesque violations of human rights at Me'eter?"
This question is almost painfully naive. I think the answer would obvious to anyone who has been watching our culture for the past decade or so, and has been noting what things its holding up as good and praiseworthy, and what things are ridiculed and spat upon.
But even so, more people need to know about this.
The good news is that the blackout hasn't been total. Fortunately, a number of other books on this topic are available, among them. Christianophobia: A Faith Under Attack and Their Blood Cries Out: The Growing Worldwide Persecution of Christians.
___________
So that's all for this week. As always, book thread tips, suggestions, rumors, threats, and insults may be sent to OregonMuse, Proprietor, AoSHQ Book Thread, at the book thread e-mail address: aoshqbookthread, followed by the 'at' sign, and then 'G' mail, and then dot cee oh emm.
What have you all been reading this week? Hopefully something good, because, as I keep saying, life is too short to be reading lousy books.

posted by Open Blogger at
10:09 AM
|
Access Comments