« Early Morning Open Thread - [Niedermeyer's Dead Horse]
|
Main
|
Breaking the Stale Open Thread - [Niedermeyer's Dead Horse] »
June 22, 2014
Sunday Morning Book Thread 06-22-2014 [OregonMuse]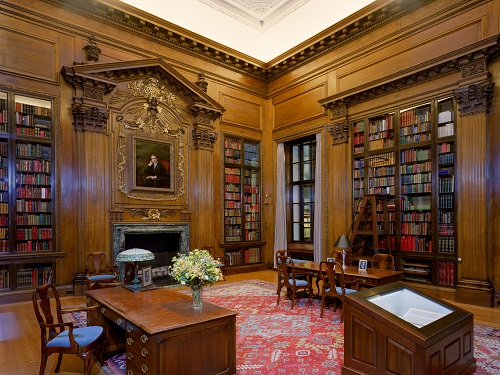 Harvard University Library, Interior, Where Books Bound With Human Skin Live

Good morning morons and moronettes and welcome to AoSHQ's stately and prestigious Sunday Morning Book Thread.

A Visit To The Bookbinder
Trigger warning: This section talks about finding books bound with human skin. If you have been traumatized in the past by books bound with human skin, or if your own skin has been used to bind a book, do not read the following:
So they've found several books at the Harvard University Library that are bound with human skin. Ew. There's even a name for this sort of thing. It's called anthropodermic bibliopegy. It's kind of like cannibalism, only more literate. So even though the books specifically say things like "this book is bound in human skin", I guess they didn't take these simple declarative sentences seriously. At least, not until recently, when some genius decided they should run some lab tests on the cover material. So the results came back and the ssmples turned out to be, hold on to your hats, human skin, just like the books said.
Anthropodermic bibliopegy. Ask for it by name.

Do You Want To Be A Writer?
Heh. Then you can play this board game.

How Well Do You Know Stephen King's Books?
Here's a quiz to help you find out. I sucked big time on this one. All of you should be able to beat my puny 53% score.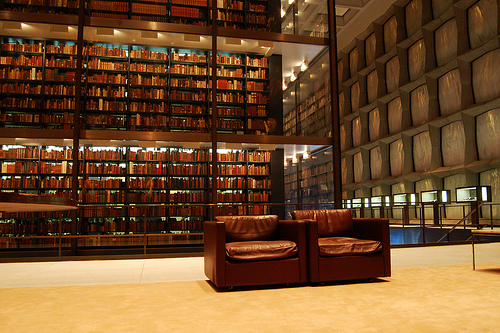 Yale University Library, Interior. Number of Books Bound With Human Skin: Nearly Zero

5 Authors More Badass Than The Badass Character They Created
Lots of fun stuff about the authors in this Cracked list.
I think I was the most impressed by Ernest Hemingway:
He was a boxer, a track runner, a football player, a water polo player and a key figure of the debate team, presumably winning most of his arguments with terrifying scowls...Hemingway spent the last years of his life refusing to die, surviving two consecutive plane crashes, a concussion, temporary paralysis and a massive bushfire.

At one point he was so injured that some American newspapers ran his obituary. Yes, that's right--Hemingway was so badass that he got to read his own obituary.

Hard Choices
OK, so how well is the new book by Hillary! Clinton selling? According to the Weekly Standard, it's tanking. But the LA Times says it's going like gangbusters.
So which is it?
The Washington Post blog's piece on this topic contains some actual numbers for comparison, so you can look for yourself. The one comparison that caught my attention is that Hillary!'s first book, 'Living History', sold 600,000 copies in the first week when it came out in 2003. 'Hard Choices', on the other hand, sold 86,000 in that time frame.

Books to Film
Here are 15 book adaptions slated to hit the big screen in 2015. Included are 'Fifty Shades of Grey', and another version of 'Frankenstein':
This much-adapted horror classic is going to hit theaters once again. The twist to this version will be be a shift in focus towards Igor, Frankenstein's assistant, who did not appear in the original Shelley novel. James McAvoy will play Frankenstein and Igor will be played by none other than Daniel Radcliffe.
Also, 'The Jungle Book':
Not to be confused with the Disney adaptation from the 1960s, this big-screen version of the Kipling classic will be a live-action film with such stars as Scarlett Johansson, Idris Elba, and Lupita Nyong'o lending their voices to some of the many animal characters in the novel. It will be directed by Jon Favreau.
Not to mention 'American Sniper', which will be directed by Clint Eastwood.

Two Authors
I've never read any of Tom Robbins' books. And after reading this review in Slate, I probably never will. But I was amused by the author's premise that Tom Robbins is just Ayn Rand for hippies:
[T]he standard setup of a Robbins novel involves an "enlightened" character shattering paradigms and hectoring the unenlightened with lengthy harangues about how it all really works, man. Often the unenlightened character or some stuffy bystander will counter with weak straw-man arguments in favor of the status quo, just to be ripped apart by the hero. It's tempting to say that a tone of "wake up, sheeple!" persists, but that's not quite accurate; the Robbins hero is generally trying to wake up (and bone) one particular sheeple, and the masses are on their own.
And this from a guy who says he likes Robbins. I'm thinking, Egad, his books must really be insufferable.
But I have to admit, what the author says about Robbins is pretty much how I feel about Rand. That is, I thought she was The Greatest Thing Ever when I first stumbled upon her books back when I was in my early 20s.
It was only after I was older that I was able to see her flaws, her bad writing, and appreciate, if not wholly agree with, Whitaker Chambers' intensely negatively review of Rand's magnum opus, Atlas Shrugged, Big Sister Is Watching You, from the Dec. 28th, 1957 issue of National Review.
Sometimes, you just grow up.
Update: although the way things are going the past few years, sometimes when I thumb through my copy of AS, I think, damn, the woman's a prophet.

Books of Note
Hey, remember the good old days, long, long ago, when there wasn't any war and we all sat around weaving flower garlands in our hair and dancing naked around the maypole, worshiping benign, gentle fertility deities and munching on locally grown fruits and nuts? Well, I don't either. The myth of the "noble savage" is a theme I've touched on before. But from this piece in Taki's Magazine, I learned of the book War Before Civilization: The Myth of the Peaceful Savage by Lawrence H. Keeley, which discusses how wars were fought by prehistoric peoples, based on archeological and historical research, and how they were bloody and savage as all hell. Which won't be news to any of you, but it's nice to see reality coming from academia. The Amazon blurb is too long to copy-and-paste here, but I'll leave you with this fascinating tidbit:
Keeley is a seasoned writer and his book is packed with vivid, eye-opening details (for instance, that the homicide rate of prehistoric Illinois villagers may have exceeded that of the modern United States by some 70 times).
Rahm Emmanuel just e-mailed me to say "no way, dude."

Books By Morons
Late in last week's thread, moron Brian McKim (yes, that's his real name) mentioned that his wife
wrote a Kindle single called "Sometimes Ask A Man." It's a fisking of the obscure 1965 book "Always Ask A Man," by Arlene Dahl. It's hysterical. (I actually laughed so hard when I was editing it that I cried a few times.) Hope some of you pick it up. It's $1.99!
Sometimes Ask A Man by Traci Skene is available on Kindle.
___________
And on a more serious note, moronette "Sally June" wants you (or a friend/grandchild/friend of a grandchild) to score big on the MCAT and get into that big-ass med school. And she has written a book to help with this. She writes:
Maybe they are too poor to take the classes that cost thousands. Maybe they are too dazed by all the info out there to figure out -- quickly, efficiently -- how to study for the Verbal Reasoning part of the test. If that's the case, I wrote a book to help such students. It's available at Amazon, in Kindle and Smashwords: 12 Week Plan for Verbal Reasoning Success. I don't expect anyone to buy it unless they have an actual use for it.
12 Week Plan for Verbal Reasoning Success is available on createspace. Also Kindle and Smashwords.
___________
So that's all for this week. As always, book thread tips, suggestions, rumors, threats, and insults may be sent to OregonMuse, Proprietor, AoSHQ Book Thread, at the book thread e-mail address: aoshqbookthread, followed by the 'at' sign, and then 'G' mail, and then dot cee oh emm.
What have you all been reading this week? Hopefully something good, because, as I keep saying, life is too short to be reading lousy books.


posted by Open Blogger at
10:02 AM
|
Access Comments