« Spaced-Out Challenge: Our Galactic Home Rises
|
Main
|
Top Headline Comments 6-16-14 »
June 15, 2014
Overnight Open Thread (6-15-2014)
Some of my earliest political memories involve the accelerating crises that began to hit the US in late 1978 under the hapless Carter administration along with the fundamentally disturbing sense that the adults in charge of the country were out of ideas as well as resolve and simply counting on a 'long continued history of existence' and desperation moves done in denial to save things.

Well things are starting to fall apart and that old feeling is back.
There's nothing in place available to stop al-Qaeda. The forces that might have are locked up in the Southwest Asia, sustained at the mercy of Russia and Pakistan. Obama has been faked out; the AQ have gone around him for a layup to the basket. He may lose Iraq and its border with Syria before the year ends. Afghanistan's fall will follow almost immediately thereafter, behind the last American troops, whose safe exit from the landlocked country is now by no means guaranteed. The Russians lost more than 500 men going out in 1989 - and they only had to cross a land border a short distance away.

The only way things could be worse is for US troops in Afghanistan find themselves trapped, denied passage by Pakistan or Russia. Of course that could never happen because the press never considers the possibility and it considers Obama too "respected" for that to occur.

When you add in the Eastern European crisis and the growing expansion of China to the Middle Eastern collapse, it is not hard to see the obvious. Unless a miracle saves Obama, the nation will be facing a global and existential security crisis within a short time.

Obama has presided over the destruction of American influence in the Middle East, the hollowing out of the US economy, the perversion of American intelligence assets and the maltreatment of American veterans.

The shield has been thrown away, the sword has been melted down, the senses dispatched on a leave of absence.

Whether in fulfillment of some childhood psycho-drama, in the service of some bizarre obsession or in pursuit of an imbecilic strategy, Obama has basically made every bad move it is possible to make. For a long time the press covered up this perverted process out of admiration for the creases in his trousers; and so it appeared Obama was going gradually bust. Now we're in the "all of a sudden" part of the curve. The check's come back from the bank, bounced.
...It's like Vietnam all over again, except this time the NVA are continuing the attack all the way to New York.
And what would 1979: The Sequel be without a modern Mariel boatlift of uncontrolled immigration into the US. Here are the photos that the Obama administration doesn't want you to see: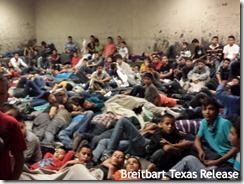 From the good ole days i.e. 3 weeks ago: How 21st Century Wars End Under Democratic Presidents
As a kid reading history I used to always wonder why we let the fall of Vietnam be such a relentless and utterly ignominious humiliation when we were the strongest nation in the world and still had so many military forces available in the region. But now I guess I have a better understanding of how these things happen: it's really about psychology and ideology and not so much military strength.
Baghdad has not yet fallen. It may never fall. But prospect should make people sit up and wonder whether they understand the meaning of the word "defeat". It's not just a word or military phrase, but a condition of unutterable loss and subjection. It is humiliation distilled. It is total abjection.

President Obama grew up in a generation which cheered "defeats" as comically grainy events on black and white film which took place in far away places.  Perhaps it had for them a quality of unreality. Some prank on The Man, a something happening to someone else. Let's see how they like it in HD.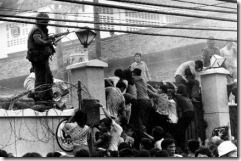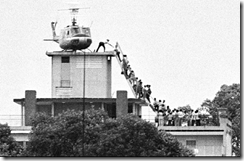 The Kurds Have Decided to, ah, 'Stabilize' Kirkuk
Iraqi Kurdish forces say they have taken full control of the northern oil city of Kirkuk as the army flees before an Islamist offensive nearby.

"The whole of Kirkuk has fallen into the hands of peshmerga," Kurdish spokesman Jabbar Yawar told Reuters. "No Iraq army remains in Kirkuk now."
PPS: Annnnd there's the Kurds walking into the K1 base and leaving with all the things.  Including the tanks. Which will no doubt all be lost over the next week, in a series of tragic canoe accidents.
I'm thinking maybe we should put the Kurds in charge of all of Iraq (who gives a fuck what Turkey thinks these days) given their 20+ year track record of running their own affairs like normal non-crazy people.
Biden in 2010: Iraq Will Be 'One of the Greatest Achievements' of The Obama Administration
Joe Biden: Never right on a single foreign policy issue in 40+ years in Congress.
Like two years dude.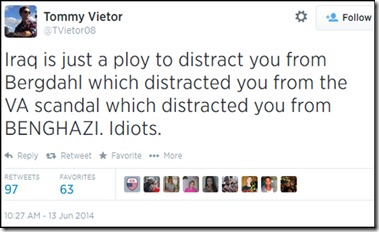 Genius and Chaos in the AZ-7 Race
On Aug. 26, Democratic voters in Arizona will choose a successor to 7th Congressional District Rep. Ed Pastor. It's a safe, blue seat, covering the most liberal parts of Phoenix and Glendale. And it's heavily Hispanic. That's what led a Republican trickster named Scott Fistler to pay $319 to legally change his name, to "Cesar Chavez," and attempt to get on the ballot.
And then the story proceeds to get even funnier with name changes to name changes and more charges of name changes.
Chelsea Clinton 'Dead Broke' After Getting Paid $600,000 by NBC
Chelsea Clinton earned an annual salary of $600,000 at NBC News before switching to a month-to-month contract earlier this year, sources with knowledge of the agreement told POLITICO.

Clinton, who joined NBC News as a "special correspondent" in November 2011, was up for renewal or non-renewal this year. Instead, the sources said, the network decided to keep her on the payroll on a month-to-month basis so that the two parties could sever ties if Clinton's mother, Hillary, runs for president.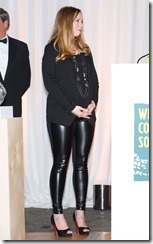 The 6 Most WTF Old-Timey Porn Trends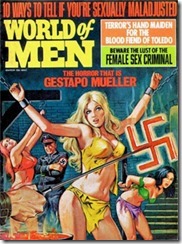 The Billionaire's Shopping List
Got a few hundred million burning a hole in your pocket?

Oh and a big welcome to our latest ISIS clients.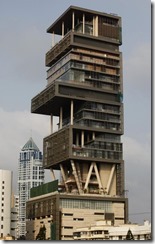 Weekly Commenter Standings
Top 10 commenters:
1 [465 comments] 'Ricardo Kill' [66.42 posts/day]
2 [457 comments] 'thunderb'
3 [454 comments] '---'
4 [421 comments] 'AllenG (Dedicated Tenther), Ah, F it.'
5 [382 comments] 'Carol'
6 [357 comments] 'Misanthropic Humanitarian '
7 [334 comments] 'tangonine'
8 [333 comments] 'Anna Puma (+SmuD)'
9 [326 comments] 'RWC'
10 [318 comments] 'Costanza Defense'
Top 10 sockpuppeteers:
1 [95 names] 'The Political Hat' [13.57 unique names/day]
2 [59 names] 'fluffy'
3 [41 names] 'Doctor Fish'
4 [36 names] 'Romeo13'
5 [35 names] 'Mallamutt, RINO President for Life'
6 [34 names] 'andycanuck'
7 [32 names] 'logprof'
8 [32 names] 'Michael Douglas'
9 [30 names] '---'
10 [30 names] 'effit'
The group. Never heard of it.
Where it's at - the Twitter
Tonight's post brought to you by 1979: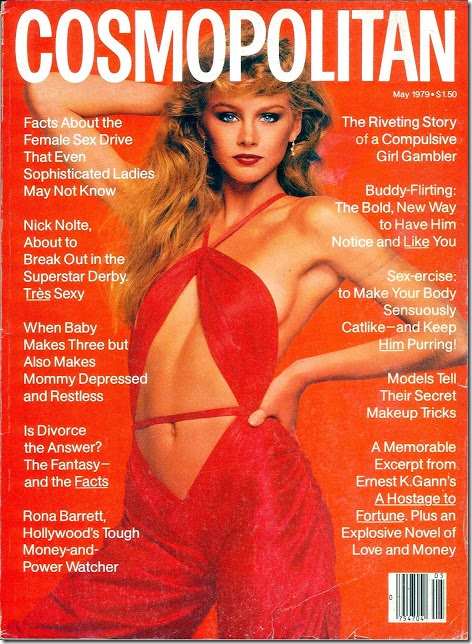 Notice: Posted by permission of AceCorp LLC. Please e-mail overnight open thread tips to maetenloch at gmail. Otherwise send tips to Ace.

posted by Maetenloch at
10:38 PM
|
Access Comments