« Palate Cleanser: Star Wars Auditions [Y-not]
|
Main
|
Overnight Open Thread (6-15-2014) »
June 15, 2014
Spaced-Out Challenge: Our Galactic Home Rises

Milky Way from the Grand Tetons by moron Matthew Gowan
click here to embiggen and see more of Gowan's work
Welcome again to the Spaced-Out Challenge! Whether you have a question about equipment, a new astronomical discovery you want to expand on, or just want to kick back and enjoy the cosmos above, come one come all on our weekly astronomical journey.
This Father's Day, I remember my Dad and his old Criterion scope. He didn't set it up often- living in suburban Baltimore, where skies were often muggy and illuminated, you had to wait for great weather- but when he did, it was magical. Saturn, Jupiter, comets. The views he shared sparked a curiosity recently revived which I now share with you all, so thanks Dad! This week, the waning moon still dominates the sky, so deep sky targets will need to wait a week. Instead, we will enjoy the greatest sight of Summer.
With the Summer Solstice upon us, my favorite season is officially here, and our "home" in the grandest sense silently rises into view. You need not binoculars nor a telescope to enjoy it (though it is rich with targets for both): just a moon-less, dark sky.
Growing up in Baltimore, that last caveat was glaring. My Dad would tell me about his drives through Arizona and Texas, and I could only wonder what my home galaxy looked like. I wasn't old enough to drive to Assateague or Western Maryland, and when my curiosity in astronomy waned, I all but forget about it.
That is, until I moved to California. It's beaches and mountains may thrill, but its desert skies leave you speechless. There are countless treasures glowing above. Nebulae, star clusters, other faint galaxies, planets, and comets. But one in particular that dominates everything else on a moonless night, far from the annoying glow of unshielded lighting: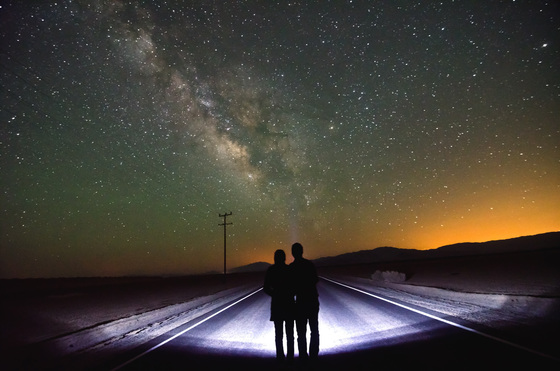 Milky Way from Amboy, by Shreenivasan Manievannan
Home, in the grandest scale we can comprehend. Beyond our house, city, state, country, continent, planet, and even beyond the system of the Sun lies a dominating swarm of planets, dust clouds, newborn stars, black holes, double stars, giants, dwarves, nebulae and supernovae remnants, a swarm we are a part of.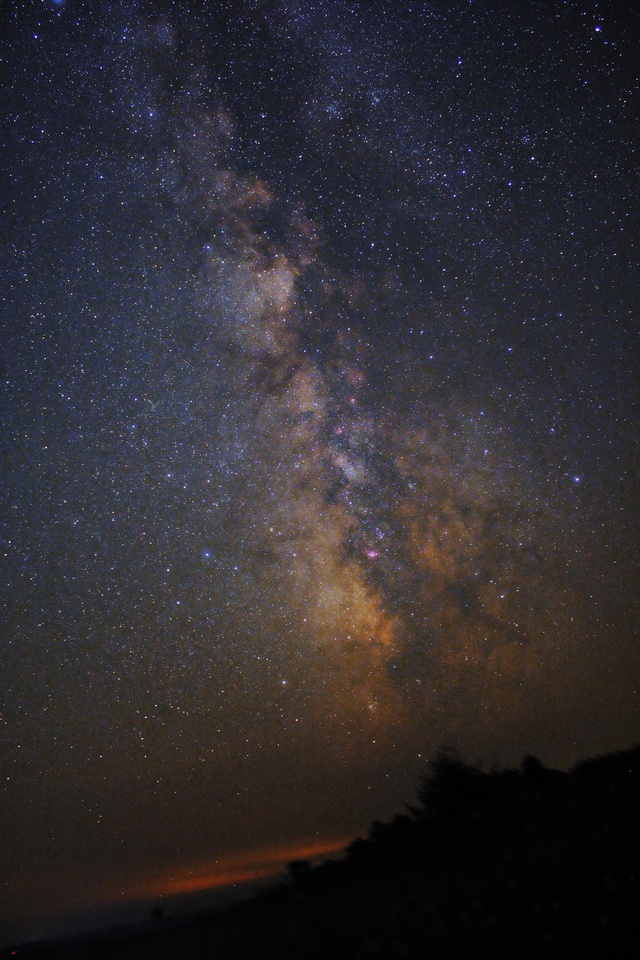 Milky Way from Spruce Knob, just 4 hours from the Capitol, by Matthew Dieterech
As the sun sets Saturday evening, the cloudy apparition will appear above the horizon, rising high overhead after Midnight:
It will rise earlier each week through the summer, so you can catch the Milky Way on any moonless night away from city lights, but this upcoming weekend gives you a great opportunity to officially welcome summer and it's most glorious astronomical site. Here are a few highlights you can see from any dark site:

See our Guide to the Milky Way in the Index for more information about these objects
Think you don't live anywhere near a dark site? Think again. DarkSiteFinder's detailed light pollution map will help you get a great galactic view in any state. Color-coded based on the intensity of LP, the Milky Way is nice from anywhere in "yellow", great in "blue/green", and overwhelming in the "grey/black", where it takes on a marbled, three-dimensional appearance. 90% of Americans live within a 45 minute drive of darkness, the rest less than two hours. Regardless the journey, everyone should see just where in the hell they actually are.
***
The full Beginner's Buyer's Guide, our Comet Guide (featuring additional grab-and-go telescopes), and any other edition you're looking for can be found in the master index of all Spaced-Out Challenge threads
here
, but of course you can always inquire about binoculars, telescopes, and all the rest in the comments.
As always, if you have astrophotography, product recommendations, or astronomy news you'd like to see on a future Spaced-Out Challenge, email me at theoneandonlyfinn (at) gmail.com, or tweet me
@conartcritic
.
If you have any more questions about your new optics, feel free to ask below.
Until next time, clear skies to you, and keep looking up!

posted by CAC at
07:16 PM
|
Access Comments