« So, Why Not Get Four Deserving Civilian Hostages Out of Taliban Hands, Too?
|
Main
|
So You Have This To Look Forward To »
June 05, 2014
Superatheist Richard Dawkins: We Shouldn't Read Fairy Tales to Children, As That Encourages Them to Believe in the Supernatural and Therefore God
I wouldn't link this except he becomes inadvertently funny when he explains what we should be reading to children.
Speaking at the Cheltenham Science Festival, Dawkins, a prominent atheist, said that it was 'pernicious' to teach children about facts that were 'statistically improbable' such as a frog turning into a prince.

...

"I think it's rather pernicious to inculcate into a child a view of the world which includes supernaturalism -- we get enough of that anyway," the 73-year-old said.
"Even fairy tales, the ones we all love, with wizards or princesses turning into frogs or whatever it was. There's a very interesting reason why a prince could not turn into a frog -- it's statistically too improbable."
Kids love stories about statistical improbability.
Gather 'round, Children: Gran-Gran Dawkey is going to tell you the wondrous tale of Applied Statistics and Probability Theory.
-- For realsies? Will Gran-Gran tell us of grand stories of Regression Analyses?
-- Will he tell us of Correlations and Bayesian Interference?
All these things, Children. All these things and more.
-- Yay, World Grounded Firmly in Actuarial Tables!!!
This is a weird thing. Sometime this past year Josh Barro (you may know his work from Twitter) was braggin' on himself for never having believed in Santa.
So, you know, Josh Barro was pretty proud of having accomplished at a young age what ever single Jewish child has achieved by his first breath.
But anyway, this Santa-Skepticism-Bragging is apparently A Thing with a certain psychological type:
The scientist claims he saw through the myth of Santa Claus even at the young age of 21 months.

"My mother has recorded in her notebook that I was at a Christmas party and there was a man called Sam who came as Father Christmas, all 'ho ho ho'. All the children were enthralled by this. Then he left, I piped up much to the consternation of the adults, 'Sam's gone'."
Of course this is all in service of his pet demon:
He was asked whether parents who instill in their children a belief in God are subjecting them to a form of child abuse.

He replied: "To call it testament to child abuse would be a bit strong – but when you tell a child to mind their Ps and Qs otherwise they'll roast in hell, then that is tantamount to child abuse."
He went on to talk about having been molested as a child and how he doesn't believe that such "mild pedophilia" is necessarily anything to get worked up about.
That's probably another good story to tell Children.
I was actually thinking about this sort of thing recently, specifically, about the really mean stuff parents tell their kids -- or at least used to tell their kids -- on this score. Specifically, about the Bogeyman or Boogeyman, and how he would do just awful things to you if you didn't do your chores and stuff.
This isn't just a European thing:
Bogeyman-like beings are nearly universal; common to folklore in many disparate countries.
If you go through Wikipedia's list, you find so, so many wonderful gems like...
The Sack-Man

In many countries, a bogeyman variant is portrayed as a man with a sack on his back who carries naughty children away. This is true for many Latin countries, such as Brazil, Portugal, Spain, and the countries of Spanish America, where it referred to as el "Hombre del costal", el "hombre del saco", or in Portuguese, o "homem do saco" (all of which mean "the sack/bag man"), or el roba-chicos, meaning child-stealer. Similar legends are also very common in Eastern Europe, as well as Haiti and some countries in Asia.
Or:
El Coco

El Coco (also El Cuco and Cucuy, sometimes called El Bolo) is a monster common to many Spanish-speaking countries.

In Spain, parents will sing lullabies or tell rhymes to children, warning them that if they do not sleep, El Coco will come and get them.

...

Coconuts (Spanish: coco) received that name because their brownish hairy surface reminded Portuguese explorers of coco, a ghost with a pumpkin head.\

...

In Mexico and among Mexican-Americans, El Cucuy is portrayed as an evil monster that hides under children's bed at night and kidnaps or eats the child that does not obey his/her parents or go to sleep when it is time to do so.
Can I just point out that if your child refuses to go to his bed, telling him that there is an evil, hairy pumpkin-headed ghost hiding directly under his bed is unlikely help matters?
Babau

In the countries of the eastern Mediterranean, children who misbehave are threatened with a creature known as "babau" (or "baubau", "baobao", "bavbav" or similar). In Italy and Romania, the Babau (in Romania, Bau-bau) is also called l'uomo nero (Romanian: omul negru) or "black man".
There you go.
In Italy, he is portrayed as a tall man wearing a heavy black coat, with a black hood or hat which hides his face. Sometimes, parents will knock loudly under the table, pretending that someone is knocking at the door, and saying: "Here comes l'uomo nero! He must know that there's a child here who doesn't want to drink his soup!" L'uomo nero is not supposed to eat or harm children, just take them away to a mysterious and frightening place.
That's kind of worse, almost.
Goya has a painting about El Coco: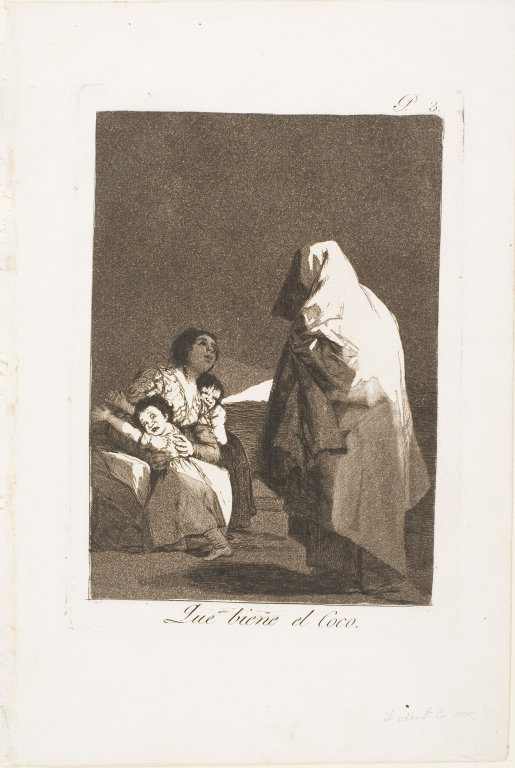 Yeah that's not terrifying or anything.
A lot of them involve Sacks:
In Haiti, there is a popular belief that a tall man, with legs two floors high, walks around the towns at midnight to catch and eat the people that stay outside...

Tonton Macoute or Uncle gunnysack was a Haitian bogeyman who would snare misbehaving children and eat them for breakfast. The MVSN, a secret police force of Haiti, used this myth as a tool for control as many Tonton Macoutes were Voodoo adherents.
So scary, they name their Secret Police Thugs after it.
"Bloody-Bones" or "Rawhead" is one from England and the American South.
Bloody-Bones is usually said to live near ponds, but according to Ruth Tongue in Somerset Folklore, "lived in a dark cupboard, usually under the stairs. If you were heroic enough to peep through a crack you would get a glimpse of the dreadful, crouching creature, with blood running down his face, seated waiting on a pile of raw bones that had belonged to children who told lies or said bad words."
The list just goes on and on, for just about every country and culture.
All I know is this:
Serious, Kids, go to f***ing bed, because your parents are thisclose to telling you a story that will wig you out forever if you don't.
Oh and eat your soup, for crying out loud.

posted by Ace at
07:41 PM
|
Access Comments