« AOSHQDD: Super Tuesday Primary: #IAsen #MSsen & More
|
Main
|
Overnight Open Thread (6-3-2014) »
June 03, 2014
June 3, 1965 - Gemini 4 and the First American to Walk in Space
Edward Higgins White II, Lt. Col USAF became the first American astronaut to walk in space in the Gemini 4 mission with command pilot James McDivitt, Brig. Gen USAF (ret). The Gemini program's purpose was to work out the mechanics of working in space, multiple stage lift platforms, working in zero gravity in a pressurized space suit, learning to maneuver and rendevous vehicles in orbit in preparation for a manned landing on the moon.
Gemini 4 had three major objectives. It was our first multi-day space mission. It would be our first EVA. And we would attempt our first attempt at an orbital rendezvous (ace, I worked in a French word) with another space vehicle, a Titan II.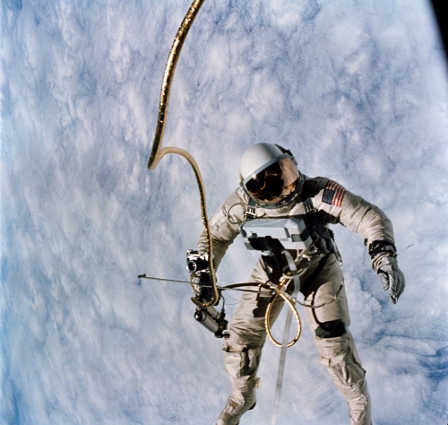 The only major objective not achieved was the docking maneuver. Although there were some communications problems between flight control and McDivitt the EVA was successful. Because of the comm problem CAPCOM Gus Grissom tried to reach McDivitt for 13 minutes, finally getting a response when McDivitt switched his comm to Push to Talk (McDivitt's VOX circuit was not working properly and he couldn't hear the ground controllers). Flight director Chris Kraft told Grissom to tell them to get White back in the spacecraft.
The EVA was executed after their 3rd orbit. They would go on to 62 before re-entry.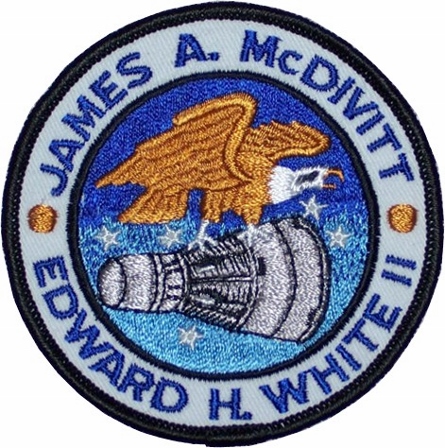 Ed White and Gus Grissom perished with Apollo 1 pilot Roger Chaffee on February 21, 1967 January 27, 1967* when a fire broke out in the command module during a pre-launch rehearsal test. Ed White was interred at West Point Cemetery. Chaffee and Grissom were both buried at Arlington National Cemetery.
Ed was 36. Gus Grissom, Lt. Col. USAF was 40, and Roger Bruce Chaffee, Lt. Cmdr USN was 31.

*thanks space weenie

posted by Dave In Texas at
08:06 PM
|
Access Comments