« Spaced-Out Challenge: The Lunar X
|
Main
|
Top Headline Comments 6-1-14 »
June 01, 2014
Overnight Open Thread (6-1-2014)
Bowe Bergdahl and the Taliban Deal
So Obama made a deal with the Taliban and in return for releasing five high-ranking Taliban from Gitmo he got back Army Sgt. Bowe Bergdahl who has been held by the Taliban for almost five years.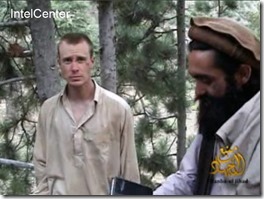 And apart from the questionable legality and judgment of the deal this would seem to be a good thing.
Except that the more you look into Bergdahl's story, the more questionable it becomes. The sympathetic view is that Bowe was something of an idealistic naïve dreamer who would have been better off in the Peace Corps, the less sympathetic one is that he was something more than an involuntary prisoner of the Taliban.
But what Bowe found in the Army, according to his parents, was a "deception" - one that started from the moment he was recruited. Bowe had been enticed to join the Army, they say, with the promise that he would be going overseas to help Afghan villagers rebuild their lives and learn to defend themselves - "the whole COIN thing," says Bob, citing the shorthand for America's strategy of counterinsurgency. "We were given a fictitious picture, an artificially created picture of what we were doing in Afghanistan."

He surrounded himself with piles of books, including Three Cups of Tea, about a humanitarian crusade to educate girls in Pakistan and Afghanistan.

Bowe's behavior, too, seemed odd at times. Fry remembers hearing "all kinds of crazy stories about him." He often came across more like a boy on an adventure than a soldier preparing for war.

Returning to Alaska after Christmas, Bowe said something that would stick with Fry months later, long after they arrived in Afghanistan. "Before we deployed, when we were on Rear D, him and I were talking about what it would be like," Fry recalls. Bowe looked at his friend and made no bones about his plans. "If this deployment is lame," Bowe said, "I'm just going to walk off into the mountains of Pakistan."

With his customary zeal, he'd been preparing for the deployment by learning how to speak Pashto and reading Russian military manuals. Almost as soon as he joined his fellow soldiers, he began to gravitate away from his unit. "He spent more time with the Afghans than he did with his platoon," Fry says. His father, recalling that time, would later describe his son to military investigators as "psychologically isolated."
And his father, Robert Bergdahl, is not helping his son's case with his tweets and other statements.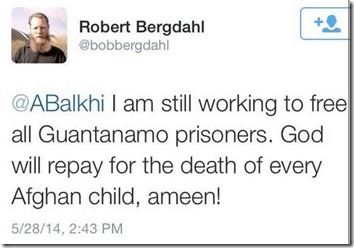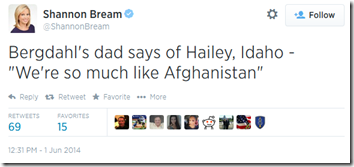 There's also the little matter of how the transfer was arranged. As the Washington Post reports, "Lawmakers were not notified of the Guantanamo detainees' transfer until after it occurred." But, the report continues, "the law requires the defense secretary to notify relevant congressional committees at least 30 days before making any transfers of prisoners, to explain the reason and to provide assurances that those released would not be in a position to reengage in activities that could threaten the United States or its interests."
And Moe Lane comments:
Whether or not you agree with Barack Obama or not on signing statements, there's something peculiarly amusing in the way that he keeps casually forcing his strongest supporters to do the political equivalent of eat dog feces in public and then declare it to be the finest pate. I mean, not just the signing statements: this guy campaigned on closing Gitmo. Which Barack Obama still hasn't done.

I know, I know: the Activist Left collectively has no shame, or self-regard.  But it still burns them when we laugh and mock.  So there you go.
Why Does the Obama Administration Favor a Terrorist Over Dead and Maimed American Soldiers?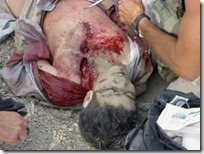 The above Canadian-born terrorist killed Special Forces medic SFC Christopher Speer and maimed Special Forces Sgt Layne Morris.
Guess which of these three men the Obama administration is most concerned about. Of course you already know the answer in your gut.
We'd advise you to Read The Whole ThingT. Set free with a stroke of the pen and home in Canada, Omar Khadr is back in the comforting embrace of his terrorist family and a variety of Islamic and left-wing extremists. His family, who have apparently been on welfare as it is practiced in Toronto, have somehow become millionaires, and the Speer family and Layne have a lawsuit that even the tort-bar-unfriendly among us might see as having the potential to deliver justice.
EU Court Rules You Have a 'Right to be Forgotten', Orders Google to Remove Search Results Upon Request
And thousands of pedophiles immediately applied to have any links about themselves removed.
But the ruling has already been criticised after early indications that around 12 per cent of applications were related to paedophilia.

A further 30 per cent concern fraud and 20 per cent were about people's arrests or convictions.

Along with requests from paedophiles, many other applications have come from corrupt public figures and criminals desperate to hide their past.

An actor who had an affair with a teenager, a celebrity's child who was convicted of criminal offices and a man who tried to kill members of his family were among the first requests.
What a #WarOnWomen and Rape Culture Really Looks Like
Supposedly the local police didn't investigate because the girls were low caste and the main suspects were from their own caste.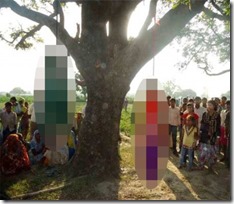 Did Oprah Make Her Father Divorce Her Step-Mom?
Well that's what the judge presiding over the case seems to think.
The presiding judge in the bitter divorce battle between Oprah Winfrey's father Vernon and his wife Barbara said the 'decision' to end their 14-year marriage was made by a third party, MailOnline can reveal.

Judge Donald P. Harris told Chancery Court in Franklin, Tennessee that he believed neither Vernon, 81, nor his wife Barbara, 66, decided on the legal separation.

'I've been a judge for 28 years. And I felt like in this case, number one, that Ms. Winfrey does not want a divorce, and I feel like Mr. Winfrey didn't make the decision to seek this divorce.'
What Ever Happened to Tom Lehrer?
I first heard his songs in the 80s and just assumed from his complete disappearance from the public stage that he had died. But he's very much still alive.
Lehrer had been a sensation in the late 1950s, the era's musical nerd god: a wryly confident Harvard-educated math prodigy who turned his bone-dry wit to satirical musical comedy. His sound looked further back, to Broadway of the '20s and '30s - a man and a piano, crisp and clever - but his lyrics were funny and sharp to the point of drawing blood, and sometimes appalling. One famous ditty celebrates an afternoon spent "Poisoning Pigeons in the Park." Another cheerful number, "So Long Mom," dwells on the details of nuclear holocaust. "I Got It from Agnes" is an extended joke about sexually transmitted disease.

Many of Lehrer's fans thought the artist might be dead, a belief Lehrer encourages. ("I was hoping the rumors would cut down on the junk mail," he told the Harvard Crimson in 1981.) But Morris found him where he had always been, in a modest brown house on Sparks Street in Cambridge, Mass., where a mirrored wall helps Lehrer stay fit with tap-dancing routines and custom-ordered Moxie sodas sit in the fridge.

"Is this Tom Lehrer?" Morris asked over the phone, working to hide his nervousness.

"Yes," replied a voice some 1,000 miles away.

"The Tom Lehrer who teaches math?"

"Yes."

"The Tom Lehrer that did some records in the '50s and '60s?"

"Yes."

Morris apologetically explained his school assignment, worried that Lehrer wouldn't want to speak to him and self-conscious for having interrupted his day. The retired performer listened patiently to his request.

"Rather than talk to me for very long, just make up anything you want and I won't deny it."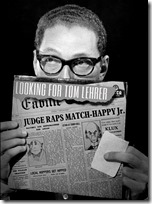 16 Retro Board Games That No Family Played Twice
Well I vaguely recall actually playing the McDonalds game - and as I recall it was a lot of work and not very fun. Some of these games I suspect were targeted to the under-10 crowd AND the over-21 swinger crowd. Not this one though.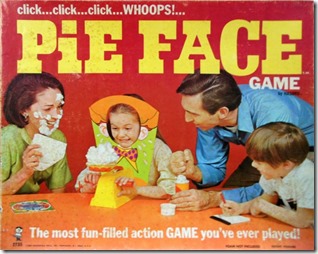 Weekly Commenter Standings
Top 10 commenters:
1 [604 comments] 'Ricardo Kill' [84.76 posts/day]
2 [515 comments] 'tangonine'
3 [333 comments] 'garrett'
4 [326 comments] 'willow'
5 [315 comments] 'AllenG (Dedicated Tenther)'
6 [292 comments] 'Anna Puma (+SmuD)'
7 [282 comments] 'Nip Sip'
8 [267 comments] ' ManWithNoParty'
9 [261 comments] '---'
10 [253 comments] 'Mike Hammer'
Top 10 sockpuppeteers:
1 [203 names] 'cheap jerseys' [28.49 unique names/day - probably spam but who can tell by sock name]
2 [100 names] 'The Political Hat'
3 [89 names] 'toms outlet'
4 [42 names] 'phreshone'
5 [40 names] 'blue toms'
6 [39 names] 'mulberry sale'
7 [30 names] 'Ricardo Kill'
8 [30 names] 'hate miser'
9 [29 names] 'logprof'
10 [29 names] 'Carmine 6s'
The group. Never heard of it.
Where it's at - the Twitter
Tonight's post brought to you by Tiberius: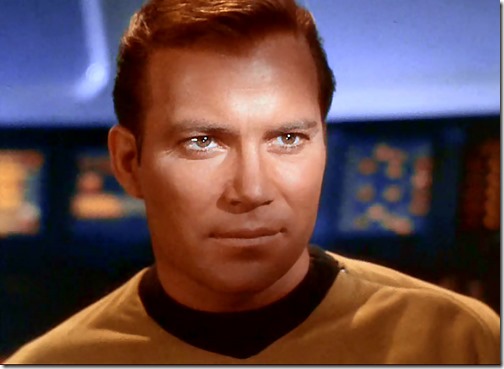 Notice: Posted by permission of AceCorp LLC. Please e-mail overnight open thread tips to maetenloch at gmail. Otherwise send tips to Ace.

posted by Maetenloch at
10:12 PM
|
Access Comments