« Open Thread: Kill or Cure? [WeirdDave]
|
Main
|
Saturday Open Thread: Death and Civility [Y-not] »
May 31, 2014
Gardening Thread: Mystery Edition [Y-not and WeirdDave]
This week's gardening thread brought to you by Mystery Dates...
...and mystery flowers: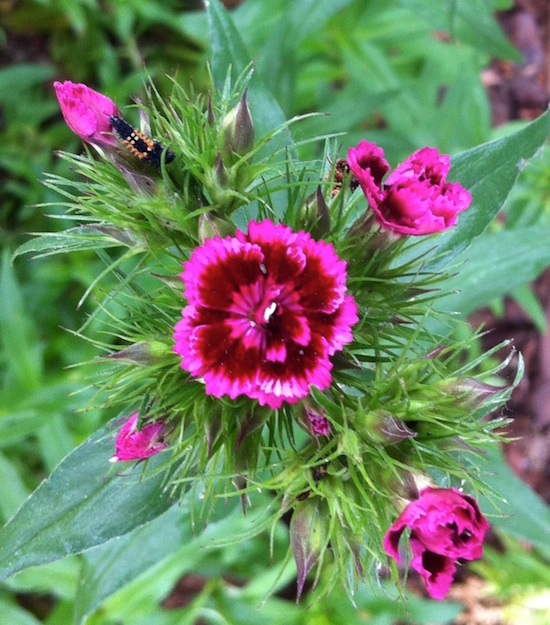 Mystery flower (probably a dianthus) -- and a visitor (Boxelder bug) -- beautifying a corner of the vast quarter acre estate at Casa Y-not.
**NOTE: An alert commenter, Derak, pointed out that this is most likely an immature ladybug, not an elderbug. We DO have elderbugs in that same area, but I think he's right. Sharp eye!**
And now for your potpourri of garden mysteries...
Five Mysterious Plants are, per the folks at Mother Earth Living (yeah, yeah, I know!), common garden plants that have interesting or unusual stories. For example:
Stevia is a natural no calorie sweeter, which has made it a boon to diabetics, while becoming a bane to big business. Stevia makes the list of weird herbs not because of any strange properties or back story, but because artificial sweetener companies convinced the Food & Drug Administration to ban importing the plant for years. Since you can't patent a naturally occurring plant, big business didn't like the idea of some herb horning in on their territory. Even after the ban was lifted, the plant was classified as safe for use as a dietary supplement, not a food additive. It wasn't until 2008 that the FDA granted approval for use of the product as a food additive in a derivative form, used in products such as Truvia and PureVia.
I heard a rumor that, after he's finished ridding the world of the Bilderbergers, Alex Jones is going after Big Sugar next. (Speaking of Jones, check out this classic post from Twitchy.)
Another mysterious plant is the Corpse Flower. It's mysterious for two reasons. One, you never know when it'll bloom...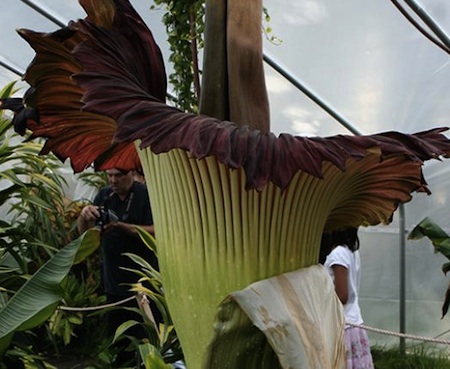 ...and, two, it's a mystery why this disgustingly malodorous plant hasn't been eradicated from the face of the Earth!
A common problem gardeners experience is finding mysterious holes in their yard or garden. Via Michigan State University's extension office, here's a brief article that can help you determine what, exactly, is digging in your yard. The three main culprits are skunks, raccoons, and moles. (Follow the links from the article for ideas of how to thwart the mysterious diggers.) Based on this article, I think we may have a raccoon. The hole description seems right and I didn't smell any lingering Eau du Skunk when I found the holes.
And now for your farm report...
Relatively busy week at Casa Y-not, naturally ALSO the week we had a short heat wave with highs in the 90s a couple of days! Feel the burn, Baby!
Speaking of mysteries, a couple of weeks ago I found a half-eaten strawberry in my garden. I've found a couple since then...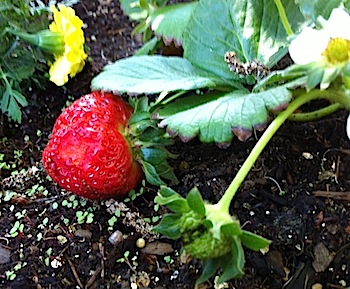 Someone took a bite out of this berry
Well, this week I spotted the culprit who has been eating my strawberries. A robin! Bad bird. Trying to decide if it is worth the time to put up some sort of netting over the strawberry plants.
Not really a mystery per se, but more in the "problem garden area" category, we've got a small area of steep slope that does not get much sun or water.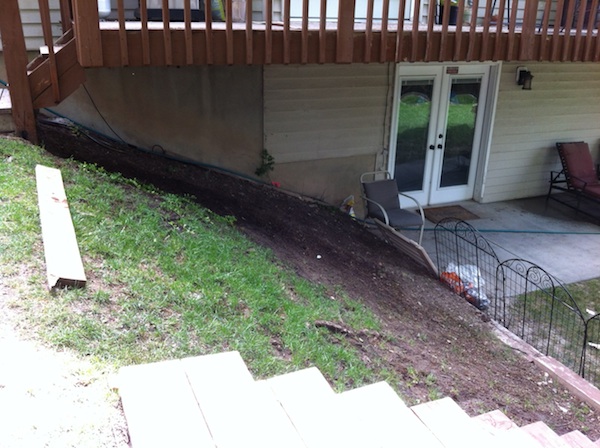 Slope of Doom
The soil is clay with tons of aspen roots. There's a bit of grass growing, but for the most part it's just muddy mess when it rains... so naturally the dogs run through it. Last year we tried establishing mint on the slope. We've had success establishing mint in a flat problem bed under our plum tree.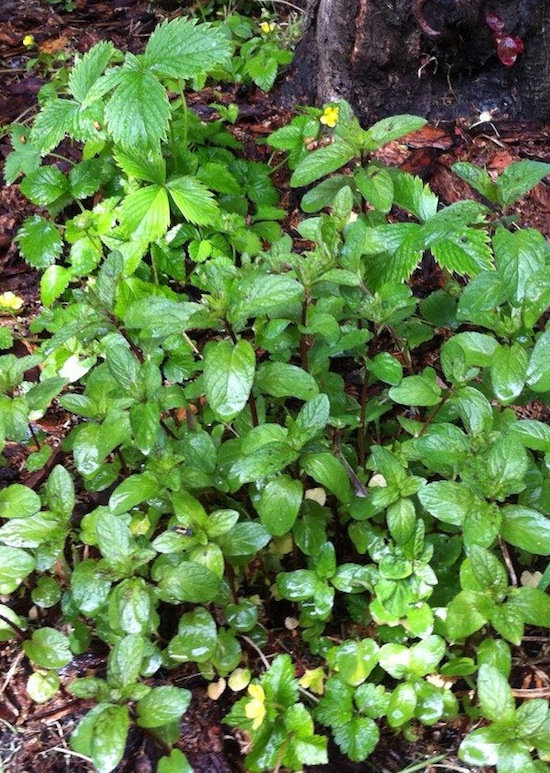 Mint (and strawberries) naturalizing in a shady bed.
But the mint we planted on the slope didn't take -- too dry, I guess.
So this year we're trying again, but this time with the ground-cover Vinca minor (aka periwinkle). And, we're being semi-organized by putting a layer of netting over the plants to help keep them in place. 'Still working on that project. Our old bones couldn't get everything planted in one shot.
I get that some people vehemently oppose things like mint and periwinkle because they really can be invasive, but we're pretty desperate. And, anyway, they're both in places in our backyard that we wouldn't care about should they spread more than we'd wanted. Besides, we use a lot of mint in recipes, including this one for Tabbouleh salad. (In all honesty I just use it as a starting point and generally toss in a lot of other veggies and much more mint.)
On to our vegetable garden, things are really kicking into high gear. Our snap peas have begun blooming.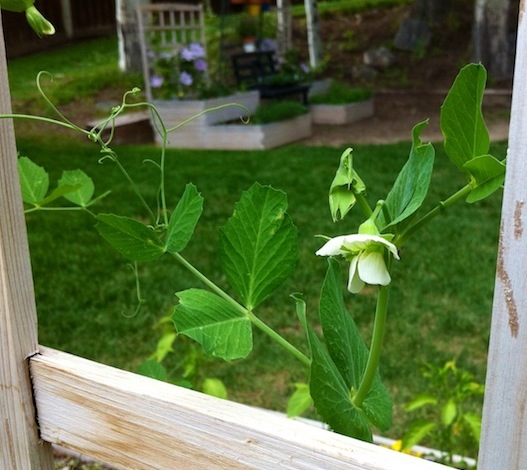 Someone pea'd in my garden!
They're an early crop that did really well for us last year, so we put in almost twice the plants this time around. I love them fresh from the garden or in a stir fry.
The tomatoes I wanted to plant this year (a grafted variety called Indigo Rose) didn't come in, so rather than risk missing the planting window for early-ish varieties, I went ahead and picked up two new (for us) varieties: Black Krim (link to the non-profit Seed Savers) and Black Carbon. I also spotted Padrón pepper plants at our garden center, so I picked up a bunch of them. I had to harvest the first batch of radishes to make room for the peppers.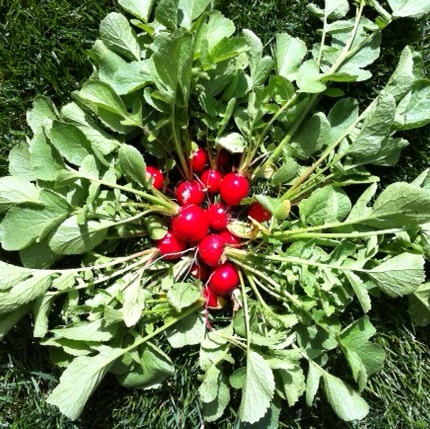 Radishes sown directly into the raised bed on March 26th.
If you like mysteries, Padrón peppers are for you. Eating them is considered a game of Spanish Roulette, because although most of these peppers are mild, about every tenth one is hot. They're pretty similar in flavor to Shishito peppers, only larger.
This video shows you how to prepare them:
I actually do not do the splitting step shown in the video. I just wash them, dry them thoroughly so there is no splatter during the frying step, and then pan-fry them in olive oil. You can serve with a spicy aioli, but we usually just eat them with sea salt. Follow this link to Bon Appetit for the recipe in English.

And now for some words of wisdom from the incomparable WeirdDave:
Garden Thread - BDSM edition
First things first. Just noticed today that the Sweet Million has started to produce. I've got my first tomatoes!

That's exciting, but I also noticed that I've got to do something about the green beans, cucumbers and snap peas. The peas are grabbing onto their neighboring plants, and the others are long enough to be climbing the trellis.
Step 1: I must break you
Doing this is a process called "training". It's not fun, but it's got to be done. Basically, what you have to do is to break the plants to your will. The first step is to leave a light on the plants 24 hours a day. This interrupts their diurnal rhythm. At random times during the night, stick your head out the window and yell "HI!" at the plants so they can't get any regular sleep. Don't worry, your neighbors will understand. At the same time, change their diet to one with no/low protein and minimal nutrients. Gruel works well. Within a week the plants should be putty in your hands, ready to be trained in correct growing procedures.
Step 2: Indoctrination
There are all sorts of indoctrination techniques. Some gardeners have experimented with sending their plants to union run public schools. This does result in indoctrination, unfortunately plants subjected to this become convinced that they are the most perfect plants ever and can do no wrong, so they blame other plants in the garden for their failure to climb and tend to ferment conflict between different plants in the garden. This is known as employing "grass warfare". They also become lazy and insolent and expect someone else to provide their fruit to them rather than growing it themselves. These plants are called "Democrats" and the only proven cure for them is Roundup. No, a better technique is chanting. You should spend at least an hour a day leading your plants in self improvement chants to instill proper thinking into their chlorophyl. This is the chant I use:
"WE CLIMB! WE CLIMB! WE CLIMB HERE ALL THE TIME!
THE HIGHER THE BETTER
NO MATTER THE WEATHER
THE SOIL IS FILLED WITH LIME!"
If that doesn't shift 'em, nothing will.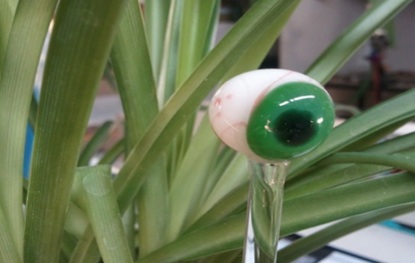 Keep a close eye on your plants during training
Step 3: Discipline
Finally, you must be prepared for your plants to backslide. It's not easy to retrain a plant, their psyches can be incredibly resilient, and in an instant they can break free of your careful conditioning and return to their former habits. Keep them isolated from each other, a plant that feels utterly alone is less likely to resist. Be alert for tap codes which can let plants communicate with and support each other even if line of sight is broken. Be vigilant. If all else fails, be prepared to use physical force to get your plants trained properly. It's distasteful, I know, but a gardener's got to do what a gardener's got to do. Put on your monocle and remind your plants in your best German accent: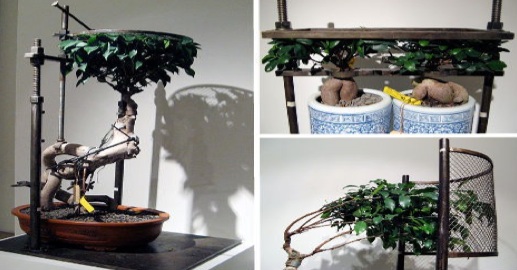 "Ve haf vays of making your stalk"

Thanks, WeirdDave!
To close things up, for the moronetttes, I give you Henrik Lundqvist. Just because.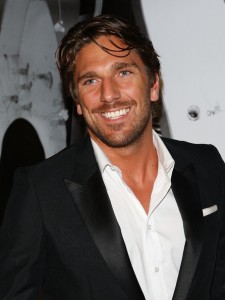 Go Rangers!


posted by Open Blogger at
10:37 AM
|
Access Comments