« Is This Something?
|
Main
|
Top Headline Comments 5-28-14 »
May 27, 2014
Overnight Open Thread (5-27-2014)
"Chris Rock: [On the US school shootings] Everybody is wanting to know what music were the kids listening to, or what movies were they watching. Who gives a fuck what they was watching! Whatever happened to crazy? What, you can't be crazy no more? Should we eliminate crazy from the dictionary?"
RS McCain: Creepy Little Weirdo's Murder Rant Becomes Cultural 'Rashomon'
Everyone has a theory about why he did it and most of the theories are based on whatever root cause preoccupation people already had in mind - white privilege, picky bitchez, teh Ghey, indulgent parenting, Hollywood/video games, FDR and fiat currency, virginity psychosis, antidepressants, self-esteem culture,  fratboydom , the NRA, etc. etc. etc.
Which is to say that they're all mostly wrong. And missing the fundamental issue: Elliot Roger was crazy.
As in cray-cray in the membrane. And that's the thing about crazy people - they are well....crazy and not rational. Their thought processes are disturbed and they don't process information like normal people do. Which means that if you're looking for some kind of logical reason or explanation for what they did, you're not going to find it. Yet people persist in poring through Facebook entries and YouTube videos looking for the Rosebud moment that Explains It All.
And if you've ever dealt with truly crazy people (and I have a time or two), they always, always have long, detailed, specific reasons and explanations for why they did what they did. But their explanations make no sense. Because of the crazy.
And they also tend to fixate on things - a woman, neighbors, medical issues - but you quickly learn that whatever the thing is, it's immaterial. No matter what happens they will always find something else to focus on. Because the root problem is that they are mentally disturbed. And crazy.
And Rogers had been disturbed for a long time.
Simon Astaire, a family friend, said their son had been seeing therapists since the age of eight, including virtually "every day" while at high school.

He said: "What more could they have done? They are going through indescribable grief dealing with the loss of their son. His parents were conscious and concerned about their son's health. They thought he was in good hands."

Mr Astaire said Rodger, who was believed to have Asperger's but had not been diagnosed, was "reserved to a daunting degree" and "fundamentally withdrawn", but seemed to have "no affinity to guns whatsoever".
And once he turned 21 there was little his parents could do.
Other friends of Peter Rodger said he was "heartbroken" and "did everything he could", including engaging top specialists, but his son turned his back on therapy as an adult and refused to take medication.

Police visited him at the Capri on April 30 after being alerted by his mother to disturbing videos on YouTube. But officers had not watched the videos and did not search the apartment.
Could Roger have been stopped?

Well Neo-neocon who's an actual marriage and family therapist thinks probably not:
I repeat what I've often said before: it is easy to see, ex-post-facto, that something should have been done about this guy. There were certainly plenty of warning signs. But they only look unequivocal after the fact, not before, and everyone who presents with this kind of behavior cannot be locked up, and certainly can't be locked up forever. Elliot Rodger looks to me (after seeing a couple of moments of the video he made, and reading about it) to have been a psychopath, and psychopaths cannot be deterred except by incarceration, and that can't be done in the absence of a crime. It certainly can't be done indefinitely in the absence of a heinous crime.

I only watched a couple of seconds of the Rodgers video; I stopped because it was almost unbearable to watch it. He emanated such pure evil I did not want to look on it any longer. But it's a mistake to think Rodger seemed that way in his ordinary life prior to the killings. He probably had developed a false front, not entirely effective (many people seemed to sense he was deeply troubled) but effective enough to accomplish the goal of presenting himself as less dangerous than he actually was.

Unfortunately, I see no way to have prevented this.
Obama's IQ Is Simply Immeasurable
Heh.
Historian Michael Beschloss: Yeah. Even aside from the fact of electing the first African American President and whatever one's partisan views this is a guy whose IQ is off the charts - I mean you cannot say that he is anything but a very serious and capable leader and - you know - You and I have talked about this for years .

Imus: Well. What is his IQ?

Historian Michael Beschloss: . our system doesn't allow those people to become President, those people meaning people THAT smart and THAT capable

Imus: What is his IQ?

Historian Michael Beschloss: Pardon?

Imus: What is his IQ?

Historian Michael Beschloss: Uh. I would say it's probably - he's probably the smartest guy ever to become President.

Imus: That's not what I asked you. I asked you what his IQ was.

Historian Michael Beschloss: You know that I don't know and I'd have to find someone with more expertise .

Imus: You don't know.
WaPo Film Critic Ann Hornaday Not Into the Whole Objective Reality Thing
When it was pointed out to her that the movie, Fair Game, on the Plame affair never mentioned the person who actually leaked her name to the press (Richard Armitage), she had this to say:
In Washington, watching fact-based political movies has become a sport all its own, with viewers hyper-alert to mistakes, composite characters or real stories hijacked by political agendas. But what audiences often fail to take into account is that a too-literal allegiance to the facts can sometimes obscure a larger truth.

...Thus, the movies about Washington that get the right stuff right - or get some stuff wrong but in the right way - become their own form of consensus history. "Follow the money," then, assumes its own totemic truth. Ratified through repeated viewings in theaters, on Netflix and beyond, these films become a mutual exercise in creating a usable past. We watch them to be entertained, surely, and maybe educated. But we keep watching them in order to remember.
"Did Woodrow Wilson Destroy the American Presidency?"
Short answer: Yes.*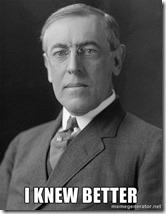 Drudge: NSA Is Recording All Afghan Telephone Calls!!
Not sure why is considered a scandal - that NSA's fucking job. If they aren't do this, then I want a refund of the taxes I pay to spy on foreigners.
Army Converting All M4s to M4A1s
Which means full-auto is back along with a heavier barrel, ambidextrous safety, backup iron sights, and a forward pistol grip.
No word if it'll include the deadly shoulder thingy that folds up.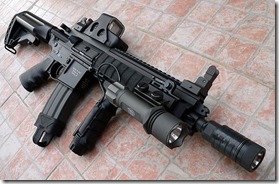 Altar Boy Non-Thief Accidentally Carjacks Retired NYPD Cop
Ah who are we kidding - he was totally a thieving thug.
BBC: Girl You'll Be a Woman Now
Because the BBC is banning the G-word. Just in case some chick gets offended.
Apparently Kate was wearing a thong when the wind decided to flip up her dress.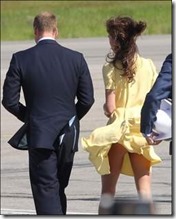 So how does the Queen avoid this kind of thing? Well she uses her weather dominator to locally suppress the wind.
Just kidding - she uses lead weights.
But despite a string of such incidents, Kate has yet to take a leaf out of the Queen's book.

Her Majesty's skirts are always fitted at the hem with small lead curtain weights, which cost just £1.50 for a pack of four, to prevent the royal hemline from flying away in a gust of wind.
Which reminds me of a passage from G. Gordon Liddy's book, Will, where he mentions that as a young FBI agent he was taught to sew lead weights into the bottom corners of his blazers and coats so they would be easier to flip open when he drew his gun. Lead weights - what can't they do?
The AoSHQ group. Watch yer cornhole.
Teh Tweet!
Tonight's post brought to you by Col. Robin Olds: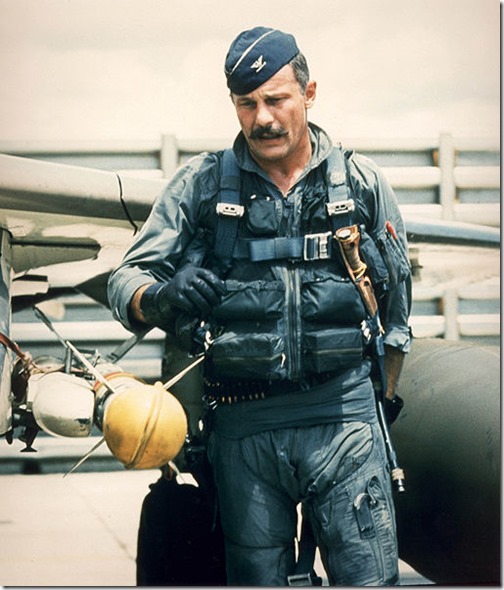 Notice: Posted by permission of AceCorp LLC. Please e-mail overnight open thread tips to maetenloch at gmail. Otherwise send tips to Ace.

posted by Maetenloch at
10:36 PM
|
Access Comments