« So...Meteor Storm Tonight?
|
Main
|
Saturday Morning Open Thread »
May 23, 2014
Overnight Open Thread (23 May 2014)
Hopefully the Camelopardalids (not to be confused with MERS) proves to be more more exciting than ISON ended up being. I understand the peak viewing to be between 2 and 4 am EST but could be seen as early as 11PM EST tonight.
The Ideal Climate Citizen
Figures liberals believe North Koreans are the ideal climate citizens. Only a place with limited electricity, scarce food, and political death camps could be seen as an environmentalists utopia. Remember, every day in North Korea is Earf Day.
Commencement Speech
This was one hell of a commencement speech given by ADM Bill McRaven. Perhaps Bezerkley should've asked McRaven to give their commencement speech rather than Pelosi. At least McRaven's speech is worth the $10 a person Bezerkley had to charge graduates for Pelosi.

Spurious Correlations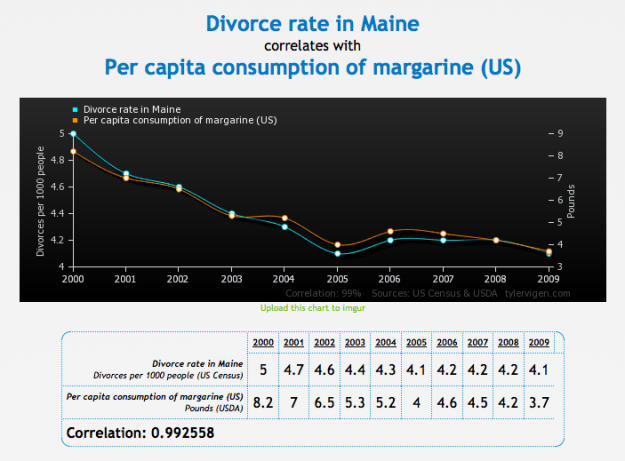 Heh. Spurious Correlations.
Stormtrooper Cribs
There is much to like in this house. Oh the moron meetup parties I could throw there!

Bum Facial
I suppose this was only a matter of time with 'Belfies' on the rise. Bum facials are now a thing.
Swoop And Squat
Careful you L.A. morons when you drive, staged car accidents and insurance fraud are on the rise.

Two bad guys in separate cars will pull into a lane in front of the victim. A third driver will pull up into the lane next to the victim.

The first driver will slam on his brakes, causing the second driver to slam on his brakes too. Meanwhile, the third driver will pull in close to the victim, cutting off his escape route.

The victim slams into the back of the second car. The first driver, who started the whole thing, speeds off. The third driver acts as witness. The victim, of course, doesn't know that the three drivers were working together.

The scam can also involve the collusion of auto repair shops, doctors, chiropractors and lawyers who are all participating. The car that the victim hits may be filled with passengers recruited to get "injured" and file claims.
I'm pretty sure this next paragraph is racist. Can't believe the L.A. Times didn't say 'youths' or something.
In one new wrinkle, Guevara said, young Latino men on bicycles in the San Fernando Valley are throwing themselves in front of passing automobiles, then demanding small amounts of cash from the drivers.
Dog Video
Tonight's ONT brought to you by WWI in Photos: Animals At War (not for the faint of heart):
Notice: Posted by permission of AceCorp LLC. Please e-mail overnight open thread tips to maet or CDR M. Otherwise send tips to Ace.

posted by CDR M at
09:53 PM
|
Access Comments