« The VA Wasn't Just Faking Paperwork To Disguise Its Scandalously Bad Performance.
It Was Also Punishing Whistleblowers Who Spoke Up.
|
Main
|
Top Headline Comments 5-23-14 »
May 22, 2014
Overnight Open Thread (5-22-2014)
Howard Dean: "Republicans Aren't American!"
And should go back to Russia where they belong - yes he really said that. I guess 'Don't question our patriotism!!' is so 2000s these days.
John Hinderaker points out that this kind of insanity is bad for America:
This is a very bad thing. We need two functional political parties, and these days the Democrats don't get over the bar, no matter how low you set it. Their rants are so crazy that it is hard to tell what they are talking about. Dean says that Republicans want to "take away the right to vote." Huh? Can you name a single Republican who has ever argued that anyone who has a right to vote should have it taken away? I have never heard such an argument made. Republicans do say that ONLY those who have a right to vote should be casting ballots, and that no one should vote more than once. Apparently Dean disagrees with these propositions, but of course he doesn't tell us why. It is always easier to lie.
The latest audience numbers are devastating:
Averaged over prime time (8-11 p.m.), the three major cable news networks had a combined audience Monday of 2.7 million viewers, and here are the percentage shares:

Fox ...... 65%
MSNBC ..... 24%
CNN ....... 11%

...Jeff Zucker's network is a f***ing asterisk, is what they are - an irrelevant afterthought in the TV new business, of interest only as an example of how not to operate a cable news franchise.
11% of 2.7 million is fewer than 300,000 people watching CNN during peak viewing hours. At this point they'd be better off (and truer to the best interests of their shareholders) by just running cat videos, trendy youtube videos, and infomercials 24/7.
It's Safer Than Ever To Be a Policeman - So Why Are The Cops Militarizing Up?
Law enforcement deaths this year dropped to their lowest level since 1959, while the decade of the 2000s was among the safest for officers, despite the deadliest single day for police on Sept. 11, 2001.

"To reach a 50-year low in officer deaths is a real credit to the law enforcement profession and its commitment to providing the best possible training and equipment to our officers,'' said Craig Floyd, the Memorial Fund chairman and chief executive officer. "But we cannot allow ourselves to be lulled into a state of complacency.''
Well mostly because it looks cool and they can but also because they have to be prepared for the crazed veteran threat - at least according to Sgt. Downing of the Morgan County, Indiana Sheriff's Department:
"When I first started we really didn't have the violence that we see today," adding, "The weaponry is totally different now that it was in the beginning of my career, plus, you have a lot of people who are coming out of the military that have the ability and knowledge to build IEDs and to defeat law enforcement techniques."

Downing goes on to relate how citizens approach the vehicle when it stops at gas stations to express their concerns that the militarization of police is about arming cops with the tools required for mass gun confiscation programs.
The results of an investigation of a December Miami 'gunfight' are in and it's pretty damning.

Now I don't have much sympathy for Adrian Montesano given that he had shot a cop during a robbery the night before but the passenger in his car was completely innocent and was shot and killed while attempting to surrender to police. Despite over 400 shots being fired during the gunfight it turned out that neither Montesano nor his passenger were armed.
The local CBS affiliate has investigated a police shooting that happened there last December. The results are jaw-dropping. A man who committed armed robbery and shot a police officer hours earlier was spotted in his automobile, along with a passenger who played no role in his crime. Police officers gave chase.

CBS reports what happened next:

The suspect's blue Volvo crashed into the backyard of a townhouse.

It was later determined that neither the suspect nor the passenger was armed. Police officers nevertheless fired two barrages of bullets into the vehicle. Witnesses say that after the first volley of approximately 50 bullets, the two men were still alive.

Anthony Vandiver, who lives in a building adjacent to the lot, saw the incident. "They were saying put your hands up, and the guys were still moving after they shot maybe 50, 60 times," he said. "And the guy tried to put his hands up. And as soon as he put his hands up, it erupted again. And that was it for them. That guy tried his best to give up. I swear to God on everything I love, my kids, my momma, everything, I seen it all."

Roughly two minutes passed between volleys.

After the second volley both men were dead. Said another witness: "The policemen that had on the black and white vests were out there laughing like it was so funny."
More here:
The police made several questionable claims soon after the shooting, including claiming that the suspects fired at them during the car chase (there was no gun anywhere, and no casings in the suspects' car). PBA President John Rivera said, "We got to see today how mean the streets of Miami are and how mean they are getting and how dangerous this work is."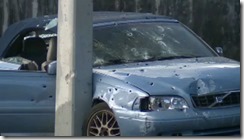 31 Killed, 90+ Wounded as Lutherans Massacre Civilians in China
Here is a photo of the suspected militants.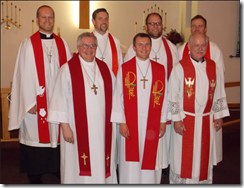 What happened when a bunch of Libertarians moved to Keene, NH in an attempt to remake the town into a model of libertarian freedom. Well it doesn't seem much more free but it is a lot more contentious.
The mundane matter of parking has become so contentious that a third parking officer, an ex-soldier who served in Iraq, quit last year because, he says, he could no longer take the close-up videotaping and the taunts that "I had condoned the droning of brown babies." So contentious that the mayor, the city manager, and the city attorney all declined even to say hello to me.

But some local residents are speaking out in their stead by challenging the activists through a Facebook page with the unwieldy name of "Stop Free Keene!!!" One of its organizers, Andrea Parkhurst Whitcomb, is asking the relative newcomers a fundamental question:

"Who asked you to come free us?"

The activists selected this New England-cute city of 24,000 for liberation mostly because it lies within that flinty bastion of Yankee individualism known as New Hampshire, where "Live Free or Die" is carved into the collective granite.
How Much Would It Cost To Hire Your Favorite Band For Your Birthday?
Not that much.
Los Lobos and George Clinton and Bone Thugs and Harmony and Toots and the Maytals charge in the 20-35k range for appearances; that's not so much considering what you get.  Fountains of Wayne (remember them?) goes for 20-30k.

De la Soul goes for 15-20k, as do the Indigo Girls, and for Jefferson Starship it may go up to 25k.  The English Beat and PM Dawn (still underrated, apparently) cost only 5-10k.

Bruce Springsteen is a million dollars and up.  Many artists I have never heard of go for 200k and up.

Dave Matthews tribute band is 10k, while Dave Matthews is $1 million.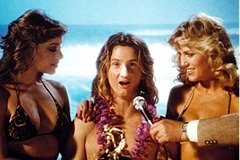 An Author's Minimalist Home of the Future
Or how Robert Heinlein was living along with his wife in a 1150 sq. ft home in Colorado Springs, CO in 1952.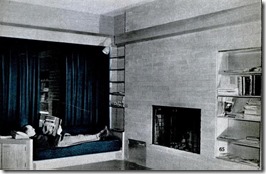 Only in Sweden: Elk Born Inside Volvo After Highway Crash
White Stripes and Dead Armadillos
Quick without thinking about it too much - What color are the dividing lines on highways?
Okay did you say yellow or white?
Now read on:
For years I [Alper] have been obsessed by the color of the line which divides oncoming (i.e., opposing) traffic because I was firmly convinced that the color of the center line changed during my lifetime. Yet, I never could find anyone who had the same remembrance (or interest in the topic). The other day I found this this explanation that vindicates my recollection (and I was continuously out of the U.S. from 1969 to 1973):

The question of which color to use for highway center lines in the United States enjoyed considerable debate and changing standards over a period of several decades. By November 1954, 47 states had adopted white as their standard color for highway centerlines, with Oregon being the last holdout to use yellow. In 1958, the U.S. Bureau of Public Roads adopted white as the standard color for the new interstate highway system. The 1971 edition of the Manual on Uniform Traffic Control Devices, however, mandated yellow as the standard color of center lines nationwide. The changeover to the 1971 MUTCD standards took place between 1971 and 1975, with most done by the end of 1973, so for two years drivers still had to use the old and new. Yellow was adopted because it was already the standard color of warning signs, and because it was easy to teach drivers to associate yellow lines with dividing opposing traffic and white lines with dividing traffic in the same direction. . . .

Most European countries reserve white for routine lane markings of any kind. Yellow is used to mark forbidden parking, such as on bus stops.

Most countries in North and South America have yellow lines separating traffic directions. However, for example Chile has white such lines.

Armed with this knowledge, I have haphazardly been asking (annoying) American friends and relations as to what color they think the center line is now, let alone what it used to be. Young people get it right I guess because that is part of driver ed which they have recently completed; older people who drive a lot still claim the center line is white and always has been.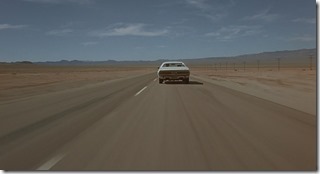 If I offered evidence that jellyfish are displacing penguins in Antarctica -- not someday, but now, today -- what would you think? If I suggested that jellyfish could crash the world's fisheries, outcompete the tuna and swordfish, and starve the whales to extinction, would you believe me?

...The question of jellyfish death is vexing. If jellyfish fall on hard times, they can simply "de-grow." That is, they reduce in size, but their bodies remain in proportion. That's a very different outcome from what is seen in starving fish, or people. And when food becomes available again, jellyfish simply recommence growing.

One kind of jellyfish, which might be termed the zombie jelly, is quite literally immortal. When Turritopsis dohrnii "dies" it begins to disintegrate, which is pretty much what you expect from a corpse. But then something strange happens. A number of cells escape the rotting body. These cells somehow find each other, and reaggregate to form a polyp. All of this happens within five days of the jellyfish's "death," and weirdly, it's the norm for the species. Well may we ask of this astonishing creature, "Sting, where is thy death?"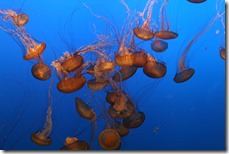 Yahoo group. That is all.
Come on be a smarty - and join the yahoo group party! For the children.
And my Twitter spew.
Tonight's post brought to you by oh yes: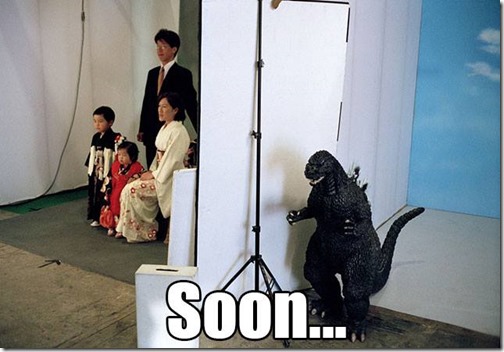 Notice: Posted by permission of AceCorp LTD. Please place overnight open thread tips for maetenloch in the usual dead drop. Otherwise send your scraps to LauraW. Do not trigger happy-fun ball.

posted by Maetenloch at
10:10 PM
|
Access Comments