« Saturday Morning Open Thread
|
Main
|
OT Political thread-what happened? [WeirdDave] »
May 17, 2014
Saturday Gardening Thread: Pests Large and Small Edition [Y-not and WeirdDave]
April showers bring…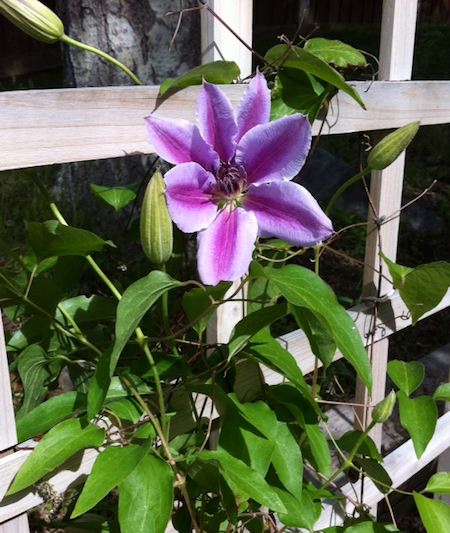 Clematis growing at Casa Y-not
Take it away, WeirdDave:

Many of you may not realize the care and thought that goes into a gardening thread. It takes hours and hours of thought and preparation to put one of these together. Topics are considered, weighed and then discarded. Research materials are assembled. Considerable contemplation goes into tone. It's damn near a full time job.
Friday, May 16th, 11:15 PM Location: bedroom Weirddave "I have to go write the garden thread. Got any ideas?"
Gingy (annoyed) "You ask me at 11:15?"
Weirddave "I always write the thing at 11:15!"
Gingy "Why didn't you ask me earlier? I'm tired now"
Weirddave "I'm just asking. You can say no"
Gingy (testy) "Pests! Write about pests!"
Pests. Now there's an idea. With my exhaustive thread prep completed, I decided to write about.......pests.
Every gardener must be always alert for pests. Pests come in all shapes and sizes and can be found anywhere. You can find pests in churches, in Las Vegas, some people even travel to exotic foreign locations with their entire family only to find a pest. As gardeners, the primary place we must watch out for pests is outdoors. Be alert to your surroundings, some places are more likely than others to house pests.

This place is guaranteed to have at least one pest any minute
Fortunately, the careful gardener is not unprepared. Nature is wonderful in providing warnings. Bees and wasps are easily identifiable and we instinctively know to avoid them. Flower flies know this so they mimic the look of a bee. A cranefly apes the mosquito, hoping to provoke a similar response. Knowing the look of a pest can be the best warning a gardener can have. At different times pretty, alluring, dirty or annoying, pests can be hard to spot, but at some point in their life cycle they usually assume a form that should be instantly recognizable. Learn to spot them in this stage and you'll never be fooled again.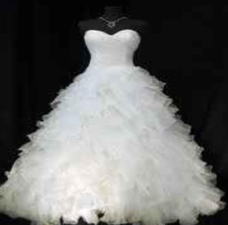 pest garb
Now that you've identified a pest, the question is what to do about them. Be careful! Pests have defenses and it can be a sorry gardener indeed who forgets. Pests come equipped with a formidable array of psychological weapons. Even the careful gardener can run afoul of these defenses, perhaps by something as simple as asking for a suggestion for a blog post. More severe infestations can manifest themselves in your life in the form of burned dinners, phrases like "You think you're so smart, YOU get the car off your chest" and worse of all, no nookie. Some pests even sting!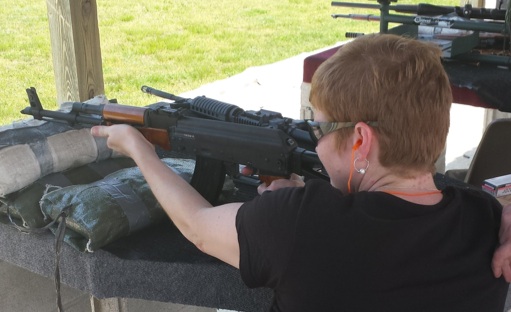 30 stings!
Still, even with all of the care in the world, sometimes you find yourself with an infestation. What should the prudent gardener do then?
Enjoy it. Not all pests are bad. Some will take you on the ride of your life, through good times and bad, in sickness and in health, 'til death do you part. There's nothing better in the universe. Nothing.

And now from your co-hostess, Y-not:
Greetings, gardening morons and moronettes! Today's topic was going to be "Gardening in Small Spaces," but my aging laptop had other plans... so as it turns out, WeirdDave had the right idea when he chose "Don't Bug Me" as the topic.
Seriously, though, my laptop got infected by a cheese-eating ice monkey bug (I think I picked up malware while looking at a gif from the Canadiens v Bruins game -- damn those Habs all to Hell!), so I lost all of my bookmarks and have had to switch browsers. (Incidentally, if you have a recommended browser that runs well on Macs and can handle ampersands at the HQ, please let me know in the comments.)
Farm Report from the Glorious Wasatch Front
Here at the vast quarter acre estate of Casa Y-not in Zone 7, we've had a lot of rain and therefore not a heck of a lot of gardening. Fortunately, most of the early season plants I'd had planned on were already underway, either as seeds (sown directly into the ground) or as starts, so this past week I've just been enjoying seeing their progress.
We did have one actual pest last week. I discovered a largish hole (probably 6 inches deep and 10 inches long) in one of my raised beds, near the tiny spinach plants. At first I'd assumed it was our younger dog who will dig on occasion, but I think that's unlikely as there are no doggy footprints in the bed. The dirt was kicked out about 4 feet. Could it be a squirrel? a skunk? an opossum? I really don't know. I've seen the occasional squirrel in our yard, but never the other two.
By far the most satisfying plants this spring were the clematis vines (featured above) and my radishes. If you haven't grown clematis before, I'd recommend them. In my neck of the woods the vines die back in winter, seemingly completely. So in the Spring you get tremendous new growth. Our two-year-old transplants grew about four feet and are loaded with flower buds.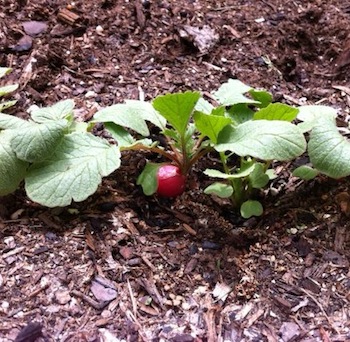 The radish seeds are paying off already!
Meanwhile, the radish seeds I'd stuck in the beds about a month ago look to be about ready to harvest. That's really the only thing, aside from our perennial herbs, that are ready to eat so far. Fortunately, my mystery pest does not like radishes.
Gardening in small spaces
I honestly did intend to put together a post about small space (and container) gardening, inspired in part from the comments by our morons who are apartment dwellers, as well as from chemjeff's question about what to plant in his small side yard. Some of the links survived, so let's do an abbreviated version, starting with the question of what to do with a small side yard.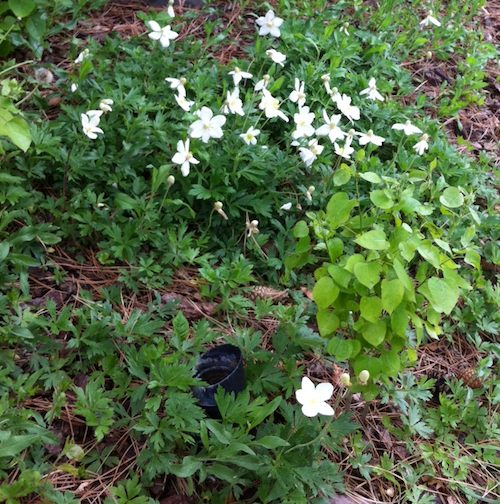 Anenome naturalizing in a small, shady bed at Casa Y-not
I'm a big fan of low-maintenance perennials, especially ones that are vigorous spreaders who can compete with weeds. Because the soil here is clay and the previous owners were huge fans of landscape fabric, the beds we inherited (which are nicely edged with pavers) have lousy soil. (People don't seem to appreciate that landscape fabric prevents mulch and leaf decay from improving your soil. Personally, I'd rather have dirt I can work than obsess over preventing weeds.)
Someday, if I win the lottery I'd love to have the fabric ripped out and the clay replaced with real soil so I could plant annuals, but for now our philosophy is to stick plants into the small holes we're able to dig and let them fend for themselves. In one bed we've gotten several types of mint and a few strawberries to "take" and in another we have wild geraniums and anemones. I've been really pleased with how the anemones have spread under our pine trees with absolutely no help from me. (More information about naturalizing plants, in this case bulbs, here at Fine Gardening.)
On a more professional note, chemjeff and others might want to check outSunset Magazine to get some ideas for what to do with their side yards.
Of course, there are many great ideas for small space gardening all over the web. Here are a few of my favorites that I found last week:
Courtesy of Mother Earth News, here's an article outlining some of the key factors to successful "Small-Space Gardening." The take home message seems to be that more careful planning is required to maximize your space (and time) when land is at a premium.
Courtesy of Martha Stewart, here's a slide show featuring small space gardening ideas. Mr Y-not and I lived in apartments for the first sixteen years of our marriage, so I've done plenty of container gardening.
More about the nuts and bolts of container gardening from the University of Arizona, including a very helpful chart summarizing the requirements for many types of vegetable plants. Definitely follow this link if you are interested in container gardening.
Finally, here's a set of ideas specifically for apartment gardening, courtesy of Apartment Therapy.
What strategies have you used to garden in small spaces?

This week's Blog of the Week should hold broad appeal for the moron horde. Honest Food is written by a self-described hunter-angler-gardener-cook. Who knew that garrett had a blog?!

To wrap things up -- and in keeping with the original topic of "small spaces" -- here's a really trippy music video, "Music from a Bonsai":

On a related note, here's Turning Japanese by the Vapors:

What's happening in your garden this week?

posted by Open Blogger at
09:16 AM
|
Access Comments