« GOP Congressman: We're Almost There on an Immigration Deal
|
Main
|
Top Headline Comments 4-29-14 »
April 28, 2014
Overnight Open Thread (4-28-2014)
Sonny Bunch on Rights vs. Principles
In which he responds to this XKCD comic among other things: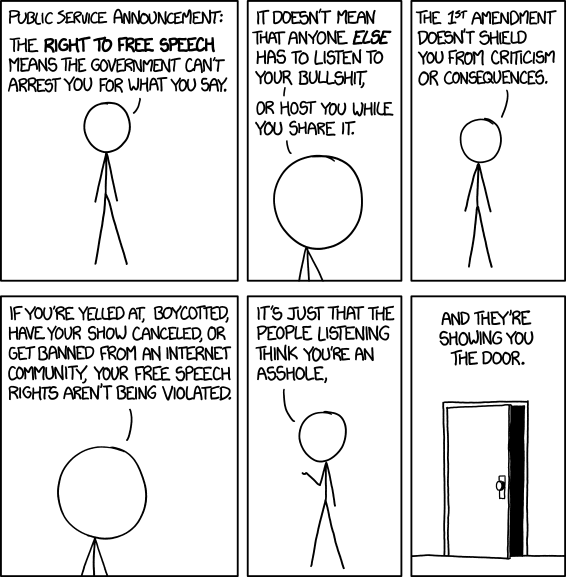 What I am saying is that your politicization of every facet of the public sphere makes you kind of a dick and leads to a coarsening of society. And, as Bath notes, it shows that your commitment to the liberal order-to the marketplace of ideas, to very basic pillars of civilization on which our silly little band of super-smart apes relies-is tenuous, at best.

Those who live the politicized life want us to treat freedom of speech as something to be tolerated legally and worked around socially rather than a fundamental belief. This isn't to say every fringe belief should be indulged-9/11 was not an inside job; blacks were not better off as chattel-but on issues where there is legitimate debate and a sizable portion of the populace on either side of the argument? Maybe you should think twice before you try to destroy someone's livelihood. As a society we're better off not waging perpetual war against everyone with whom we disagree.
The Most Ancient Human Mental Virus
Antisemitism is not a sign, a symbol, a bullet or a gas. It is a Virus. It is the oldest known virus to infest the human soul. In those infected, the virus is clever enough to mask it's existence by renaming itself as "anti-Zionism." Through the renaming of this ancient disease as a "political problem," infected souls can transmit the virus to their friends, families. They can spread their disease at their schools and in their their community, church, or nation. The virus is also transmitted by exchanging infected fantasies with infected ideologues. By changing it's name the disease made it possible for many to deny that they have contracted the virus, and that their souls are chancre-ridden and rotting. This facilitates the current outbreak.

Yes, antisemitism is a clever virus and this shape-shifting is one of its oldest methods of perpetuating itself. Like other viruses currently feasting on humans, this one always has a pleasure principle associated with it. It feels good to get it and we live in the plague years of "If it feels good, do it." Those whose moral immune systems have been previously compromised by other pleasure-born diseases have souls which are particularly susceptible to this virus.
As noted above, in the recent past, it has been shown that large doses of steel and fire can eradicate the virus in some populations, but only for a time. A cure is promised, but seems to be always delayed. The only measures that work are, at best, prophylactic. Another strategy is strict monitoring to prevent the spread of the virus. This seemed to be holding the virus at bay for decades. Lately, however, this method has broken down. The virus, like terrorism, has recently been able to piggy-back on the world-circling data-stream, and infect individuals and groups previously deemed immune. The current strain has indeed become so virulent that large blocks of Jewish people, in Europe, America and even Israel, have become infested.

...Since the virus has been present in human hosts for well over 4,000 years, hopes for eradication in our lifetime are slim. Hopes for eradication in the future are better in civilized countries if, and only if, members of the generations now living and infected with the virus become dedicated to not passing it on to future generations. The virus is found nowhere else in nature except within the human host. If it is denied transmission to the young, it can be eliminated from the world in three generations. If... but only if.
From the documentary Shoah Part 4. It runs about 45 minutes.
On Being a Hero in WWII Poland
Not to minimize the accomplishments of the Danes or the Bulgarians, but to be a hero in Poland was a lot more meaningful than to be one in Denmark or Bulgaria-or even, as it turns out, in Germany.

Why? Because Poland was the only Nazi-occupied country in which helping Jews would officially get you the death penalty. Here are the horrific facts (read them and ask yourself if you would have been as brave as the many Poles who did shelter and save Jews):

Poland was the only place where German law rendered any assistance to Jews punishable by death. That punishment was severe and collective: It was meted out not only to the rescuer but also to his entire family and to anyone else who knew about such activities and did not report them. Almost 1,000 Poles were killed this way, including entire families whose children were not spared.
Marxist Revolution Delayed Due to Copyright, Property Rights
Duke's 'You Don't Say' Campaign Tells You What to Say
Because if you take away words, then human nature will be fundamentally transformed. :roll:
In another effort by the groups, they painted a local bridge urging people not to say things like "That's retarded" or that they were "raped" by something inanimate like a test:

The campaign tackles the use of words like "pussy," "fag," "man up" or "bitch" as slang terms.
Well I'm not sure this would work for everyone but then I've never tried this particular technique.
A practitioner, nay, an artist, of the Kindly Brontosaurus method would approach the gate agent as follows. You state your name and request. You make a clear and concise case. And then, after the gate agent informs you that your chances of making it onto this flight are on par with the possibility that a dinosaur will spontaneously reanimate and teach himself to fly an airplane, you nod empathically, say something like "Well, I'm sure we can find a way to work this out," and step just to the side of the agent's kiosk.

Here is where the Kindly Brontosaurus rears amiably into the frame. You must stand quietly and lean forward slightly, hands loosely clasped in a faintly prayerful arrangement. You will be in the gate agent's peripheral vision-close enough that he can't escape your presence, not so close that you're crowding him-but you must keep your eyes fixed placidly on the agent's face at all times. Assemble your features in an understanding, even beatific expression. Do not speak unless asked a question. Whenever the gate agent says anything, whether to you or other would-be passengers, you must nod empathically.

Continue as above until the gate agent gives you your seat number. The Kindly Brontosaurus always gets a seat number.
The Decline of the Fish Stick?
And seafood in general.
Fish sticks just aren't cutting it anymore.

The frozen-fish industry has faced a problem of making the easy dinner staple more appealing, especially to children at home and in school.

"[Kids] want to have something they could get at a restaurant or something that looks familiar to them," said Pat Shanahan, program director of Genuine Alaska Pollock, a group representing the fisheries supplying the catches commonly used in fish sticks.
The 10 Most Disgusting Scandi Foods
Well you are what you eat and the scandis sure do love eating surströmming and lutefisk.
Lutfisk, another element of Scandinavian "cuisine" if you can call it that. This gelatinous mix, made from aged stockfish or whitefish, has a smell that rivals surströmming's horrific odour. "It smells of saltpetre, tastes acrid, with the texture of rotten rubber," moans @Cunobaros on Twitter.
Then go here and crash some planets.
The Yahoo AoSHQ group. Bla bla bla.
And my twitter thang.
Tonight's post brought to you by Wonder Woman:
Notice: Posted by permission of AceCorp LLC. Please e-mail overnight open thread tips to maetenloch at gmail. Otherwise send tips to Ace.

posted by Maetenloch at
10:43 PM
|
Access Comments