« The Shot Heard Round the World: April 19, 1775 [Y-not]
|
Main
|
The Nightmare Before Easter Open Thread - [Niedermeyer's Dead Horse] »
April 19, 2014
Weekend Travel Thread: Pet Edition [Y-not]
Welcome to your weekend travel thread. By special request of commenter Seamus M., this week's topic is traveling with pets.
How about some music to kick off the thread?
Yeah, I couldn't resist that one.

Traveling with our furry (or scaly or feathery or whathaveyou) friends can be quite the adventure. I've never brought my friends with me on vacation, but many people do. And when they do, it can lead to some difficulties which may have far-reaching consequences. For example, as we learned a couple of years ago, properly transporting your pets is key to your future political aspirations: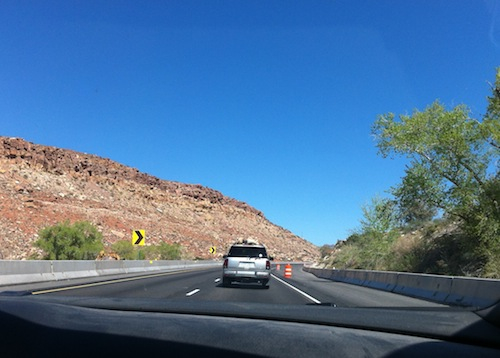 Spotted recently on the freeways of southern Utah.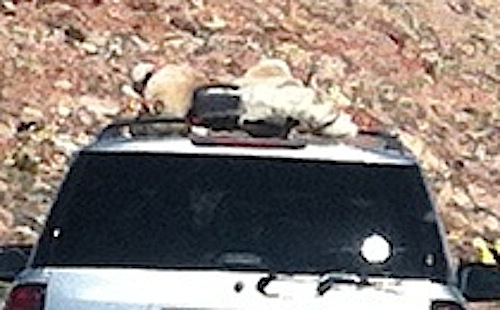 I guess they wanted a little more "horsepower!" Well, at least it's not a dog!
The above is NOT Mitt Romney's car, although it was spotted in Utah during my recent trip down to Vegas. Who knew you could fit a horse on the roof of the car?! Impressive!
Having moved quite a lot, Mr Y-not and I have traveled with our pets. Usually, they are long distance trips and so not the most fun. All those videos of doggehs cheerfully hanging their heads out the windows enjoying the sights and smells? Yeah, that's never our pets!
Neither of our dogs is particularly good about car trips. Bailey tends to make a big production about getting into the car -- she insists on being lifted, despite our efforts to assist her by getting a ramp. And Little Debbie always tries to get in the front seat and help drive.
But, by far our worst pet in terms of traveling was our first cat, a seal point Siamese named Sushi. She hated traveling and made sure we -- and everyone ELSE within a twenty mile radius -- knew it.
The first car trip she ever took was when she was about five years old. Up to that point she'd never been in a car. We lived in the city and would walk her (in her carrier) to the vets. But one cold January morning we packed ourselves, our two cats, and our things into a rental car and headed East from Chicago. Final destination: Waltham, Massachusetts (a Boston suburb).
Anticipating (based on prior experiences with Sushi when she'd dealt with strange people or surroundings) that there might be shall we say "issues," we'd gotten some sort of sedative to give Sushi at the start of our journey. (Our other kitty, Jackie, was a mellow tabby -- a real "pussycat," in other words. So we didn't sedate him.) So we head off, each cat in its own carrier and Sushi drugged up. It's a 15 hour trip, so our plan was to stop along the way. As I recall we drove to Erie, Pennsylvania, and began looking for a motel. This was before the age of smart phones (or even cell phones), so we were relying on guidebooks and roadside signs to find one. Eventually we found a motel -- no evidence that they took pets, but it was the type where you could park right in front of your motel room door, so we decided to risk sneaking her in.
After a long day of driving, we were bushed. We let the cats roam the room (after setting up a litter box, of course) and hit the sack.
Three hours later we were awakened by the unearthly sounds of a Siamese cat who, upon coming out of her drug-induced haze and finding herself in strange surroundings, decided to channel her inner cougar. Seriously, the sounds she was making were bizarre AND LOUD. And she would.not.stop. After about half an hour of her yowling and growling and hissing we realized we were going to get kicked out of the motel, so we wrapped her in a towel, shoved her in her carrier, and beat feet. (IIRC we had pre-paid the room so we didn't have to worry about stopping by the desk at 3:30 in the morning.)
It made for quite the story, both for ourselves and -- I imagine -- the poor unfortunate souls who had the adjacent motel room. They must've thought we were conducting some sort of weird Satanic rite or something!
In any event, we never tranquilized Sushi (or any of our pets) ever again. Some people do, of course, and I think you can have some success with tranquilizers. According to this veterinary medicine site, the key is to do some trial dosing with your pet before the trip. If only we had known that 23 years ago!
Apparently, we are not the only folks to travel with a pet cat who turned out to be a wild animal, from this article Tales (and horror stories) from pet-friendly inns some folks travel with actual wild animals:
If you travel with your dog and prefer small inns and B&Bs over chain hotels, it can be frustrating that so few allow pets. If you listen to some innkeepers' stories, though, you may wonder why any of them do.

At Les Artistes Inn in Del Mar, Calif., for example, a pair of Weimaraners crashed through a window when they saw another dog walk past. "The owners had said, 'Don't worry, they'll be fine,'" said owner John Halper. "The 'fine' part was incorrect."

Halper only allows pets in some rooms, but one couple checked into his best no-pets, ocean-view room with a crate "carrying this cat that has a head bigger than my own," he said. They told him it was "a real live hybrid bobcat."
Make sure to read that article for some helpful tips on how best to travel with your pets.
Years ago when I was traveling with Sushi, it was very difficult to find pet-friendly hotels, but today's travelers have it much easier. The following are some resources for pet owners who want to take their furry friends along with them. Disclaimer: Linking to these sites is for informational purposes only and not an endorsement either by myself or the Management. I have not personally used any of these resources.
Trips With Pets is a web resource that helps you find pet-friendly hotels along the route you're traveling. It does not seem to exist in phone app form, but another resource called BringFido is available on iTunes. Here's a Yahoo Finance article about BringFido for more information.
Courtesy of Appcrawlr, here's a list of what they consider to be the best apps for finding pet-friendly hotels.
So, what tips or tales do you have from your travels with pets?

Some of you may have read on the earlier threads that my cat, Boris, passed away this weekend. (It's kind of funny timing that it happened on the weekend that I'd already started a pet-related travel thread.) We rescued Boris from the streets of Houston some fifteen years ago, so I know he had a good life with us, much better than he would have had on his own. But it still saddens me that I delayed one day longer than I should have to take him to the vet (to be put to sleep) so that he wound up dying on his own, with just our other cat for company. I wish I had been there to make sure he didn't suffer.
Boris was a good boy. He started out somewhat skittish (his nickname was "The Flea" because he'd tend to hide if company came) and for quite a few years was our third cat. After the other two died, we got him a little "sister" (Moxie) and it seemed as though he really came into his own in those later years. He was not a lap cat, per se, but he would always come when I called and liked to sit on the arm of my chair and keep me company.
Rest in peace, old friend.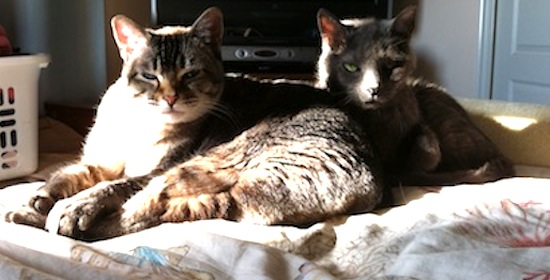 Moxie and Boris enjoying a sun puddle.

To close up, remember this golden oldie?

posted by Open Blogger at
05:29 PM
|
Access Comments