« Cute Dogs Eating Cabbage
|
Main
|
Top Headline Comments 4-4-14 »
April 03, 2014
Overnight Open Thread (4-3-2014)
What's Flying Over Your Head Right Now?
Well go here and find out. Or you could create your own local aircraft radar-map with a cheap $20 dongle and some software. I'm just waiting on a good discone antenna and an LNA to set up my own monitoring system.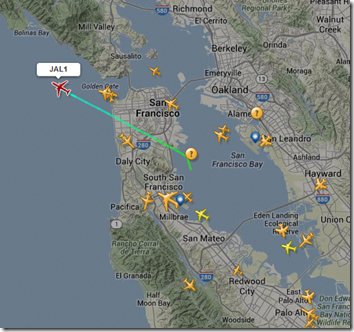 Brendan Eich is out at Mozilla. His crime: Giving $1000 to the Prop 8 campaign which was passed by a majority of Californians in 2008. And having the same views on gay marriage that Obama publicly stated circa 2007. Therefore he must be shunned and kept unemployed.
And Mozilla in the midst of self-congratulation is blind to the beam in their own eye: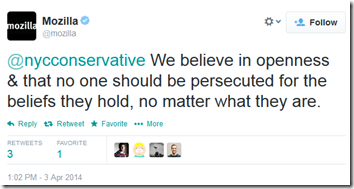 Jimmy Carter Blames the XXX for Obama's Snubbing of Him
And if you're familiar with the man and his work I think you already know exactly who the XXX are.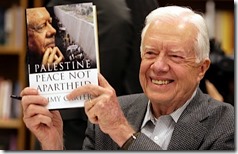 On Campaign Contribution Laws: "This isn't about getting rich guys out of politics - it's about the NEA and the AFT keeping competition off the field."
Asian #CancelColbert Activist Calls For Race War...Maybe?
Actually her statements are so muddled and contradictory that it's hard to say exactly what in the hell she's calling for...or rejecting...or maybe both simultaneously. Because she's not gonna let herself be oppressed by the white man's logic and tyranny of words with fixed meanings.
About the only things you can clearly conclude from her ramblings are that 1) she thinks "racism" is bad 2) she hates white people, and 3) she's chosen the Margaret Cho career path except with less funny and more activist anger.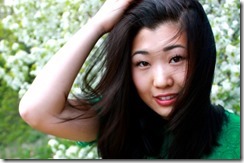 What Liberals Condemn As "Cultural Appropriation" Is Actually Called "Learning"
What Jarrar condemns as "appropriation" is actually "learning." It is the transmission of new ideas, and the more sources they come from, the more vibrant the culture.

A lot of people traced the disturbing implications of Jarrar's view. Eugene Volokh asks why we don't complain about Asian musicians who play Beethoven-accompanied by a photo of Yo-Yo Ma.
Jarrar's rebuttal to defenders of cultural mixing: You're just whites who are whitesplaining.
RSM Responds to Internet Douche #2014-137
Two words for you, Greg: Individual responsibility.

Cultures don't rape people. Rapists rape people. What is objectionable about these endless "rape culture" lectures is that they represent an effort to demonize all men, to create a collective responsibility for crimes committed by individuals. Or, allegedly committed, as the circumstances in some cases are strongly disputed.

...The problem, which is rampant on university campuses, is that there is a Hook-Up Culture, a Friends With Benefits Culture, and a Let's Chug Vodka Until We're Nearly Comatose Culture, all of which lead to situations in which "consent" is a he-said/she-said dispute, where evidence is ambiguous or non-existent, and where some people want us to disregard all due process protections for the accused.
Applying Black-Scholes valuation to wines and potential wives.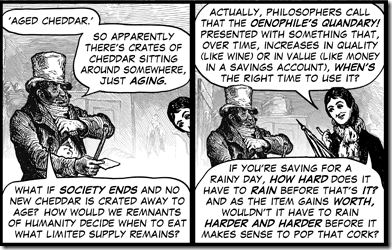 The Top 5 Guns To Scare Your Daughter's Boyfriend
Well really any gun will work - especially when accompanied by photos of a pre-dug boyfriend-sized hole in the ground. But here the guys at Moss Pawn give their own suggestions.
Because standards: Porn Actress Booted From Neo-Nazi Party For Miscegenation
A porn star who was the face of a German far-right party has been fired - because she has sex with a black man in her latest film.

Ina Groll, who goes under the porn name 'Kitty Blair', had been widely featured in a high-profile campaign by the National Democratic Party of Germany (NDP).

She encouraged men to join the party by standing outside election polls dressed in revealing outfits.

But the blonde model has now been fired after senior NDP officals watched her latest porn film - and discovered she had slept with a black man.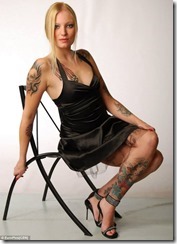 Graffiti Artist Arrested For Vandalizing Graffiti
An artist who defaced several works of famed graffiti artist Banksy has been charged with the crime of vandalism -- which is pretty incredible since Banksy's collection is itself an act of vandalism.

David William Noll has been charged with FELONY vandalism.  According to the criminal complaint -- obtained by TMZ -- Noll defaced 2 of Banksy's most famous works -- Girl on Swing and Peeing Dog.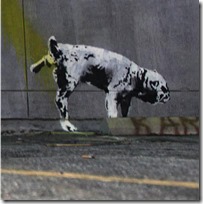 Yahoo group. That is all.
The group thingy. And the middle class.
And my Twitter spew.
Tonight's post brought to you by National Pac Man Day XXXII: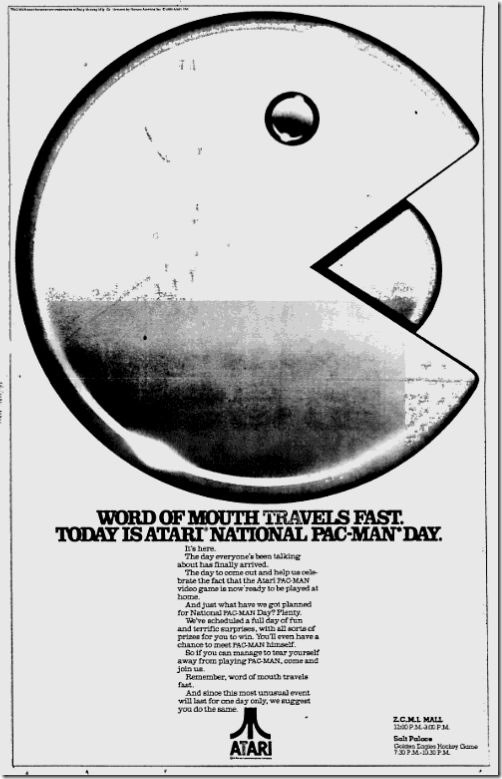 Notice: Posted by permission of AceCorp LLC. Please e-mail overnight open thread tips plus $1 for S&H to maetenloch at gmail. Otherwise send your scraps to BizarroAce. Do not taunt happy-fun ball.

posted by Maetenloch at
10:32 PM
|
Access Comments