« NASCAR: Race Day In Martinsville 3-30-14- [Niedermeyer's Dead Horse]
|
Main
|
Gaming Thread 3/30/2014 »
March 30, 2014
Gun Thread 3-30-2014
Ok, what's this gun of the week? Hint: Confederate soldiers called it "that damned Yankee rifle that you load on Sunday and shoot all week".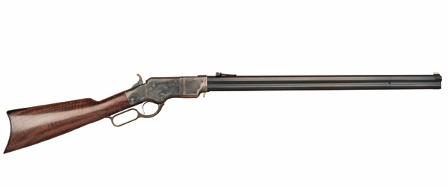 Guns in the News: This was mentioned earlier this week, self defense with firearms on the rise in Detroit and the Police Chief approves.
Detroit Police Chief James Craig said at a press conference last week that in his 37-year career, he's never seen as many homeowners defending themselves by shooting intruders. Craig told The News in January he felt the crime rate could be lowered if more "good Americans" were armed, because he said criminals would think twice about attacking.

"It does appear more and more Detroiters are becoming empowered," Craig said. "More and more Detroiters are getting sick of the violence. I know of no other place where I've seen this number of justifiable homicides. It's interesting that these incidents go across gender lines."
He's very right and it's refreshing to see a police chief say so.
Ok this is an abbreviated gun thread because sunny and 72 degrees outside. Have a great weekend y'all. Gun answer below the fold.
That there is a replica 1860 Henry rifle. You might remember it from the movie Silverado, which is full of clichéd badassery.
"This oughta do."
Tips
If there are topics you're interested in seeing in the gun thread, please send them to AoSHQGunThread at gmail. You can also send them to me on Twitter at @AndyM1911.
The owner's manual for your concealed carry permit: The Law of Self Defense
Defend the Second Amendment. Join: The National Rifle Association * Gun Owners of America * The National Shooting Sports Foundation * Your state's second amendment org.
Celebrate America's firearms heritage: participate in Project Appleseed.

posted by Dave In Texas at
02:32 PM
|
Access Comments