« Improbably -- But Inevitably -- Bridgegate Figure Bridget Kelly Becomes New Democrat/Feminist Icon and Latest Martyred Soldier in the #WarOnWomen
|
Main
|
Gun Thread 3-30-2014 »
March 30, 2014
NASCAR: Race Day In Martinsville 3-30-14- [Niedermeyer's Dead Horse]
Welcome to another week of NASCAR racing. This week the action is at the short track at Martinsville in Ridgeville, VA, for the STP 500.
This week NASCAR suffered the loss of a beloved family member as Linda Petty, wife of Richard Petty, succumbed to cancer. ESPN writer Ryan McGee recalls a morning spent with her in 2008.
I was standing just outside the front door to the office, staring out at the front yard of the Petty homestead, and no doubt grinning ear-to-ear. The team had recently moved south to the Charlotte area and the near-empty buildings where the most dominant race cars in NASCAR history were once built was now downright tranquil. But it still gave me chills.

I was so giddy to have the place to myself that I hadn't even noticed the car that pulled up and the woman that started walking toward me.

"Good morning," she called out. "Are you lost or waiting on someone?"

It was Lynda Petty. Wife of Richard, mother of Kyle, matriarch of Petty Enterprises, and to so many, certainly to me, the first lady of stock car racing.

I introduced myself and she was kind enough to act like she remembered me. I told her that I was waiting for her grandson, Austin, to pick me up and take me over to the nearby Victory Junction Gang Camp for a tour. To that she replied, laughing, "If you're riding with Austin, be sure to wear your seat belt." Then she said, "Why don't I wait with you and you tell me about yourself."

Funny, I'd wanted to say the same thing to her.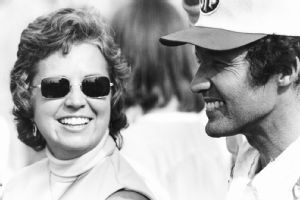 It's been a tough week for the NASCAR family as another legendary clan lost a loved one. Bobby Waltrip, brother to Darrell and Michael, a Fox Sports announcer and successful go-kart racer, passed away last Sunday.
May God grant the families of Linda and Bobby with peace and the loving support of those who surround them.
Now, on to race day...
The snapshot can be found here. (Warning: There's an auto-play video)
Pole position for today's race belongs to Kyle Busch and Denny Hamlin who qualified at 99.674 mph and 99.548 mph respectively.
And, of course, elbows: former Sprint Cup Girl, Paige Duke.
Have a great day and enjoy the race.

posted by Open Blogger at
01:20 PM
|
Access Comments