« Sunday Morning Open Thread
|
Main
|
Anyone Who Said The Left Would Blame the Flight 370 Disappearance on Global Warming on Day 13, Please Go to the Cashier to Collect Your Winnings »
March 23, 2014
Sunday Morning Book Thread 03-23-2014: Racism [OregonMuse]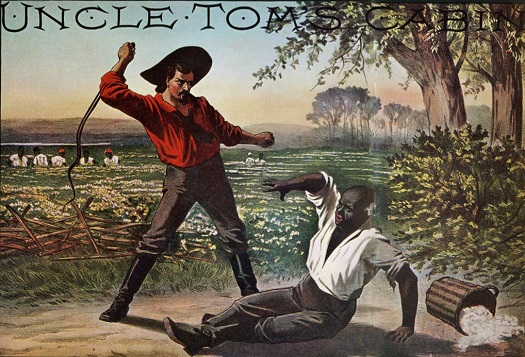 Good morning morons and moronettes and welcome to AoSHQ's prestigious Sunday Morning Book Thread.
All non-book discussions should go in to Andy's open thread below. Thank you.

Uncle Tom, We Hardly Knew Ye
We all know that the epithet 'Uncle Tom' is a much-used stock insult in the progressive left's toolkit of avoiding having to actually discuss issues. It is hurled at black men or women who stray from the progressive agenda, as if such deviation constitutes some an unacceptable betrayal of black people by another black person, a selling out to white privilege and hegemony.
But that sort of selling out bears little resemblance to the real Uncle Tom. Since I have never read 'Uncle Tom's Cabin', this blog post, Of Toms and Sambos put me some knowledge about the origins of this expression. It's worth reading the whole thing.
The author also encourages you to read the book:
Uncle Tom's Cabin is an astonishing book that remains relevant even to this day, every American should read it, as should every Christian in the entire world. By design it is filled with types and archetypes. Uncle Tom, the protagonist of this allegory; is a type of Christ. Tom is the perfect Christian, in fact he is a super Christian...
I'm actually kind of ashamed I haven't read it. It is an important book in its time that greatly influenced events leading up to the Civil War, being the number one best-selling book other than the Bible. So I found this Kindle edition for 99 cents, which is actually part of a bundled collection, and it also contains '12 Years A Slave' by Solomon Northrup, Booker T. Washington's autobiography 'Up From Slavery', Narrative of the Life of Frederick Douglass, and two other slave narratives, as well as Uncle Tom's Cabin.

'You Are Consumed With Hopelessness And Despair - Lose 25% Health'
Maybe this should go on the gaming thread. They're about to release a video game based on the novels of Franz Kafka. No, it's not an FPS, it sounds like you have to run around solving puzzles.
Here is the opening line for the Kafka short story 'Metamorphosis':
One morning, when Gregor Samsa woke from troubled dreams, he found himself transformed in his bed into a horrible vermin.
So the guy is now a bug. What a way to start the day,
The game ought to be a real hoot.
Yes, This Is A Real Book
I can hardly believe there's a need for the instructional book How to Poo on a Date, but apparently there is. I know this because this book the winner of the 2014 Diagram Prize 2014 for Oddest Book Title of the Year, which is awarded by The Bookseller web site. Runner-ups include Are Trout South African? by Duncan Brown Pie-ography: Where Pie Meets Biography by Jo Packham; How to Pray When You're Pissed at God by Ian Punnett; and The Origin of Feces by David Walter-Toews.
The guys who wrote the poo book are also responsible for How to Poo at Work, another classic.

Mispronunciations
'Apron' used to be 'napron' and 'wasp' used to be 'waps'. So says this article on how pronunciation errors have changed the English language. Rebracketing, metathesis, and syncope, among others, are to blame. My personal disfavorite: 'nucular' for 'nuclear'. I've been hearing it for years, and it still sets my teeth on edge.

Nixon's the One!
I am amused at how much being a cheap bastard influences what I buy. For example, if I saw a Kindle edition of the first of a 3-volume biography of Richard Nixon selling for $12.99 or $13.99, i wouldn't even consider it. But when I see something like Nixon Volume I: The Education of a Politician 1913-1962 by Stephen E. Ambrose for $2.99, I snap it right up (although, dang it, I see the price is now back up to $12.74, so I guess there was some special sale going on that I just happened to catch. And I missed out on picking up Vols. 2 and 3 for the low $2.99 price).
Anyway, so I've read the first few chapters and here are some things about Richard Nixon that I either did not know or was only dimly aware of:
1. His background and upbringing were intensely religious. His father was a hootin'-and-hollerin' Methodist, very loud, very boisterous, very emotionally expressive, and his mother was an austere, very reserved Quaker lady. He had older relatives on her side of the family who used 'thee' and 'thou' in everyday speech. Most of this he gave up by the time he got to college.
2. He lost two brothers, Arthur and Harold, to tuberculosis. Not unusual in the days before antibiotics.
3. He worked his butt off. His father worked at a variety of occupations, and he enlisted his sons to help out wherever he could. Richard did both agricultural labor and helped run the family store, long grueling hours and there were never any vacations, ever. Contrast this with Choom Boy, who spent his high school years hanging out with his fellow slackers and getting high.
3. Dude was scary smart. At age 10, he was reading the daily newspaper and conversing about current events with adults. His memory was phenomenal, he read 'Tom Sawyer' so often that he had the 'whitewashing the fence' episode memorized, which he could recite, even decades later as an adult.
4. This is probably not that surprising for someone who grew up to be a politician, but in high school and college, he was a formidable debater. He could take his'n and beat your'n, and then take your'n and beat his'n.
5. In college, Nixon liked to act and perform in stage plays, and was so good at it that his drama coach believed that after he graduated, he would start looking for acting jobs in New York. One of the things actors need to know how to do is cry on cue. Nixon learned this lesson well:
Forty-five years later, Nixon told interviewer David Frost that he never cried except in public before an audience. When, in 1952, Eisenhower kept him on the ticket after the Checkers speech, Nixon put his head on Senator William Knowland's shoulder and wept. Upton [Nixon's drama coach], watching on television, exclaimed, "That's my boy! That's my actor!"
I'm old enough to remember how badly the progressive left infected itself with "Nixon Derangement Syndrome", which, by comparison, makes "Bush Derangement Syndrome" seem like a mild cough. But I don't think they had any idea who he was. And, if I may indulge in a personal value judgment here, I much prefer Nixon, with all of his faults, to a bunch of self-important, ignorant hippies.
So yeah, I'm very much enjoying reading this biography.

Books of Note
I stumbled upon this one as I was looking for something else: Getting It Wrong: Ten of the Greatest Misreported Stories in American Journalism by W. Joseph Campbell. This is not some conservative guy attacking the liberal media, or a surly hippie complaining about corporations. Only 2 of the chapters deal with events that could be called current (Iraq and Katrina). The other ones, such as William Randolph Hearst sending a telegram allegedly promising to start a war, Edward Murrow's supposed takedown of McCarthy, and Woodward and Bernstein's alleged central role in exposing the Watergate scandal, are more or less past history. Or, as Campbell claims, myth. That is, the way these stories are commonly told is false and Campbell is claiming to set the record straight.
Also, the author, W. Joesph Campbell, is not the Joseph Campbell who wrote all of those books about religion. That was a different Joseph Campbell, and he's dead.
___________
Here's another book I ran into that might be interesting: Mission at Nuremberg: An American Army Chaplain and the Trial of the Nazis by Tim Townsend.
This pastor had a tough job:
Lutheran minister Henry Gerecke was fifty years old when he enlisted as am Army chaplain during World War II. As two of his three sons faced danger and death on the battlefield, Gerecke tended to the battered bodies and souls of wounded and dying GIs outside London. At the war's end, when other soldiers were coming home, Gerecke was recruited for the most difficult engagement of his life: ministering to the twenty-one Nazis leaders awaiting trial at Nuremburg...raises questions of faith, guilt, morality, vengeance, forgiveness, salvation, and the essence of humanity.
I wonder if Gereke got any of these Nazi guys to admit that what they did was wrong?

___________
I wouldn't have thought this possible, but as it turns out, none of mystery writer Ellis Peters' wildly popular, best-selling "Brother Cadfael" novels have ever been released as digital editions. Until now. Well, in about 3 months, actually. British publisher House of Zeus has acquired the rights and will be releasing e-versions of all of the 21 Cadfael novels on June 1st.
In a statement published on their site, House of Zeus says these novels are
Set in Shrewsbury between AD 1120 (A Rare Benedictine) and AD 1145 (Brother Cadfael's Penance), the series follows Benedictine monk Cadfael against the backdrop a land riven by a bitter, twenty-year conflict for the crown. Digital Publisher Nicolas Cheetham said, 'Brother Cadfael is one of crime fiction's iconic detectives and Ellis Peters' evocation of medieval life remains unmatched. The Cadfael Chronicles are the Gold Standard for Historical Crime and Head of Zeus are delighted to be bringing them to a new audience.'
If we're lucky, maybe they'll release some kind of 'Brother Cadfael Omnibus' of all the novels in one volume.

Books by Morons
Dang, I missed mentioning this two weeks in a row. Moron author Gregory of Yardale has released Book 9 of his "World's Apart" series. You can buy it here for 4 bucks.
___________

Longtime moronette baldilocks is thinning out her library. She has books listed among her other auctions here, and you may be able to pick up a deal or two.
Also, she is trying to fund the writing of her second novel, and you can contribute here.
___________

So that's all for this week. As always, book thread tips, suggestions, rumors, threats, and insults may be sent to OregonMuse, Proprietor, AoSHQ Book Thread, at aoshqbookthread, followed by the 'at' sign, and then 'G' mail, and then dot cee oh emm.
What have you all been reading this week? Hopefully something good, because, as I keep saying, life is too short to be reading lousy books.

posted by Open Blogger at
10:09 AM
|
Access Comments