« So AOSHQDD beat AP Again
|
Main
|
Top Headline Comments (3-12-2014) »
March 11, 2014
Overnight Open Thread (3-11-2014)
"Perhaps, like me, you have wondered how it is that so many people, otherwise honest, can adopt without demur the Orwellian anti-language of Political Correctness; how it is that so many people, otherwise rational, can adopt without demur the paradoxes, self-contradictions and logical absurdities involved in relativistic morality, materialistic ontology, subjective epistemology, and the other nuggets of vacuous blither forming the foundations of modern thought; how it is that so many people, otherwise possessing good taste, can without demur fund and support and praise the blurry aberrations of modern art, praise ugliness, despite beauty; how it is that so many people, otherwise good and peaceful, can praise and support and excuse the hellish enormities and mass murders of figures like Che and Mao and Stalin and Castro; or can view with cold eye the piles of tiny corpses heaped outside abortion mills, and make such enemies of the human race into heroes; or can rush to the defense of Mohammedan terrorists with freakish shrieks of 'Islamophobia!' and 'Racist!' even thought to be wary of Jihadists bent on your destruction is rational rather than phobic, and even thought Mohammedanism is a religion, not a race; how otherwise happy, moral, reasonable and decent people can not merely excuse sexual perversion, but will be swept up in a fervor of righteous indignation even if someone points out the biological or Biblical reality of the situation; and likewise excuse lies in their leaders, and adulteries, and abuses of power, and abuses of drugs, and any number of things these otherwise ordinary people would never do themselves.

"And, finally, perhaps, like me, you have wondered why it is that these people who are otherwise civil nonetheless can neither explain their positions nor stop talking, and their talk consists of nothing, nothing, nothing aside from childish personal attacks, slanders, sneers, and accusation, accusation, accusation.   Why are they so angry? Why are they so noisy? Why are they so blissfully unaware of the vice, injustice, ugliness and evil they support?

   -- John C. Wright in  Restless Heart of Darkness - Part Four
Why Harry Reid Hates, Hates, HATES, HATES the Koch Brothers
It's not personal - he's just a good soldier following his party's Alinskyite strategy.
According to the Times, Democrats are convinced that Koch-bashing is a "politically shrewd" endeavor, and is grounded in "Democratic-funded research." The Times editorial board has been beating this drum for weeks, denouncing the Koch brothers and their "right-wing political zeppelin," and all but pleading with their readers to donate to cash-poor Democrats.

Reid was especially moved by a recent presentation at the Senate Democratic retreat emphasizing the need to "pick a villain." The majority leader's lunatic outbursts on the Senate floor are intended to raise the Kochs' public profile and, more importantly, to rally the Democratic base, specifically the pro-cancer wing.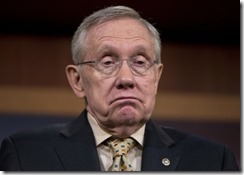 Switched at birth: Harry Reid and the Unhappy Idol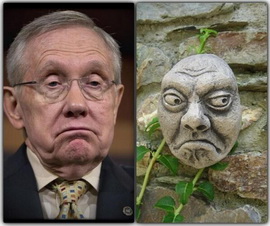 Men between the ages of 25 and 54 are in their prime working years. Generally speaking, they're too old for college and too young for retirement.

In February 2008, 87.4 percent of men in that demographic had jobs.

Six years later, only 83.2 percent of men in that bracket are working.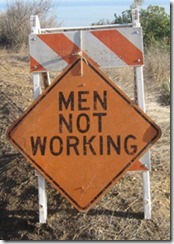 Whatever Happened to the Antiwar Movement?
"Where have all the protesters gone, long time passing"
"Gone to #OCCUPY, everyone."
Antiwar Movement, RIP November 4, 2008.
One might almost think that the antiwar movement was all about politics, not principle. That it was really an anti-Bush, anti-Republican movement. And that once a Democrat was in the White House, its purpose had been served and the protest signs went into the trash. There is precedent for this, as we have written before. The anti-Vietnam war movement, which also was celebrated by the press, wasn't really a movement against the Vietnam war. It was led mostly by people who were not at all opposed to the war, but wanted the other side to win. The rank and file were not so much anti-war as they were anti-draft. On the day the draft was abolished, the anti-Vietnam war movement ended. Whatever you think of the merits of the Vietnam war, there never was anything noble or idealistic about the anti-war movement.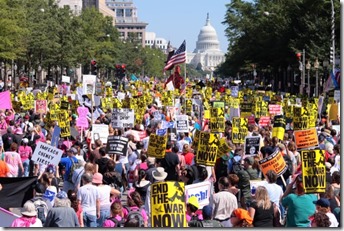 And still blaming Bush six years on:
Five years into Obama's presidency, only a third of the public believes that Obama and the Democrats are primarily responsible for the country's current economic problems.

More Americans continue to blame former President Bush and the Republicans. But the number who say the GOP is more responsible - now at 44% - has dipped below the 50% mark for the first time since Bush left the White House. Fourteen percent blame both parties equally.
Depressing evidence that ceaseless propaganda from the media does in fact work.
DNC Literally Indebted to Unions
To the tune of $15 million owed to SIEU via Workers United which is more cash than the DNC has on hand.
From the Folks Who Brought You Deranged Vietnam Vet Syndrome...
As he wrote in the 1998 book Stolen Valor, (excerpted here) in the 1980s and '90s, former Vietnam war vet B.G. Burkett spent years and a fair amount of resources fighting the myth of the crazed Vietnam vet. In the 1970s, and early '80s, that character was a stock figure promulgated by Hollywood in films ranging from Taxi Driver to the Deer Hunter to the first Rambo movie, and as the baddie-of-the-week in numerous TV crime dramas. It wasn't until the mid-1980s that  finally, TV series such as Magnum P.I., the A-Team, and Miami Vice finally made Vietnam vets the good guys. (As Ben Shapiro writes in Primetime Propaganda, Magnum's producer Donald P. Bellisario, a former Marine Sergeant, treated Thomas and T.C. and Rick as the equivalent of World War II vets who had simply done their tour of duty, and were now using their skills to solve crimes in Hawaii.)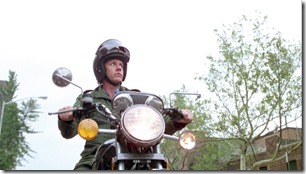 Comes a new target - the deranged 9/11 survivor.
On the Trail of Florida's Skunk Ape
So Florida has its own version of sasquatch known as the 'skunk ape'.
The first time Dave Shealy saw a skunk ape, he says, he was ten years old. It was 1974, a few years after his father had come upon a set of footprints left by the creature-an Everglades version of Bigfoot named for its supposedly pungent odor. Dave was out deer hunting with his older brother, Jack, in the swamp behind his house, in what's now Big Cypress National Preserve, when he encountered the ape incarnate.

"It was walking across the swamp, and my brother spotted it first. But I couldn't see it over the grass-I wasn't tall enough," Shealy says. "My brother picked me up, and I saw it, about 100 yards away. We were just kids, but we'd heard about it, and knew for sure what we were looking at. It looked like a man, but completely covered with hair."
I just assumed this would be another mythical creature hunt but after reading the entire article I'm now fairly convinced that the 'skunk ape' is a real ape but probably not what Dave Shealy thinks it is.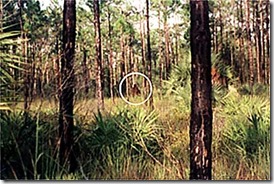 For Sale on eBay: Soviet Nuclear Bomber (Low Mileage!)
Special deal for you meester but you must buy quick before Putin come.
Sean Gallagher of Ars Technica says that the plane is a Tu-95MS built in 1987. It's a variant designed to fire cruise missiles. It was owned by the Ukrainian Air Force and comes with only 454 flight hours on the odometer.

The bomber is a fixer-upper. The seller says that "It is necessary to make a technical service and prolongation of the data limit." But that's nothing that a good shade tree mechanic can't tackle.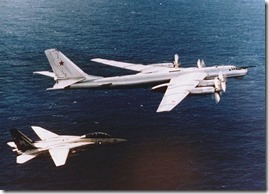 This is one of the more mainstream hipsters - probably just a poseur. But definitely not part of the 83.2%.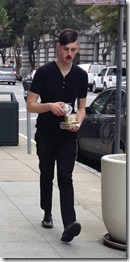 The AoSHQ group. Yeah.
Teh Tweet!
Tonight's post brought to you by Patty Hearst: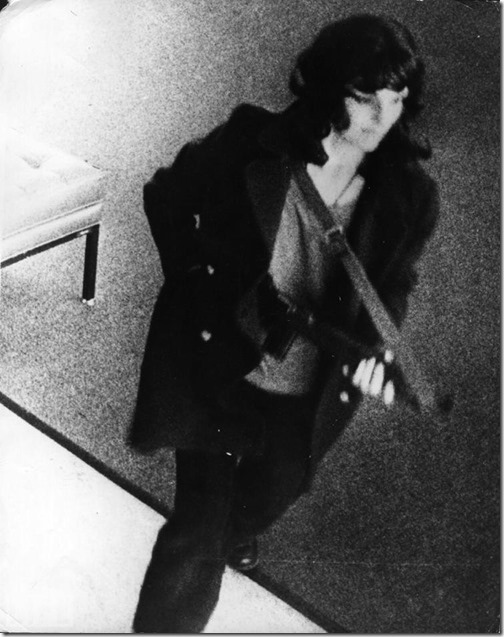 Notice: Posted by permission of AceCorp LLC. Please e-mail overnight open thread tips to maetenloch at gmail. Otherwise send tips to Ace.

posted by Maetenloch at
10:14 PM
|
Access Comments