« Sunday Morning Book Thread 03-09-2014 [OregonMuse]
|
Main
|
Nothing to See Here [Y-not] »
March 09, 2014
Food Thread: Special Addition -- Beer: A Primer [Beerslinger & CBD]]
Chronicles from a Beerslinger
The next installment of that beer odyssey thing...
"64oz. to Freedom"
Okay so it's a rip from Sublime's '40oz. to Freedom' album, but that doesn't fill my growler, so 64oz. it'll have to be. Feel free to play the album along with the writings herein. It was, after all, my muse.
Can there be a better way to enjoy this first balmy weekend in what seems like millennia to many of us, than with some far from serious beer banter?
I'm not bragging when I state I am an epicure, just sayin'. That now said, I do not in any way proclaim to be a connoisseur, and without fault in my beer tastes. Tastes, after all are subjective; and sometimes mostly, arbitrary. That's where your comments come in. I'll insert a fancy science video to embolden my claim, (and make me feel a little scientific on a Sunday morning), that all tastes are unique and singularly subjective. 'Cause I ain't got no time for conflicting points of view.....I step into the great unknown...
Sex, Smell And Science – The Genetics Of Olfactions
Okay so they focus on smell & sex in this study, but this can be relevant to your time here since your sense of smell is the centerpiece to your tastes. This study could also be a good tie in to WeirdDave's human harvesting tutorial in his and Y-not's Gardening thread yesterday...as can beer.
So, gettin' on with it, a fellow Moron suggested, "just stick with the basics man, you know? Styles..." Seemed kinda dull to me at the time, but I'll give it a swig...but I gotta focus on one or two in particular, just to get the writing going. Plus..It's that Lenten season time and I feel the need to bear alms by enlightening others, even if just for one lost beer soul. (It also gives me an excuse to drink beer.)
Lagers
Don't take these unassuming beer styles for granted. This beer deserves R-S-P-C-T! I used to drink lagers only when I didn't want to get into trouble, alas, in my (somewhat) wiser years I've learned, trouble always finds me. So I figure, why not? YOLO as the hipsters a little late to the game are sayin'.
Not to be judgmental, (I'm only human after all), but I find the majority of lager drinkers tend to prefer the volume of beer that they can consume in a session over the alcohol by volume content of the beer itself. You can work out the math on that one. And if you can't, you might just fall over. If that happens, do NOT go back for more! Cameras are everywhere and making an ass of oneself is poor enough, doing it on camera makes it epic, so as an advisor (and for tax reasons), I need to insert this public service announcement...
When it comes to lagers I lean toward the Black Lagers, Imperial Lagers and hoppy Lagers, sometimes referred to as IPL's or Imperial Pale Lagers. What I'm trying' to say right here is that we have a lot of hybrids these days. Relish in it! Be thankful for these feats of innovation. It is capitalism, at it's best, that has allowed such yeasty, hoppy & malty beverages to flourish to new heights, and hypes.
I just so happen to be a capitalistic thinking, beer minded advocate. Only in a capitalistic society do we see people going to great lengths to make things greater; cash into money, coffee into cola, cola into energy drinks, whiskey into anesthesia, dirt brown marijuana into super green hybrid strains sold by our government, coke into crack cocaine, oxycodone into heroin, heroin into a better high with a mixed in pain killer - (on the black market sometimes known as the Ace of Spades, mind you!), a million dollars worth of debt into a trillion, (okay so that's not so much a capitalist model), and brewing mediocre beer into a gorgeously crafted beer with bountiful body and breadth. Anyway, I think you catch my drift. Especially if you're standing in close proximity.
In my quest to find a liking for Lagers, I stumbled upon an Imperial Pale Lager, (IPL moving forward), that I really like. IPLs strive to be, as the name implies, hoppy lagers...with a higher alcohol content. Whenever you see the word 'imperial' you can bet your ass the alcohol content will be higher than in the more traditional styles. So drinker beware.
Hoponius Union by Jack's Abby Brewing is the one that floats my IPL boat right now. I don't have a fancy picture for it. (I broke the bottle.)...and my boat is inflatable. It's got hops and it's got dankness going on. I am, at heart, a hop head, so this beer has my name all over it. Wow! I never thought I'd say that about a lager! Maybe I should file for a name change to beerlager? Nah, that could be taken out of context.
OK, I guess I have to pair it with food now....no pressure.
I'm reaching a little here, but I kinda think I'd definitely enjoy this beer more with a pig foot! Bessie really said it better....
IPA's
India Pale Ales. Unlike the lager above, this is an ale. Brewed at a higher temperature, they offer more flavor. An India Pale Ale is what the letters mean for those that need a little 101'ing.
Gonna go Jai Alai here on you britches. Cigar City, Tampa FL.
Jai Alai offers a citrusy flavor with a hint of pine. Think western hops infused with the pines of the eastern shore. Bold upfront, but invitingly smooth at the finish which gives her a gracious dash of easiness, allowing for clarity in taste and thought.
Yes, I agree, there are a lot of fine IPAs out there. I've been spoiling myself with Bear Republic's Racer X straight outta the tap. Then there's Stone, Ballast Point, Weyerbacher, Bell's, Firestone, and many other fine breweries making just as good an IPA. But I had to zero in on one that was readily available in the cellar.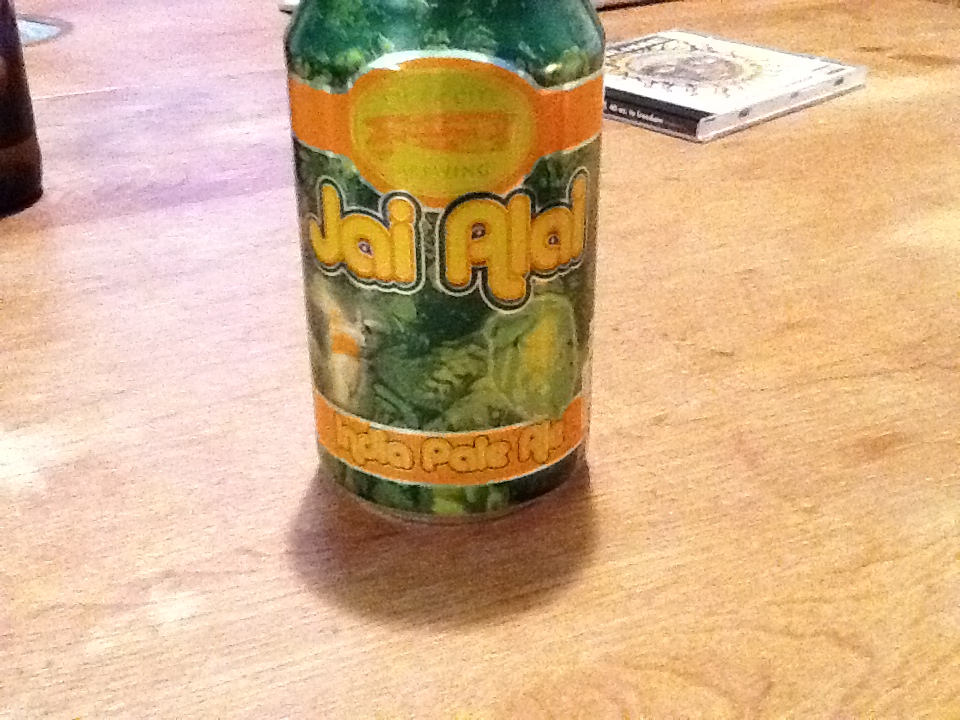 Doesn't Play well with Friends....
Switching gears to a Russian Imperial Stout
Thirsty Dog's Siberian Night, Imperial Stout. First mistake was over chilling this beer. It came out of the frigidaire like a frozen chocolate mousse cheesecake that just needs some time to sit out. A dessert beer? A goodnight beer. An "I might just get laid" beer. Outta Akron, Ohio, home of the Rubber Bowl & the Good Year Blimp Factory. This beer is heavy and light. Full of great contrasts, it is solid.Thirsty Dog's Siberian Night Imperial Stout won't disappoint.
9.7% ABV, so Lookout!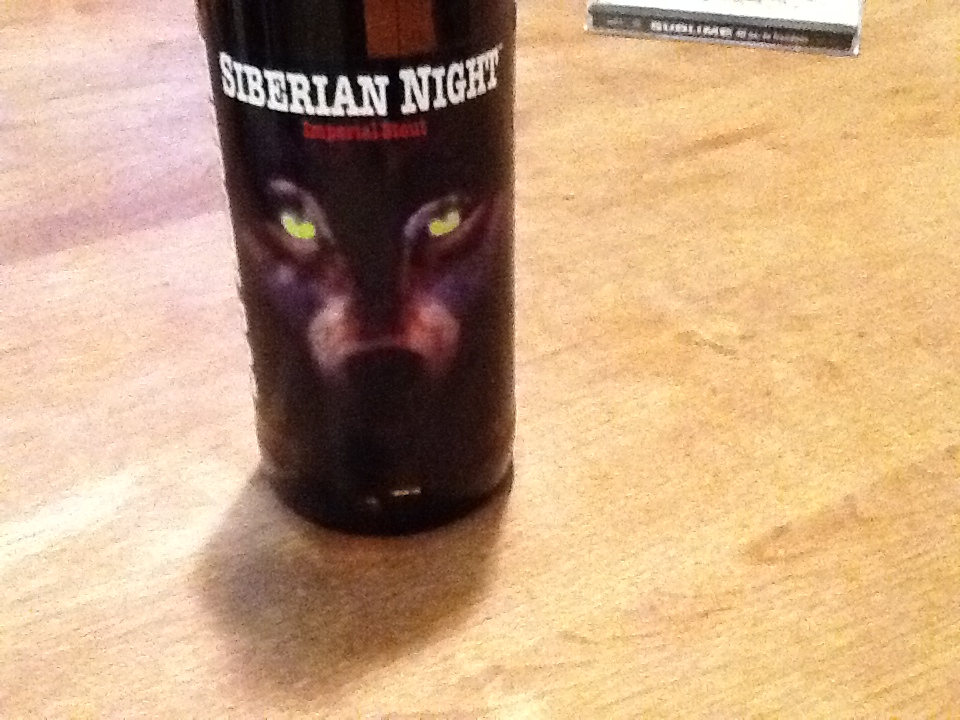 Because I got a late start and I got other shit to do, although I'd rather keep doing this, I guess it's time to close it up....don't forget to turn your clocks forward....=


posted by Open Blogger at
11:30 AM
|
Access Comments